Here's a really interesting yeast bread made with peanut butter and potato water. It's not a sweet peanut butter quick bread but rather a fluffy bread with a light peanut butter flavor and a softness that comes via the starch in the potato water. If I had a restaurant I'd put it on the brunch menu and serve it toasted with toppings, but it also works as everyday sandwich bread.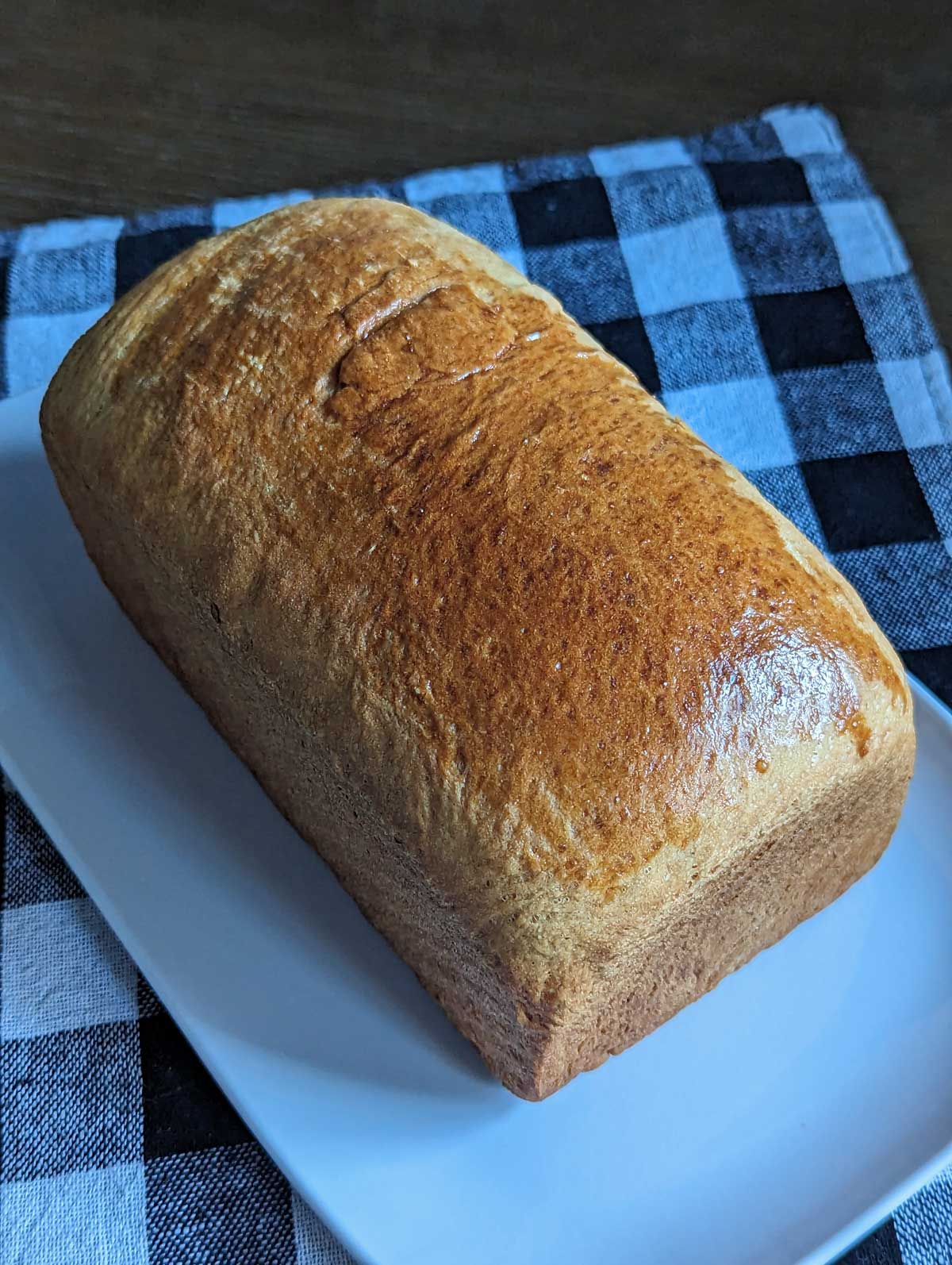 Softness From Potato Starch
As mentioned, this evolved from potato bread and calls for the water used for boiling potatoes, but not the potatoes themselves. Boiling some potatoes and saving starchy potato water might be the easiest for some people, but if you keep potato starch on hand you can just mix ½ tablespoon of potato starch with 1 cup of cold water. Shortening also contributes to the softness. I haven't tested with a different fat and may not since this bread has such a great texture.
Peanut Butter Yeast Bread Loaf Size
This recipe makes one 8 ½ by 4 ½ inch loaf. It was originally double this, so feel free to double the Peanut Butter Yeast Bread and use 1 egg. If you make it as written with the two tablespoons of beaten egg, you can use the remaining egg as an optional egg wash.
For the peanut butter, I've been using unsweetened peanut butter made with just plain peanuts and salt. Peanut butter with a little sugar in it should be just fine, and so should unsalted.
Recipe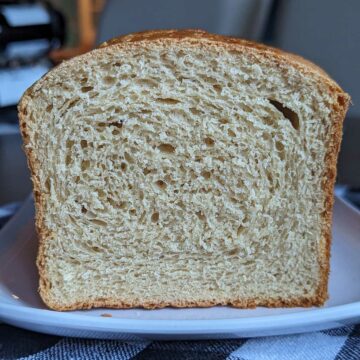 Peanut Butter Yeast Bread
A soft yeast bread with a hint of peanut flavor.
Ingredients 
1 ½

cup

water

(220 grams)

1

large

potato or 1 ½ teaspoons potato starch

2

tablespoons

shortening

(24 grams)

3

cups

all-purpose flour

(380-420 grams)

2 ¼

teaspoon

instant yeast

2

tablespoons

brown sugar

(25 grams)

1

teaspoon

salt, very scant, so somewhere between ¾ and1

Morton Kosher**

2

tablespoons

peanut butter

(32 grams)

2

tablespoons

beaten egg

(24 grams)
Instructions 
Put the potato in a small saucepan and add just enough water to cover. Bring to a boil, then lower heat and boil until potato is tender. Drain potato and save for another use. Reserve any remaining potato water and add enough water to that to make 1 cup. An alternative to this is to just stir together 1 cup cold water and ½ tablespoons potato starch, then heat as directed in next step.

Add shortening to potato water and heat until shortening melts. Insert thermometer and let cool to between 125 and 130.

In the bowl of a stand mixer, combine 1 cup (130 grams) of the flour, the sugar and salt. Gradually add the 125 degree water mixture to the flour mixture and stir well. Beat in the egg and peanut butter. Add another 1 cup of the flour and stir well, then add another ½ cup.

Attach the dough hook to the mixer and knead with the mixer for about 8 minutes or until dough is smooth and elastic, adding only as much extra flour as needed until the dough clings to the hook. I used just under 3 cups total.

Put the dough in an oil-slicked bowl, cover with plastic wrap and let rise in a warm place for 1 hour.

After it's risen, press it down and pat it into a rectangle. Roll into a cylinder and put the cylinder in a greased and floured 8 ½ by 4 ½ inch loaf pan. Put the loaf pan in a warm place and let it rise again for another 45 minutes or so.

Preheat oven to 375 degrees F. Bake for about 40 minutes or until loaf is browned and feels hollow when tapped. Internal temperature should be about 205 degrees F.

Let cool in the pan for about 10 minutes, then remove from pan and let cool completely before slicing.