Potato Flour Bread is a new favorite. It's a spinoff of Potato Flakes Kolaches, but instead of potato flakes I use potato flour and bake the dough in a loaf pan. With a combination of wheat and potato flour, you get a big soft, pillowy, bouncy loaf with an interesting flavor. Plus you can tell everyone about the secret ingredient!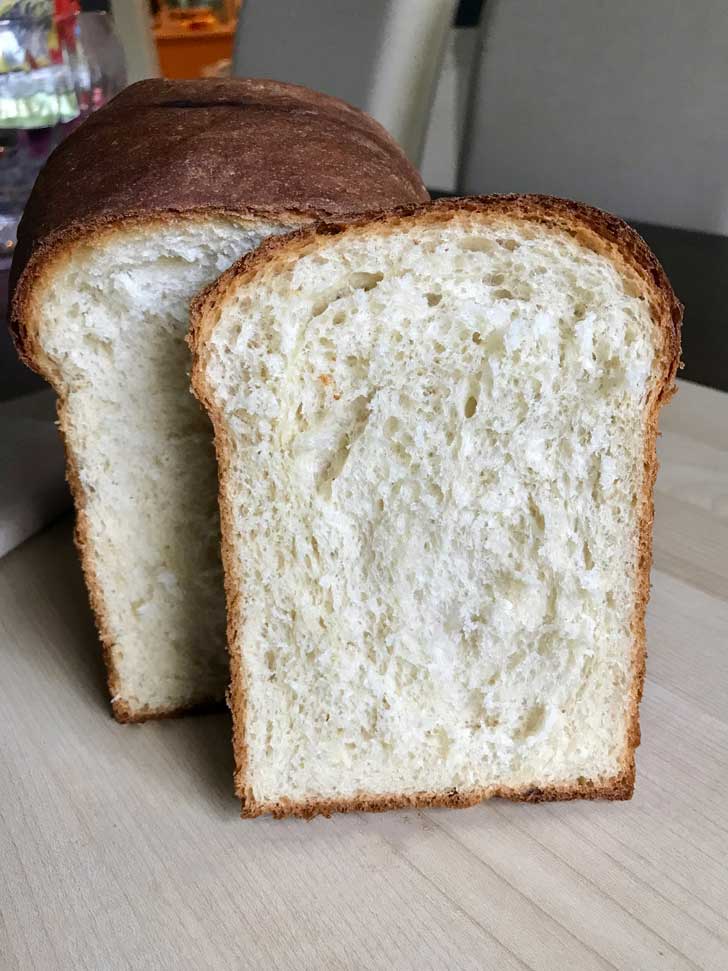 Potato Flour vs Potato Starch
Thanks to the popularity of gluten-free baking, it's a lot easier to find interesting baking ingredients. Potato starch and potato flour are two of them. Potato starch, which is often used in gluten-free flour blends is starting to appear on more grocery store shelves. However, potato flour, which is dehydrated and finely ground potato, is something you might have to order. I've been using Bob's Red Mill.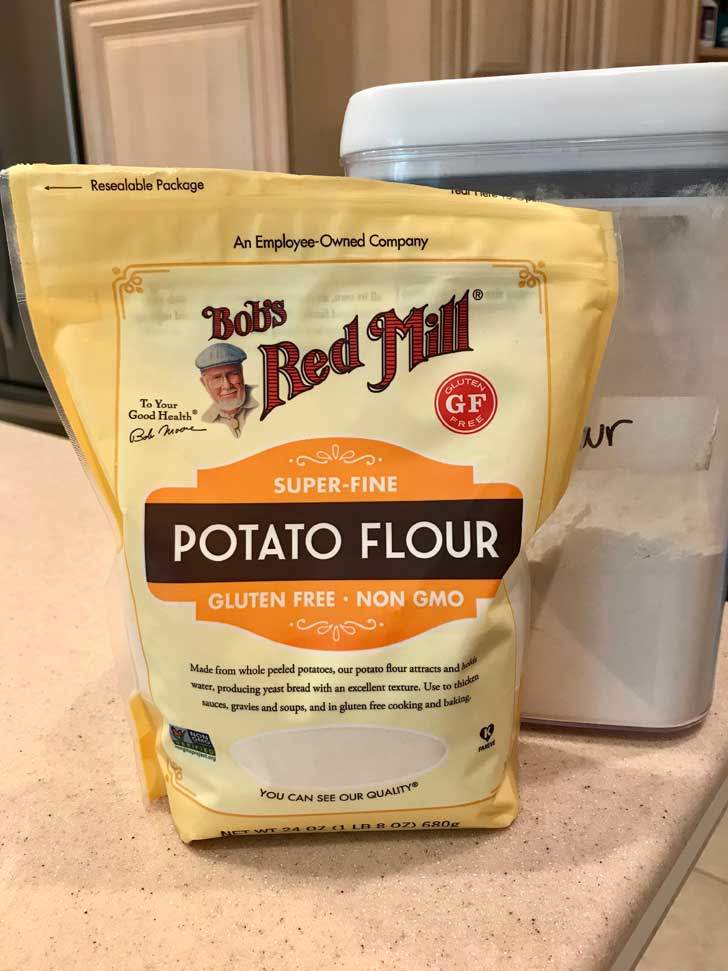 Potato Flour Bread Dough Texture
I make this bread with the weight measurements rather than volume. If you weigh your ingredients and use a mixer with a dough hook you shouldn't have any problems. Just know that this dough will try to trick you. It will seem thick at first, but as the machine kneads, it will get sticky again. Also, it never completely stops clinging to the bowl. As you add the flour and knead, you'll have to stop often to scrape the side of the bowl and assess the elasticity. You'll know it's done when the dough clings only to the bottom rather than the bottom and sides of the bowl. Here are two photos of the dough. In the first it's almost done but not quite! The second photo has just ¼ cup more flour, and that's when I stopped adding it (I used the whole 350 grams).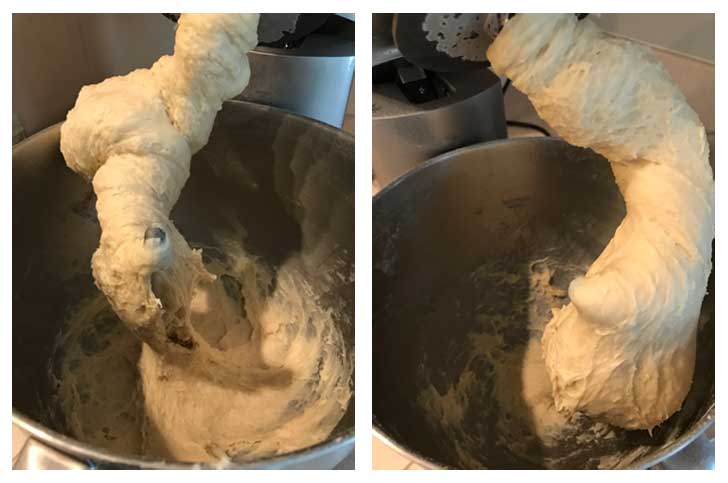 Loaf Pan Size
For most breads I use an 8 ½ by 4 ½ inch USA pan with 2.75 inch high sides, but ever since I bought a 1 pound Pullman I've been using it without the lid. I suppose I should see what happens when I do use the lid. For now, I just love the high sides and hope manufacturers continue to make these high sided loaf pans, lid or no lid. If you don't have a Pullman or a loaf pan with 4 inch sides, you should probably use a 9x5 inch rather than an 8 ½ by 4 ½ inch loaf. This loaf needs lots of room to expand.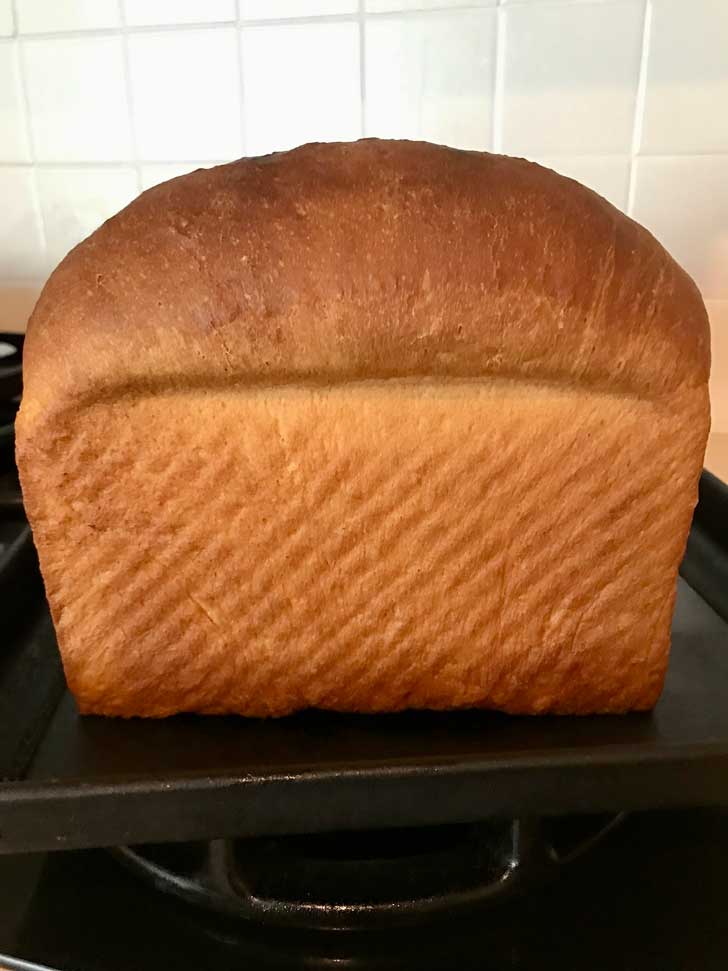 Storing and Freezing
Our bread eating habits can't keep up with my baking, so I end up having to store bread in the freezer. My method is to slice it, wrap the slices in pairs, then put all of the wrapped bread slices in a freezer bag. The layer of plastic wrap on the bread along with the thick freezer bags does a good job of preventing freezer burn.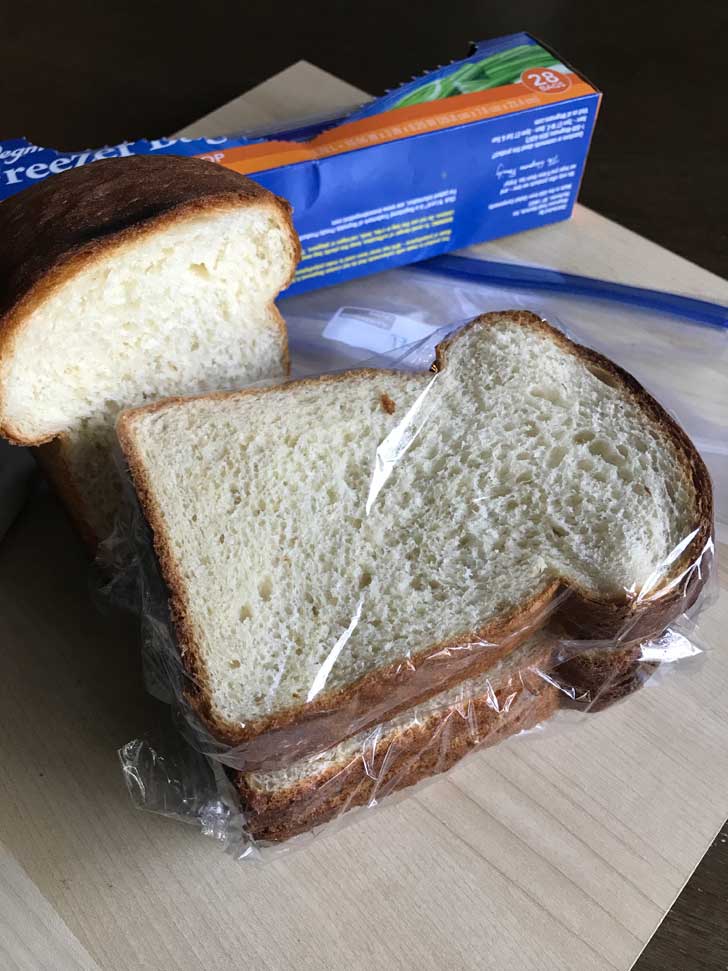 More Thoughts on Potato Flour Bread
I wish I could make this every day, but we already have too much and I'll probably end up using the rest in something like this White Chocolate Bread Pudding recipe. I also want to try this dough again with doughnuts! Years ago I had the best donut of my life in Seattle, and I'm always striving for that big fluffy texture.
Recipe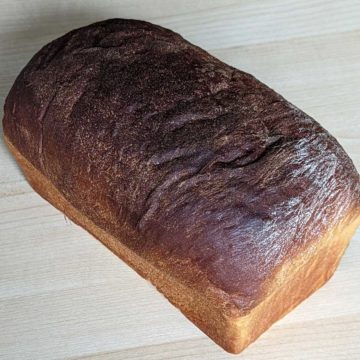 Potato Flour Sandwich Bread
Soft sandwich bread made with bread flour and potato flour.
Ingredients 
¾

cup

whole milk

(6 oz/170 grams)

4

tablespoons

unsalted butter, cut in chunks

(56 grams)

2 ¼

teaspoons

active dry yeast

¼

cup

warm water (105 to 110 degrees)

(2 oz/56 grams)

2 ½

tablespoons

granulated sugar

(30 grams)

2 ½

cups

bread flour, divided use

(280 and 70 grams for 350 grams total)

¼

cup

fine potato flour (Bob's Red Mill)

(45-50 grams) It's heavy flour!

1

teaspoon

kosher salt (Morton) or table salt

1

large

egg, room temperature
Instructions 
Grease and flour a 9 by 5 inch loaf pan or a Pullman pan (you won't use the lid).

Put the milk and butter in a saucepan or in a 2 cup Pyrex type microwave-safe measuring cup and heat until milk just begins to simmer. Remove from heat and let cool to warm (around 120 degrees and no warmer than 130 degrees F).

Meanwhile, proof the yeast in ¼ cup of warm (105 degrees) water. Add a little bit of the sugar (about 1 teaspoon) to help feed the yeast. Stir and let stand for about 8 minutes or until it looks a little foamy.

While the yeast is proofing, mix the remaining sugar, 2 cups (280 grams) of the bread flour, potato flour, and salt in a stand mixer bowl. Keep the other ½ cup of bread flour handy.

Add the proofed yeast to the flour mixture and stir, then stir in the 120 degree warm milk mixture and the egg. Mix as well as you can by hand, then put the bowl on the stand and attach the dough hook.

Start kneading with the dough hook. The dough should go from dry to very sticky and will cling to the side of the bowl. Begin adding remaining flour 1 heaping tablespoon at a time, and continue to let the dough hook knead, stopping to scrape bowl often, until the dough clings to the hook (though it will still be slightly sticky). This should take 6 to 8 minutes. You will probably use all of the reserved ½ cup flour. However, if the dough looks dry or clings to the hook before you've added the ½ cup, then stop adding.

Transfer the soft and just slightly sticky dough to a greased bowl and let it pick up some of the butter/oil from the bowl, then flip it so you have a slick, soft ball of dough. Cover and let rise for 1 hour or until doubled in bulk.

Punch down the dough and turn it onto a pastry mat. Press into a rectangle. Turn down the top corners and roll downward into a cylinder, pressing out air as you go.

Taper the ends and shape into a loaf, then plop into the loaf pan. Cover with a piece of greased plastic wrap and let rise for about 50 minutes.

Bake at 350 degrees F for about 45 minutes or until golden brown. Let cool in the pan for about 10 minutes, then loosen edges if needed and carefully turn from the pan. Let cool completely. If the bread feels too soft to slice, put it in the refrigerator and firm it up a little. It is a soft bread, but it should be sturdy enough for sandwiches. We usually toast it a little for sandwiches.