Thin Mints may get all the glory, but at our house the most popular Girl Scout Cookies are Samoas, Tagalongs and my personal favorite, Golden Trefoils.  I love Trefoils even though they seem to taste better some years than others. They are not the most flashy of Girl Scout Cookies, but they bring back good memories and they work well in recipes including Shortbread Trefoils Toffee.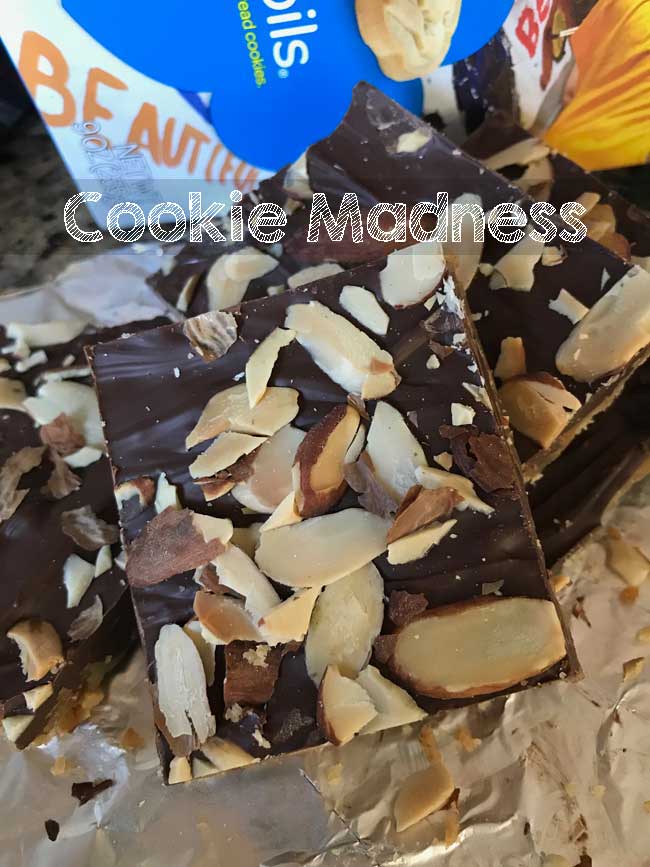 Winner in the "Candies" category of the 2016 Girl Scout Cookie recipe contest, these are a twist on the ever popular Saltine Cracker Candy, where Trefoils stand in for Saltines.
They're super easy. You just line the cookies on a tray...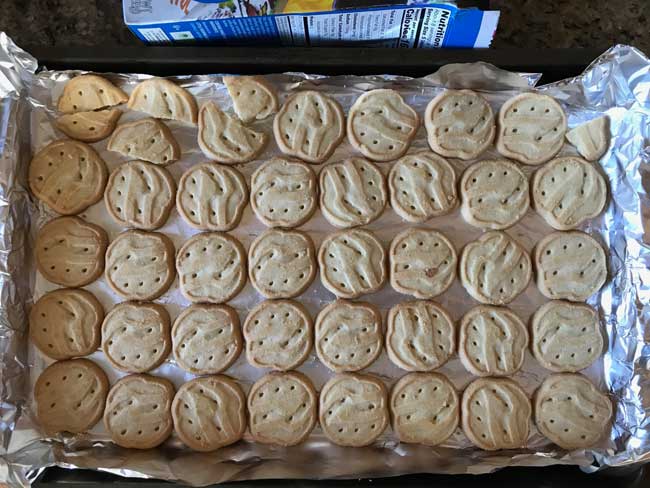 Pour on a caramel coating made simply by microwaving butter and sugar for 2 minutes.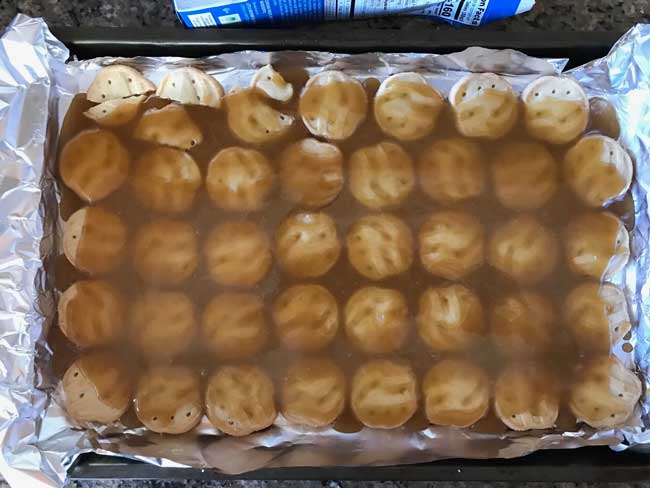 Bake at 350, then sprinkle with chocolate and almonds and let set.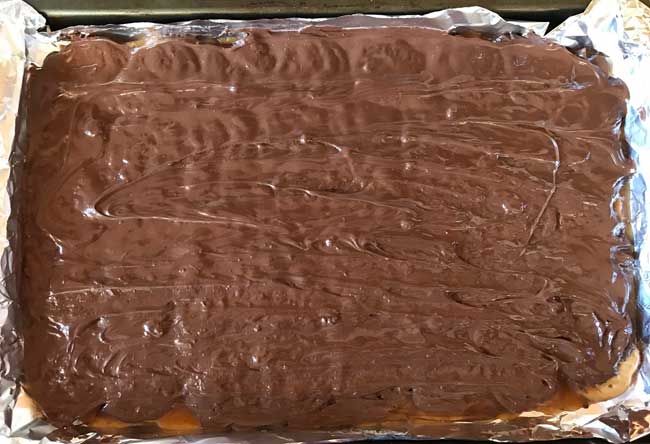 You will love these! While they do not have the sweet and saltiness of the cracker version, the shortbread cookies make a flavorful and sturdy base that is, thankfully, not overly sweet.  Trefoils Toffee are classified as candy, but they could also be classified as a cookie since the shortbread is fairly predominate.  They won't break your teeth like actual toffee and they are about 10 times more convenient.
Recipe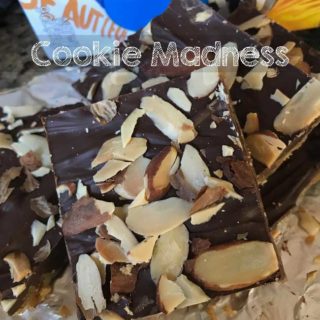 Shortbread Trefoils Toffee
Created by Nancy Mock, Shortbread Trefoils Toffee won the grand prize in the Candies category of the 2016 National Girl Scout Cookie Recipe Contest Sponsored by Taste of Home.
Ingredients 
1

package

9 ounces short bread cookies (Trefoils)

¾

cup

salted butter

170 grams

¾

cup

packed light brown sugar

150 grams

1

package

12 ounces semisweet chocolate chips

½ to ¾

cup

sliced almonds

toasted -- can chop if desired
Instructions 
Preheat oven to 350°. Line a 15x10 inch rimmed baking pan with nonstick foil.

Arrange cookies evenly across pan.

In a large microwave-safe mixing bowl (I used a Pampered Chef Batter Bowl), heat the butter until melted, then whisk or stir in brown sugar.

Microwave 2 minutes, stirring every 30 seconds, until mixture is slightly thickened and looks more like a caramel sauce. It will still be fairly thin and pourable. Pour sauce over cookies, covering each completely.

Bake at 350 for 10 minutes or until caramel is very hot and bubbly. Remove from oven and let cool on a wire rack very briefly -- just about 3 minutes or until caramel settles down.

Sprinkle chocolate chips evenly over hot caramel. If desired, set another rimmed pan on top of the first rimmed pan to help hold in the heat. Let stand 5 minutes to soften chips, then spread softened chocolate chips over caramel. Sprinkle almonds over the top.

Refrigerate baking pan until chocolate and caramel have hardened, about 1 hour. Break or cut bark. Note: To toast nuts, bake in a shallow pan in a 350° oven for 5-10 minutes or cook in a skillet over low heat until lightly browned, stirring occasionally.