I'm a little behind on my Instagram these days (both reading and using), but I did get word that Alison Roman's Salted Butter and Chocolate Chunk Shortbread Cookies were (still are?) making the rounds on social media and that some consider them the perfect chocolate chip cookies. The recipe is from the new cookbook, Dining In, which I'm pretty excited about having read the description. If these cookies are representative of the other recipes, it's probably worth ordering.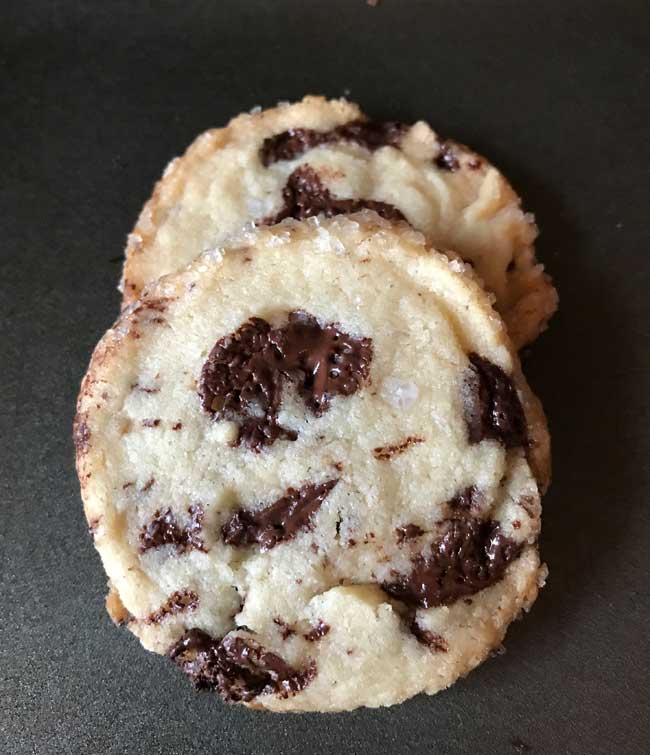 So far I've made the cookies twice. For the first round, I made 1/4 of the batch (easy to do when there's no egg) and used a combination of unsalted butter and salt. The cookies were fantastic. They are not really like regular chocolate chip cookies at all and I wouldn't put them in that category, but they are tops as far as shortbread goes. The second time I used European style butter (Plugra).  The cookies spread more, so as soon as I pulled them from the oven I pushed the edges inward to nudge them back into rounds.  I was worried they'd be too fatty tasting given the spread, but once they cooled and set they did not seem overly greasy.  It'll be fun trying the recipe with different brands of fancy butter and chocolate.
If you are a shortbread fan, the Chocolate Chunk Shortbread Cookies are for you. Below is how I made the cookies, and the original recipe is on Bon Appetit. Like reviewers on Bon Appetit I had issues with the dough falling apart. No worries! If it falls apart, just push it back together. The cookies will be fine.
Update:  If you like the NYT Chocolate Chunk Shortbread Cookies, Google up the recipe for Maida Heatter's Extra Bittersweet Chocolate Chunk Monster Cookies.  The New York Times cookies may be derived from that recipe.  Maida's is very similar, but half.  It doesn't involve slicing off a roll and calls for all granulated sugar instead of the granulated and brown combo.  Maida also uses walnuts and a bit of almond extract. In my opinion the NYT version of the cookies taste better, but it's easier to use Maida's method of just shaping the cookies into rounds and baking.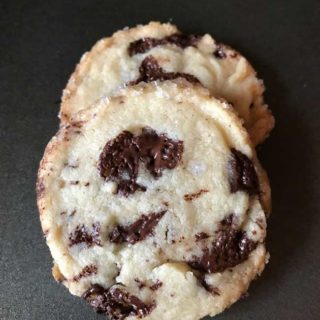 Chocolate Chunk Shortbread Cookies
Chocolate Chunk Shortbread Cookies are rich chocolate chunk cookies with a buttery shortbread flavor.
Ingredients 
9

ounces

salted butter

cut into 1/2 inch pieces (I used unsalted and 1/2 teaspoon kosher salt)

1/2

cup

granulated sugar

100 grams

1/4

cup

packed light brown sugar (50 grams)

1

teaspoon

vanilla extract

2¼

cups

all-purpose flour

I used 290 grams

6

ounces

semisweet or bittersweet dark chocolate

chopped (but not too fine, you want chunks, not thin shards of chocolate)

1

large egg

beaten to blend

Sparkling sugar or Demerara Sugar

Flaky sea salt
Instructions 
Using an electric mixer, beat the butter until light and creamy. Add the sugar and beat for about 3 more minutes until batter is very light and fluffy. Beat in vanilla.

Using a heavy duty scraper, scrape down sides of bowl. With mixer on low speed, slowly add flour (or do it by hand), then add chocolate chunks and stir until blended.,

Divide dough in half, then place each half on a large piece of plastic wrap. Fold plastic over to cover dough and protect your hands from getting all sticky. Using your hands, form dough into two log shapes that are just about 2¼" in diameter. Chill until firm, about 2 hours.

Preheat oven to 350°. Line a rimmed baking sheet with parchment paper. Brush outside of logs with egg wash. Roll logs in coarse sugar.

Slice each log into ½"-thick rounds. If dough falls apart when you cut it, just squish it back together in a circle.

Arrange on prepared baking sheet about 1" apart (they won't spread much). Sprinkle with sea salt.

Bake cookies until edges are just beginning to brown, 12–15 minutes. Let cool.
Notes
Do Ahead: Cookie dough can be made 1 week ahead. Tightly wrap in plastic and chill, or freeze up to 1 month. Cookies can be baked 5 days ahead. Store in plastic wrap or an airtight container.