Roasted Pistachio Oil Chocolate Chunk Biscotti is the result of an experiment.  Instead of using canola oil in a biscotti recipe, I substituted La Tourangelle roasted pistachio oil, a very full flavored oil often used for roasted vegetables, salad dressings and (our family's usual) salmon.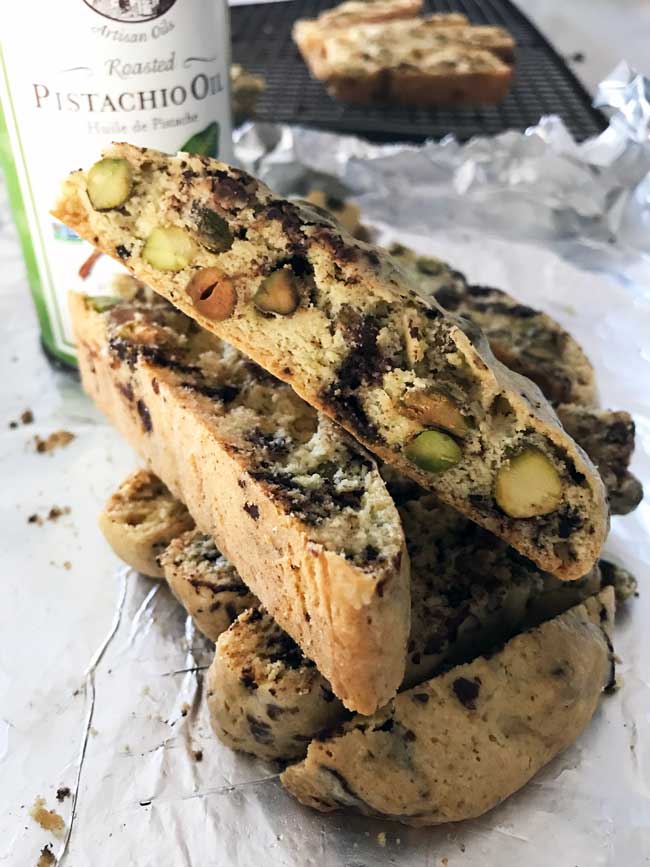 I honestly wasn't sure how pistachio oil would work in baked goods because the flavor is so robust, but when used in biscotti it was not overpowering at all and added a deeper roasted flavor.    Too bad the tin of pistachio oil is so small because I'm almost out!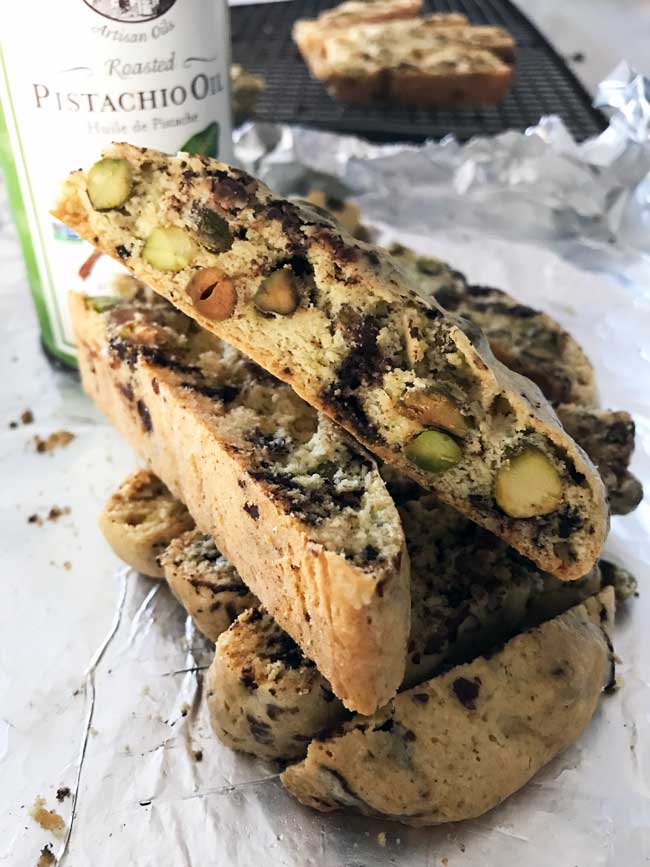 Here's the recipe.  If you don't have the pistachio oil you can revert back to the original which just used canola.
Recipe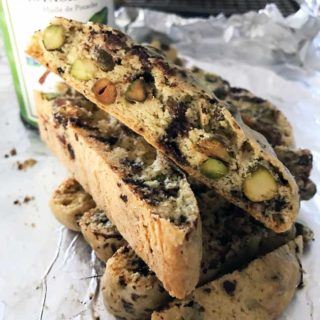 Pistachio Oil Chocolate Chunk Biscotti
Roasted Pistachio Oil Chocolate Chunk Biscotti calls for pistachio oil instead of vegetable oil.
Ingredients 
2

large eggs

¾

cup

granulated sugar

150 grams

¼

cup

roasted pistachio oil

½

teaspoon

vanilla extract

1 ¾

cup

all purpose flour

220 grams

1

teaspoon

baking powder

¼

teaspoon

salt plus an extra pinch

1

tablespoon

wheat germ

1 ½

cups

pistachios

3-4

oz

chopped dark or bittersweet chocolate

I used 4, but 3 would be fine
Instructions 
In the bowl of a stand mixer using the whisk attachment. beat the eggs and sugar for 2 minutes or until light and lemon colored. Drizzle in the pistachio oil, then add vanilla.

Stir together the flour, baking powder, salt and wheat germ and add to the batter. Stir until well blended, then stir in nuts and chocolate.

Shape dough (it will be sticky, so use dampened hands) into two 12x2 inch logs on a parchment or foil lined baking sheet.

Bake at 300 for 35 minutes. Remove from oven and let cool slightly, then cut each log into about 12 or 13 slices.

Arrange slices on baking sheet (standing) and bake at 275 for another 30 minutes.

Allow biscotti to cool and crisp.
Notes
This recipe is adapted from an old one that calls for cranberries. If you'd rather make Cranberry Pistachio Biscotti, just swap out the chocolate for cranberries and omit the wheat germ. I also recommend adding a teaspoon of lemon zest.