This is an old recipe I'd completely forgotten about until last week. Unlike the Cheerios Chocolate Chip Cookies which I've made multiple times through the years, Cheerios Peanut Butter Cookies call for just enough peanut butter and oats to give these chocolate chip cookies a bit of peanut butter flavor and a bumpy, crunchy texture.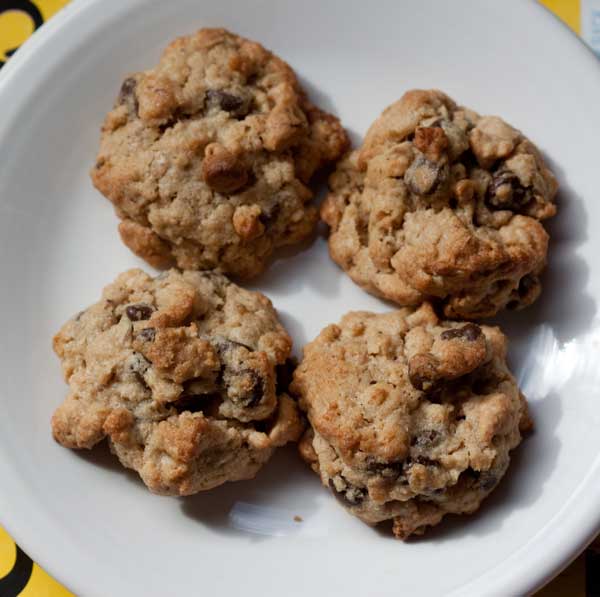 I'd say Cheerios Peanut Butter Cookies are more than just a good way to use up leftover cereal. The Cheerios really add a lot to the cookie and are an interesting conversation point. You could also argue they add some nutrition, but I guess that's a stretch. The truth is, they're just plain good.

Cheerios Peanut Butter Cookies
Peanut Butter cookies made with Cheerios.
Ingredients
1 stick (4 oz) unsalted butter
1/2 cup (3.5 oz) granulated sugar
1/2 cup (3.5 oz) brown sugar, packed
1/4 cup (2.5 oz) peanut butter
1 large egg
3/4 teaspoon vanilla
1 cup all purpose flour, stirred and then spooned into the cup (4.5 oz)
1/2 teaspoon EACH - baking powder, baking soda and salt.
1/2 cup oats
1 1/2 cups Cheerios
1 cup semi-sweet chocolate chips (a little more if you like chocolate)
Instructions
Preheat the oven to 375 degrees F. Line two baking sheets with parchment or foil.
With an electric mixer, beat the butter and both sugars until creamy. Stir in the peanut butter, egg and vanilla.
In a separate bowl, whisk together the flour, baking powder, baking soda and salt, then add the flour mixture to the butter mixture; stir until incorporated.
Stir in the cheerios and chocolate chips.
Drop dough by rounded tablespoonfuls onto the baking sheets. Bake one sheet at a time at 375° for 10-12 minutes.
Let cool on the baking sheet for 2 minutes, then transfer to a wire rack.