I can't believe I never posted this recipe! It's an old one and you may know it, but how often do you remember to make Chocolate Haystacks? These are real crowdpleasers, and they are so easy.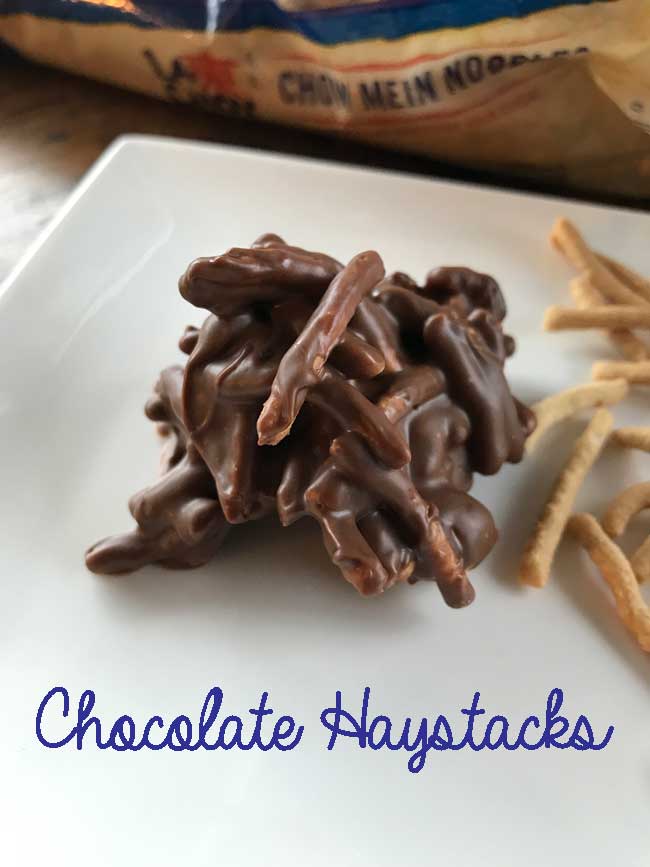 Making Chocolate Haystacks 👩🏻‍🍳
To make Chocolate Haystacks, all you do is combine chow mein noodles with a mixture of melted chocolate and nuts.  It's as simple as that, but there are more than a few variations to make yours stand out. My favorite is this one, which calls for a mixing chocolate and butterscotch chips. The recipe will give you about 36, but if you just want to make a small batch of Haystacks for the family, it's easy to halve or even quarter.
Peanut Butter Version
This recipe is for the chocolate version, of course. If you'd rather have Peanut Butter Haystacks, follow the same method but use 1 cup of butterscotch chips, ½ cup peanut butter, ½ cup salted peanuts and 2 cup of chow mein noodles. You can also substitute shoestring potato chips for the noodles.
Recipe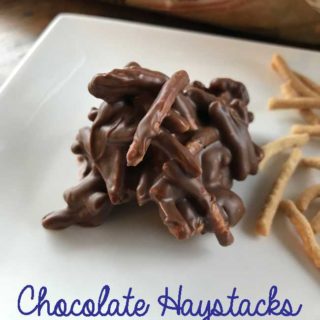 Chocolate Haystacks
An old favorite for sure, Chocolate Haystacks are an interesting combination of chow mein noodles, butterscotch and chocolate chips.
Ingredients 
2

cups

semisweet or dark chocolate chips

(330 grams)

2

cups

butterscotch morsels

(330 grams)

3 to 4

cups

chow mein noodles

(170 grams plus more if needed)

1

cup

salted peanuts (plus more if needed)
Instructions 
Melt the chocolate chips and butterscotch chips in the top of a double boiler. If you don't have a double boiler, you can do it directly over low heat in a large saucepan.

Remove melted chocolate mixture from heat, then stir in noodles and peanuts. I recommend stirring in 3 cups of noodles first, then adding more as needed. Fewer noodles means more chocolate.

Drop by spoonfuls onto a plate lined with wax paper or parchment paper.

Put in the refrigerator and chill until firm.