I didn't do much driving in Chicago. To be honest, I did no driving. In fact, after four years I thought I'd forgotten how to drive and was terrified to start again. Well, I'm back in Texas and after a few weeks of attempting to use public transportation, It became clear that I'd need to get back behind the wheel. I started gradually with a trip to the closest library. Eventually I made it to the Target.Then I drove a little farther (to another library) and a little farther — to an Aldi! The reward was a shopping spree of inexpensive ingredients to make these Walnut Oat Triple Chocolate Chunk Cookies.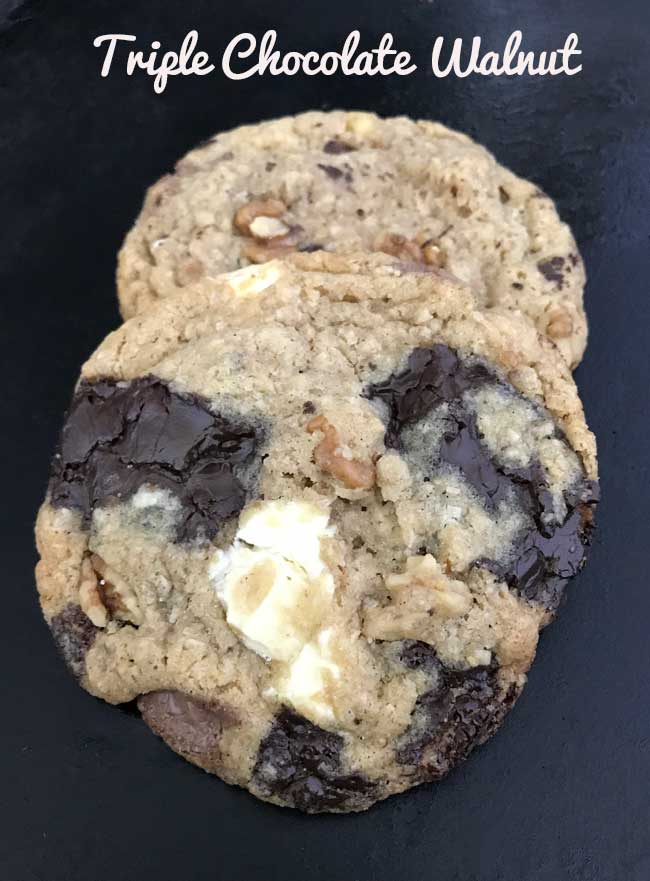 The cookies are made with dark, milk and white chocolate rather than chocolate chips. Chopped chocolate seems to cause cookies to spread more than chips do, and in this case that's good thing. The cookies are neither too thick nor too thin. As mentioned I used Aldi chocolate because it's pretty good for the price, but I'm certainly going to make these again with other brands as well. A month from now I'm going to Vermont to visit King Arthur and load up on Valrhona, but for now Aldi chocolate is perfect.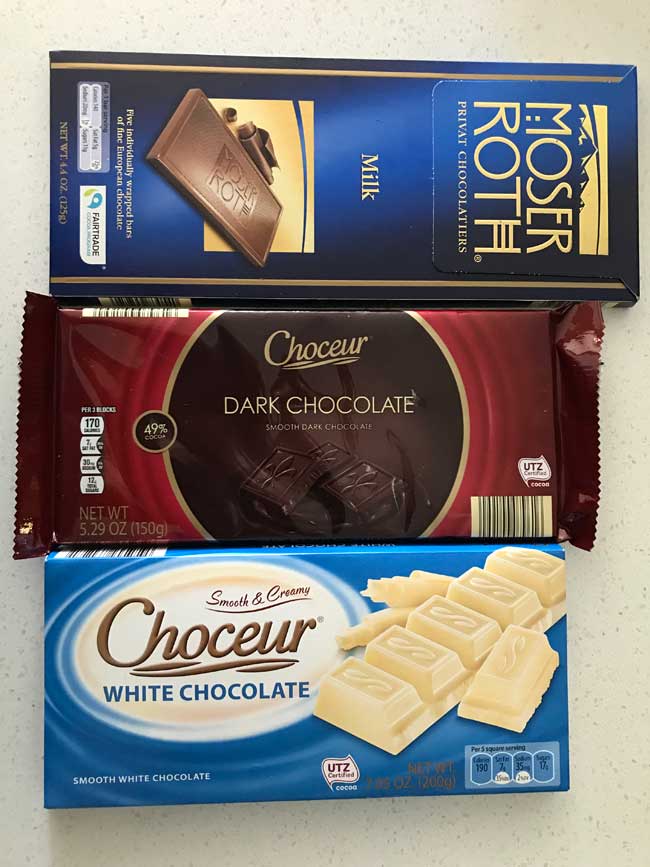 Since I'm baking for one, I just made half the recipe and got 9 rounds/disks of cookie dough.The full recipe is below, but for anyone interested in halving it and wondering how to halve a recipe that calls for 1 egg and 1 egg yolk, you can get the equivalent of half an egg and a yolk by using one whole egg and discarding about 17 to 19 grams of the white for a total of about 38 grams egg. Set a custard cup on a scale, crack the egg into it and make sure the egg weighs the usual 54 to 56 grams.Carefully discard 17-19 grams of the white so that you have around 37 grams of egg left in the cup. I don't know how well this works for all recipes, but it works well for cookie recipes with an egg and a yolk.
As for the Walnut Oat Triple Chocolate Chunk Cookies, they are fairly large weighing in at a little less than three oz. The texture is chewy and the cookies are sweet but not too sweet thanks to the nuts, which I didn't bother to toast. I almost always toast nuts before baking, but in some cases is seems not to matter too much with walnuts. I only baked up two of the nine dough rounds and am looking forward to baking up the rest after a good 24 hour chill.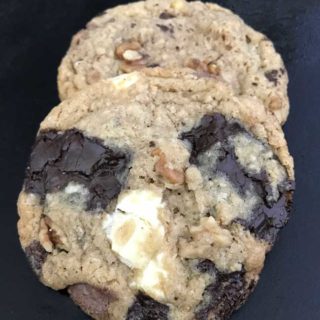 Walnut Oat Triple Chocolate Chunk Cookies
Walnut Oat Triple Chocolate Chunk Cookies are large chocolate chunk cookies made with three kinds of chocolate.
Ingredients 
2

cups

all-purpose flour

265 grams

1

teaspoon

5 ml baking powder

1

teaspoon

5 ml baking soda

1

teaspoon

5 ml salt

1

cup

plus 4 tablespoons

280 grams unsalted butter, room temperature

1

cup

200 grams light brown sugar, packed

1/2

cup

100 grams granulated sugar

1 1/2

teaspoons

7 ml vanilla extract

1

large egg

1

large egg yolk

1

cup

90 grams rolled oats, pulverized in food processor (measure 1 cup before pulverizing)

1

cup

walnuts

untoasted

12-16

oz

chocolate

mi.k, white and dark, cut into chunks
Instructions 
Stir the flour, baking powder, baking soda and salt together in a medium bowl; set aside.

Cream the butter and both sugars in a large mixing bowl using high speed of an electric mixer; Scrape sides of bowl and beat in the vanilla. Add the egg and egg yolk and beat just until eggs are incorporated. Add the flour mixture and stir until absorbed. Add oats and stir just until blended. Stir in the nuts and chocolate chips.

Shape the dough into about 18 large balls (they should weigh a little less than 3 oz each). Press the balls down slightly so you have disks. Lay them on dinner plates or a small cutting board, cover with plastic wrap and chill for an hour or until ready to bake.

Chill the dough for one hour or more.

Preheat oven to 325 degrees F. Have ready two or three ungreased cookie sheets.

Arrange the dough disks on a large baking sheet spacing 3 inches apart. Bake at 325 for 15-17 minutes or until cookies are brown around edges but still soft in the middle. Allow them to sit on the cookie sheet for 3 minutes, then transfer to a rack to cool.

Makes 18 large cookies.