We're making some major changes in our lives as of late, so Cookie Madness has been a little quiet. However, amidst all the transitions I did manage to find new favorite granola recipe. It's called Carrot Cake Granola, and it was inspired by some very good (but expensive!) packaged granola.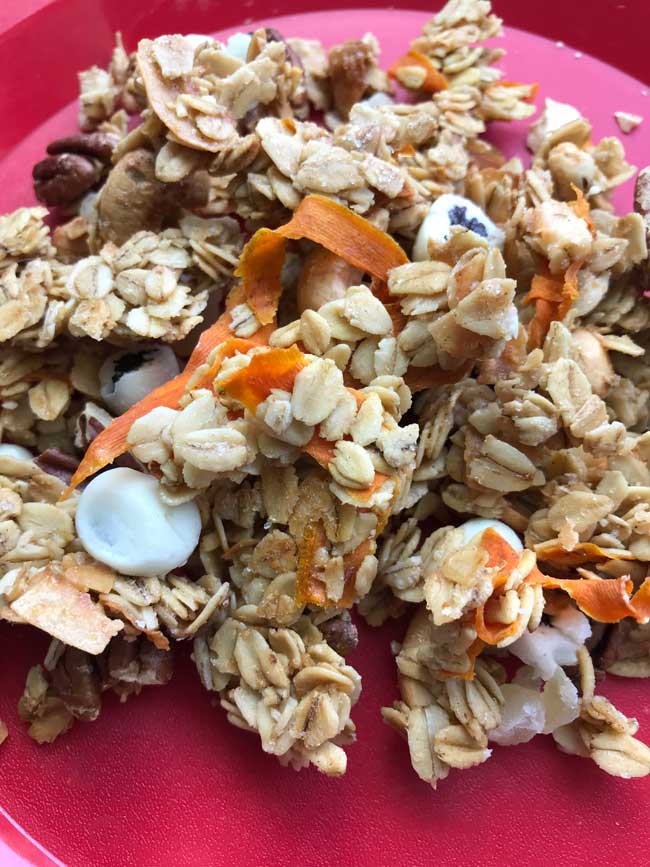 So What's In Carrot Cake Granola?
Like its namesake, Carrot Cake Granola has bits of carrot along with cinnamon, vanilla, butter, dried pineapple and pecans. Yogurt coated raisins (or white chips if you're not into raisins) represent the cream cheese frosting. Well, as best they can I suppose. It's not quite the same as eating a piece of carrot cake, but it definitely satisfies in the sweet & nutty snack department. If you try this version, let me know what you think! Update: And try the Chocolate Granola, too! It's surprisingly good.
By the way, this is a really good excuse to try Trader Joe's dried pineapple. I was a little skeptical at first, but the dried pineapple is so much better than the little bits of candied pineapple you buy in the bulk section.
Recipe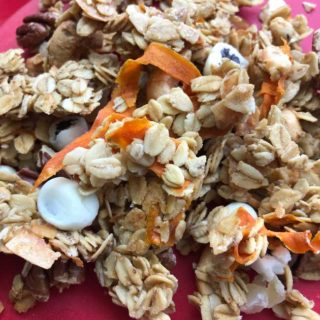 Carrot Cake Granola
Carrot Cake Granola
Ingredients 
1-2

carrots

2

tablespoons

coconut oil

1

tablespoon

butter

can use up to 2**

3

tablespoons

packed light brown sugar

3

tablespoons

pure maple syrup

1

teaspoon

pure vanilla extract

¼

teaspoon

ground cinnamon

use more if desired

⅛

teaspoon

salt

2

cups

old fashioned oats**

1

cup

mixed nuts

your favorites, I like pecans and macadamia

½

cup

yogurt-covered raisins or white chips

⅓

cup

chopped dried pineapple
Instructions 
Preheat oven to 275 degrees F. Line a large rimmed baking sheet with parchment paper or nonstick foil.

Wash and peel the carrots. Using the same peeler, shave large strips of carrot. Slice or cut the carrot shavings into ½ to 1 inch pieces (about the size of coconut shavings). Set aside.

In a large saucepan or in a large microwave-safe mixing bowl, heat the coconut oil, butter, brown sugar and maple syrup just until it comes to a boil. Stir well, then stir in the vanilla, cinnamon and salt.

Add the oats, nuts, and carrots and stir to coat.

Spread evenly on the baking sheet and bake uncovered, without stirring, for about 40 to 45 minutes. After 40 minutes, lay a sheet of foil loosely over granola to prevent excess browning. Bake for another 10 minutes to 15 minutes or until granola appears dry and slightly browned around the edges. It will still be soft at this point, but should harden as it cools.

Allow slab of granola to cool completely, then break it into chunks and stir in the raisins and pineapple.

Chocolate Variation: Omit the carrots, cinnamon, raisins and pineapple. While the slab of granola is cooling, sprinkle with some chocolate chips or chocolate chunks. After breaking up the granola, stir in more chocolate.
Notes
For lighter, crispier granola use an extra tablespoon of butter. For sweeter granola, use 1 ¾ cup oats.