Duncan Hines Key Lime Layer Cake starts with a box of cake mix, so before I share the recipe I have to address the topic. A standard box of cake mix used to be 18.25 oz, but cake mix has been reformulated and most boxes now hold between 15.25 and 16.5 oz of mix depending on the brand. A few months years ago you could still find 18.25 oz boxes of certain flavors of Duncan Hines, but I've searched high and low over the past two weeks and the 18.25 oz boxes have disappeared completely.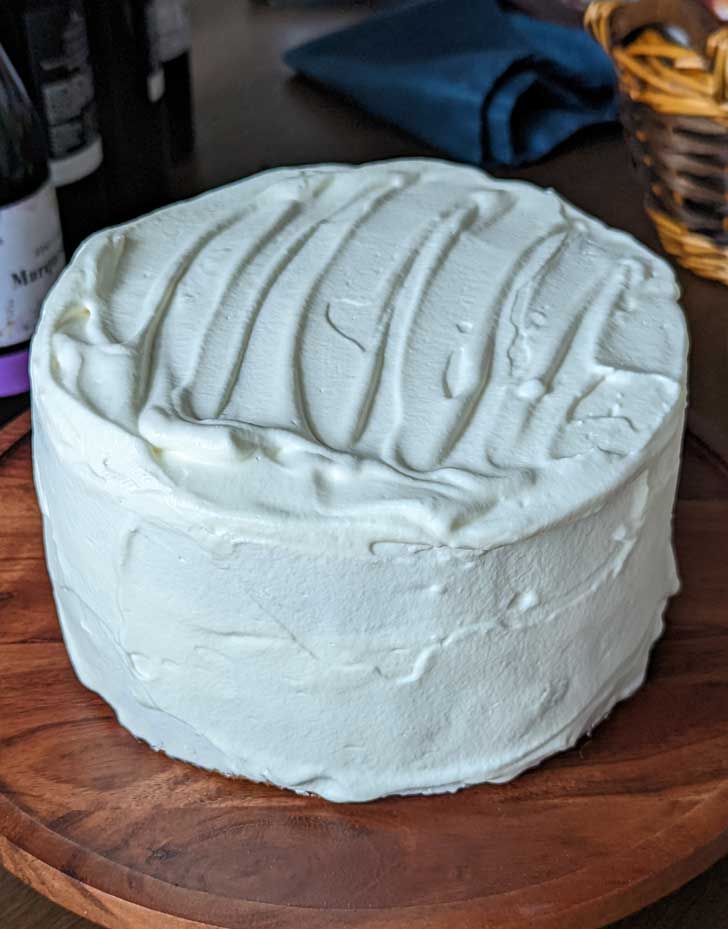 Dealing With Changing Cake Mix Box Sizes
So what does this mean for all those old doctored cake mixes that call for the 18.25 oz boxes? Options are to 1) add ⅓ cup of flour to make up for the missing cake mix 2) buy two boxes of mix and weigh out just enough of the second box to make 18.25 oz total or 3) do nothing and just use the smaller size box.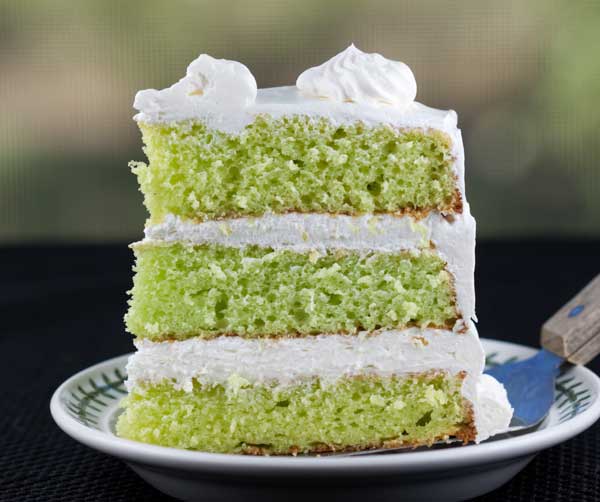 For Key Lime Layer Cake, I used a recipe that originally called for 18.25 oz of lemon cake mix. Before making the cake I did one more search for the 18.25 oz box thinking maybe there'd be some holdover Duncan Hines Lemon Supreme at a certain store. No luck. Of the three options listed above, I went with #3 and used the 16.5 oz box without making changes.
Amount of Oil
Well, almost. The original recipe called for a full 1 ⅓ cups of oil. Thinking it was a misprint, I checked other sources and found some bakers used the full amount of oil while others used less. To get to the bottom of how much oil the cake needed, I tested the cake two ways. I made one layer using the full amount of oil and the other two layers using half. All three layers baked up nicely, but the layers made with less oil were fluffier. The frosting was interesting, too. It started out a little grainy from the granulated sugar, but as the cake sat the sugar dissolved and the frosting became smooth.
I usually don't post pictures of the full cake since I'm not the best decorator, but this one's kind of funny. The chimney cast a shadow and it looks like there's a burglar hiding out in the backyard!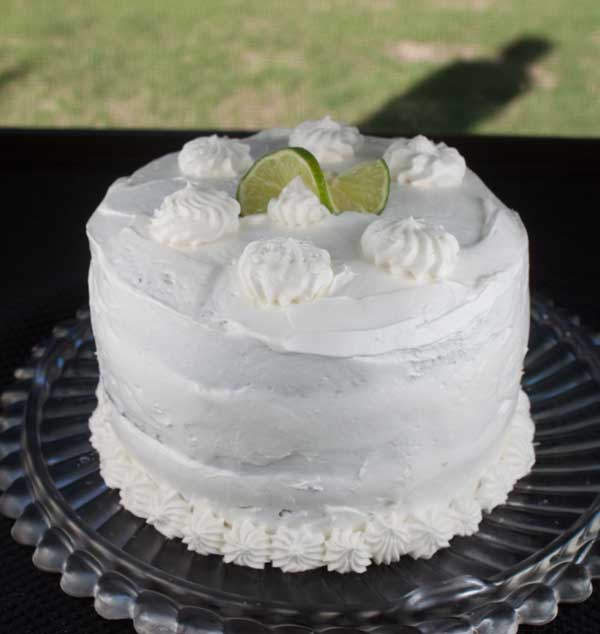 Key Lime Layer Cake With 15.25 oz Box Cake Mix
Update 2022: The last time I baked this cake I used a 16.5 oz box. Now cake mix sizes have decreased to 15.25 oz. I tested the cake once again with the 15.25 oz size box of cake mix and no changes (so 3 oz Jell-O, 4 eggs, ⅔ cup oil, ¾ cup orange juice). The layers baked up flat, which was not a problem, but they were also slightly thinner and more delicate. Luckily the cake came together without any issues and still tastes great. It's really more like a Lime Jell-O flavored cake than Key lime, but it's still very "lime" tasting and it's green. I still really love this frosting.
Related Recipes
Here's the recipe. My source was Texas Co-op Power.
If you're in the mood for a scratch cake, there's also a scratch version of the Key Lime Layer Cake. Here's how I made it.
Recipe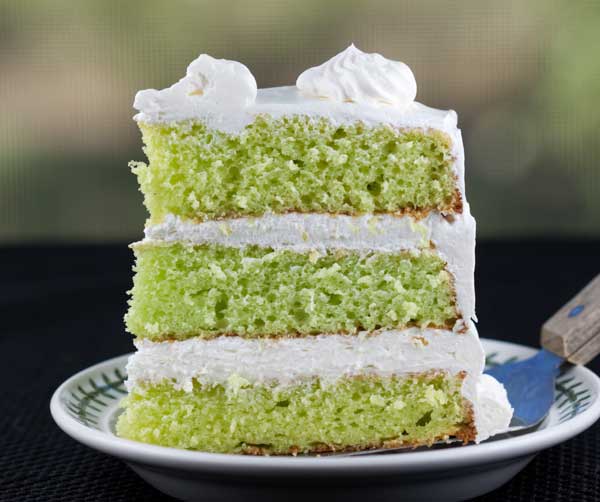 Key Lime Layer Cake
A cake mix based Key lime cake that starts with a box of lemon cake mix.
Ingredients 
1

box lemon cake mix

16.5 oz Duncan Hines Lemon Supreme

3

ounce

package of lime flavored Jell-O

⅔

cup

vegetable oil

original recipe called for 1 ⅓ cup, but cake doesn't need it

¾

cup

orange juice

4

large eggs
Flavor Enhancing Glaze
2

tablespoons

fresh lime juice or bottled Key lime juice

4-6

tablespoons

powdered sugar
Frosting
8

oz

cream cheese

softened

1

cup

powdered sugar

½

scant cup granulated sugar

About 14-16 oz of non-dairy whipped topping**
Instructions 
Preheat oven to 350 degrees F. Grease and flour three 8 inch round cake pans or spray thoroughly with flour-added baking spray. 9 inch pans may be used as well, but the cake will be shorter.

Mix the cake mix, Jell-O, oil, orange juice and eggs in a large bowl and beat well with an electric mixer for about 2 minutes. Pour into pans and bake for 20 to 23 minutes or until a toothpick inserted comes out clean. Let cool for about 10 minutes in the pans, then remove layers from pans. Mix together the lime juice and powdered sugar and spoon over the cake. Let it cool completely.

To make the frosting, mix together cream cheese and sugars and beat with an electric mixer until smooth. Fold in the whipped topping. You can use the full 16 oz or use less to taste. Spread the icing on top of the cakes, then stack and spread it all over the sides. If you feel like it, pipe icing around the edge and garnish with limes.
Notes
You can always swap out the whipped topping with lightly sweetened whipped cream.