The DoubleTree Hotel Chocolate Chip Cookies are getting a lot of attention these days, but don't let that stop you from trying another secret recipe – Pret A Manger Chocolate Chip Cookies! Pret shared their recipe weeks ago saying they'd "been inundating" with requests.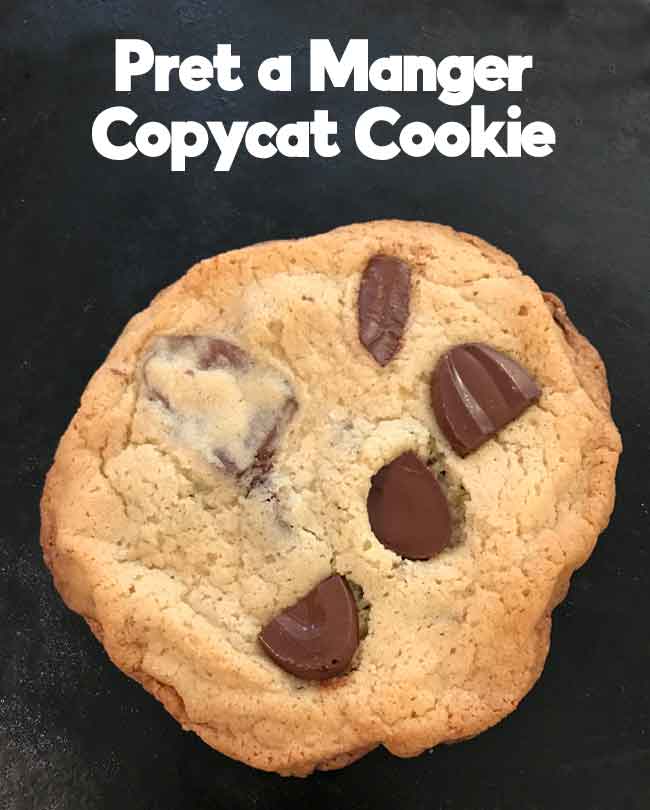 I already have too many chocolate chip recipes, but the Pret recipe caught my eye because it calls for self-rising flour. I mostly use self-rising flour for banana bread, biscuits and red velvet cake.  It gives mixed results with cookies.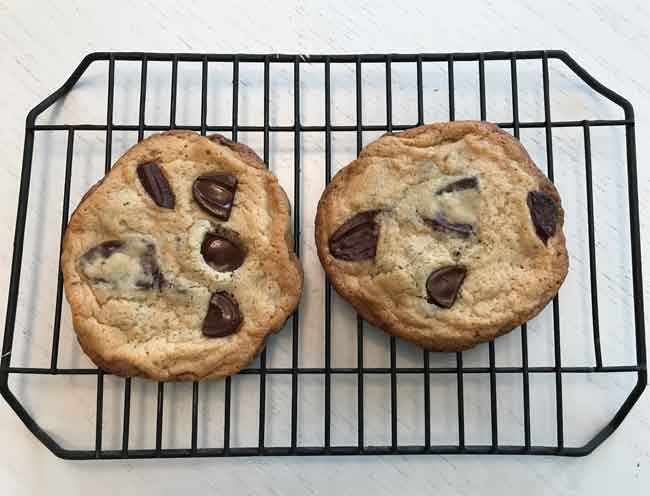 The last self-rising flour chocolate chip cookies I made were thick and brown around the edges, but the Pret cookies are better. They're a little over a quarter inch thick, about 4 ½ inches wide, crispy on the outside and really chewy. They call for a lot of chocolate, so that is key. If you have some Valrhona disks or chocolate féves, this would be a great way to use them because you need a chocolate that melts and spreads into the dough.  Good quality bittersweet chips will also work in a pinch, but chopped chocolate is better.
One thing I noticed was that my cookies weren't as brown as Pret's, so I baked the dough again a couple of different ways. The cookies were browner when baked on the convection or on the top rack. Usually baking soda helps cookies brown, but in this case you just have the self-rising flour, so keep that in mind.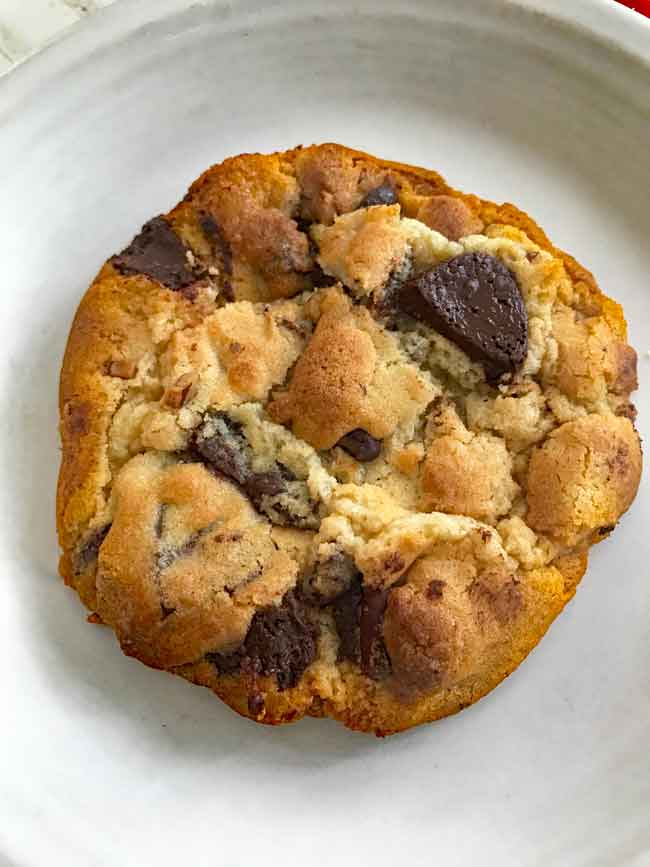 I'm really looking forward to hearing how these cookies work out for you. They're very chewy, very sweet and overall just a bit different in texture.  My family LOVES them.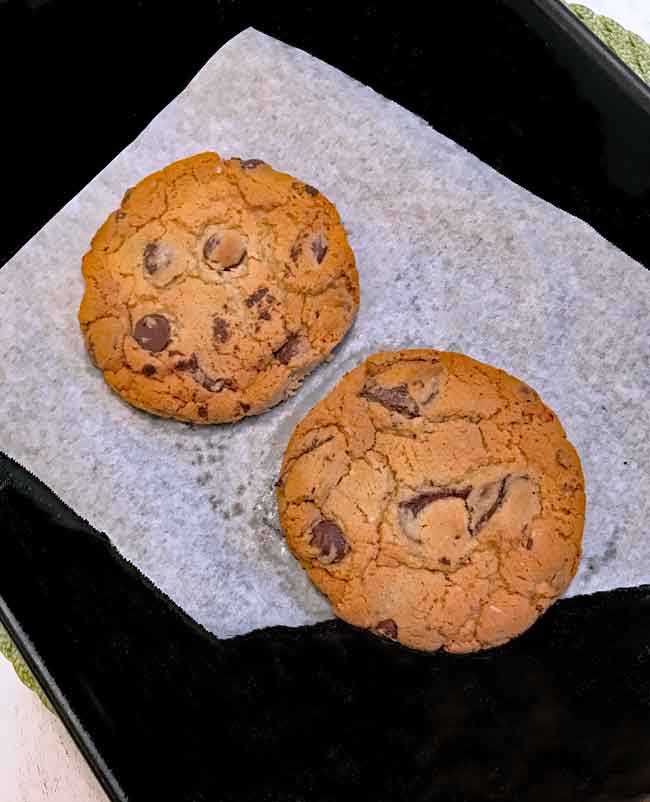 For the full recipe, check The Independent or follow Pret on Instagram.  I've put an adapted version below with approximate volume measurements.  If you have a scale then definitely use that.
Update:  I knew these cookies looked familiar!  While going through my files I found my  Big Flat Chocolate Chunk cookie recipe which was inspired by the Beatrix Chocolate Chunk Cookies.   The cookies are different in that Pret calls for self-rising flour, where mine just uses all-purpose mixed with baking soda and salt and the sugar ratios are slightly different, but the two are similar.  I'm going to have to make a batch side by side to compare.
Recipe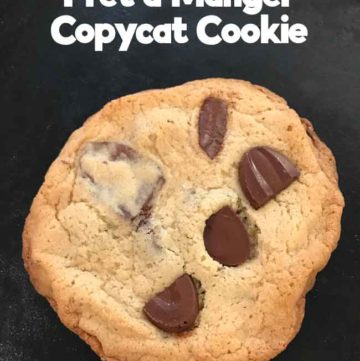 Pret a Manger Chocolate Chip Cookie Copycat
Sweet and chewy chocolate chip cookies made with self-rising flour.
Ingredients 
110

grams

butter

About 1 stick – see note about margarine

170

grams

granulated sugar

3/4 cup plus 2 scant tablespoons

85

grams

light brown sugar

1/4 cup plus 2 tablespoons tightly packed

1

large egg

190

grams

self-rising flour

1 ½ cups

3

grams

salt

scant 1/2 teaspoon – omit if using salted butter

120

grams

large chocolate buttons

Your favorite dark, semisweet or bittersweet
Instructions 
Preheat oven to 360 degrees F. 350 is okay too.

Soften the butter to the point where it is just about fully melted. If you are using tub style margarine, use it straight out of the tub. With an electric mixer, beat the butter and both sugars until creamy.

On low speed, beat in the egg until incorporated. Beat in the salt. Add the flour and stir just until mixed, then stir in the chocolate.

Shape into 8 mounds.

Set on an ungreased or parchment lined baking sheet, press down to slightly flatten the mounds and bake until cookies are golden and puffed up – for me this was about 15 to 17 minutes.

Let cool for about a half hour directly on the baking pan.
Notes
These can be made with 100 cal per tablespoon margarine such as Country Crock plant butter or tub style margarines that have a high percentage of fat. Don't bother with the reduced or lower calorie margarines because there's too much water. If using margarine, use it right out of the tub and reduce the salt in the cookies by at least half.
If using salted butter, you should probably omit the salt completely because you'll get enough salt in the butter and in the self-rising flour.