There's a joke at our house that a rustic tart is just a lazy version of pie. It doesn't require a pie dish, the rolling and crimping process is fairly laid back, and perfect slices don't require surgical precision.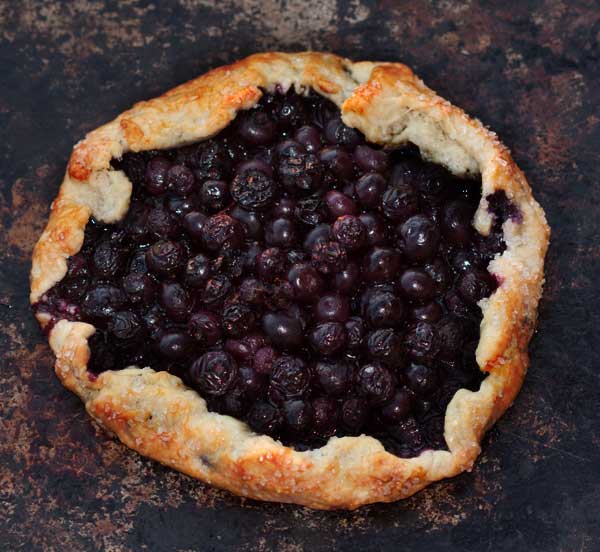 But lazy aspects aside, the beauty of a rustic tart is that it really showcases the crust. Sometimes bakers shortchange a pie crust to focus on a good filling, but with a rustic tart the crust to filling ratio is so high there's no room for compromise. You need a good buttery crust and a fresh fruit filling.
This crust made with a 100% butter, pastry flour (I've been using Bob's Red Mill lately) and the last of the season's blueberries. Served with a dollop of freshly whipped creamy, it's the perfect summer dessert and gives you a head start practicing your crust making skills for fall, when you can fill the rustic tart with apples or pears.
This recipe makes enough for two medium size crusts and one filling, so you can make all the crust, freeze half of it. Each tart will serve about 4.
Recipe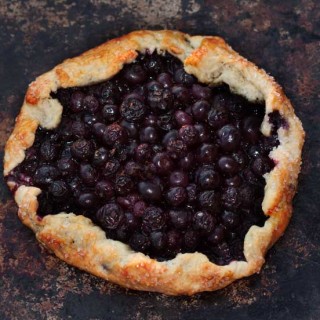 Blueberry Crostata aka Rustic Tart
Blueberry Crostata or in this case "Rustic Tart" is a free-form blueberry pie made with an all-butter pie pastry and fresh blueberries. This recipe will give you enough crust for two medium size tarts. I tend to make one tart at a time, thus this recipe provides enough filling for just one medium size tart. If you're making 1 large tart or 2 medium, double the filling.
Ingredients 
Crust:
1 1/4

cups

5.8 oz pastry flour (all-purpose okay)

(165 grams)

2

teaspoons

granulated sugar

1/2

teaspoon

salt

8

tablespoons

very cold unsalted butter, best quality

4-6

tablespoons

of ice cold water or as needed

I often need more
Filling:
1

tablespoon

cornstarch

1

tablespoon

sugar

plus extra for crust

1

cup

fresh blueberries

1

teaspoon

lemon zest

1

tablespoon

lemon juice

lightly beaten egg

Sparkly or coarse sugar

optional
Instructions 
Mix the flour, sugar and salt very well in a large mixing bowl. Cut the butter into small bits and scatter over the flour mixture. Using your fingers or a pastry cutter, lightly work the mixture into a coarse meal.

Add about 3 tablespoons of water and mix with a spoon or heavy duty scraper. Keep adding water until flour mixture holds together when you pinch it with your fingers.

Dump the mixture onto a big sheet of plastic wrap and press it all together. It shouldn't crumble at this point.

Wrap in plastic wrap and let it rest in the refrigerator for at least 30 minutes.

When ready to roll, divide in half and bring the half you plan to use to room temperature.

On a floured surface, roll one section of dough into an 8 inch circle.

Transfer circle to a parchment lined rimmed baking sheet.

Preheat oven to 425 degrees F.

Mix the sugar and cornstarch together in a small cup. Put the blueberries in a mixing bowl and toss berries with sugar mixture. Stir in lemon zest and juice.

Spoon the berries into the center of the dough leaving about a 2 inch border.

Fold border up to make a crust (see photo).

Brush the crust edge with lightly beaten egg and sprinkle with coarse sugar.

Bake 20-22 minutes or until golden brown. Let cool for about a half hour.
Notes
This will give you enough dough for two medium size tarts and one round of filling. Freeze half the crust and use it later or double the filling and make two.