Reduced Fat Chocolate Muffins — Applesauce and Greek Yogurt Save the Day!
There are few things more boring than jogging on a treadmill, but if I have something to occupy my mind it's not so bad. Yesterday, it was this reduced fat chocolate muffin recipe. Using my favorite King Arthur recipe as a springboard, I tried to think of how I could reduce the fat, add more protein and maybe a little fiber. When I got home from the gym, I wrote the ideas on paper and finally tested the muffins this morning. They were delicious! They're not as rich as the previous slew of jumbo muffins which call for butter, but they taste great and don't require any specialty ingredients other than the whole wheat pastry flour which is becoming pretty mainstream. As for the Greek yogurt, you could use any plain yogurt, but I like the Greek kind because it is packed with protein.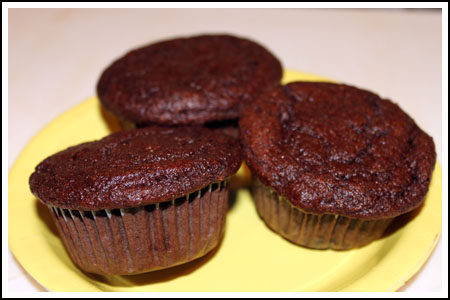 I used a 6 cup muffin tin and filled the muffins to the rim. They're big muffins, 3 oz each, which is why Mastercooks says they're 240 calories each – more calories than I wanted in each muffin, but not unreasonable since they're so big. Mastercook also said the fat count was 8 grams (30% of the total calories), protein was 4 grams and the fiber count was 4 grams per muffin.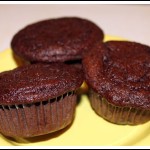 Print Recipe
Reduced Fat Chocolate Muffins
Moist chocolate muffins made with applesauce instead of butter.
Ingredients
1

cup

unsweetened applesauce

1

cup

minus 2 tablespoons whole wheat pastry flour

110 grams

1/3

cup

unsweetened cocoa powder

30 grams

1/2

teaspoon

baking soda

1/2

teaspoon

baking powder

1/4

teaspoon

plus a pinch of salt

3/8 tsp

1/2

cup

plus 2 T. light brown sugar

packed (110 grams)

1

large egg

3

oz

Greek yogurt

the kind with 18 grams protein per 6 oz

2

tablespoons

light olive oil

3/4

teaspoons

vanilla

1/4

cup

semisweet chocolate chips

1 ½ oz
Instructions
Heat oven to 375 degrees F. 6 muffin cups with paper liners

Stack about 8 paper towels on the counter and pour applesauce on paper towels. Spread the applesauce around in a circle almost as wide as the towels letting the towels soak up moisture from the applesauce; Let sit for about 5 minutes. You could probably do this step in a strainer, but I did it with towels.

Meanwhile, mix the flour, cocoa powder, baking soda, baking powder and salt together in a small mixing bowl.

Scrape the drained applesauce (weight should be 5 oz, volume should now be heaping ½ cup) off the towel and place it in a second mixing bowl. Stir in the brown sugar, egg, yogurt, oil and vanilla.

Pour the dry mixture into the applesauce mixture and stir a few strokes, then add the chocolate chips and stir until blended.

Divide batter equally among 6 muffin cups, filling to the top, and bake for 20-24 minutes or until a toothpick or chopstick inserted in center comes out clean.

Makes 6

Note: Try substituting 5 oz (heaping half cup) of pumpkin or 5 oz mashed banana for the applesauce.