I really love this homemade lemon curd recipe. It does not taste eggy, it is very smooth textured, and it has loads of lemon flavor. If I find a better recipe, I'll let you know. Update: I did find a better recipe. Or maybe not exactly "better" but very quick and very tasty. It's called Quick Lemon Curd and you make it in a microwave. I've included that recipe below.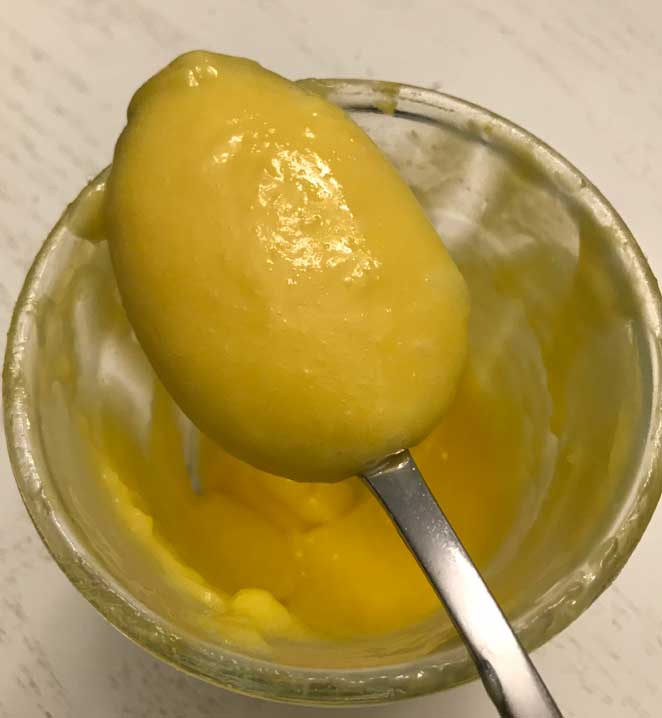 Quick Lemon Curd
This lemon curd can be prepared quickly in the microwave. It's a completely different recipe then the one in the card, so I'll give it its own page after I test it a few more times. However, it worked really well for me the one time I made it. I made 1/3 of it and used a 2 quart microwave-safe mixing bowl (a Pampered Chef Batter Bowl).
Ingredients for Quick or Microwave Lemon Curd
You'll need 6 lemons (or enough to make 2 tablespoons of zest and 1 cup of juice)
1/2 cup (1 stick) salted butter
2 cups sugar
4 eggs
Microwave Homemade Lemon Curd
In a mixing bowl, beat the softened 1/2 cup butter with an electric mixer. Beat in the sugar, then gradually add each egg, one by one, beating until thick and creamy. Gradually beat in the 1 cup of lemon juice. Mixture will curdle. Stir in the 2 T. zest. Put the mixture in a 3 quart microwave-safe bowl and microwave on high for 5 minutes, pausing ever 1 minute to stir. After 5 minutes of heating and pausing to stir, microwave for another 2 minutes, stirring every 30 seconds. Curd should coat the spoon at this point. Let cool slightly, the cover directly with parchment or plastic wrap and chill until thickened. Makes about 2 cups.
If you try the microwave recipe above, let me know! It's an old one from Southern Living and I have only made it once. The one below in the recipe card is my old tried and true.
Recipe
Lemon Curd
This makes a smooth and silky lemon curd. Try it with English or Irish butter.
Ingredients 
4

large

egg yolks

2

large

eggs

3/4

cup

sugar

150 grams

1/2

cup

fresh lemon juice

114 ml

4

tablespoons

1/2 stick unsalted butter (56 grams)

2

tablespoons

of lemon zest (you can omit this if you want or use less)**

from about 2 lemons
Instructions 
In a medium size bowl, whisk together 4 egg yolks and 2 eggs.

In the top of a double boiler, combine sugar and lemon juice. Put water in the bottom of the double boiler and bring to a simmer.

Add the whisked eggs to the sugar/juice mixture and set the top part of the double boiler over the simmering water. Stir constantly until mixture thickens and coats the back of a spoon. This should be done slowly, which is why the double boiler helps. If you cook lemon curd too fast it can taste eggy. The stirring process should take 8 to 10 minutes.

Remove pan from heat and pour it into a sieve set over a bowl. Push it through. Add butter one cube at a time, stirring after each cube, until mixture is smooth. Add the lemon zest. Let cool completely before serving.
Notes
Taste the lemon curd before adding the zest.  Depending on how lively your lemon juice is, you may not need the zest or you may just want to use less of it.