Using the slogan "Bake On and Give Back!", Duncan Hines has joined forces with Share Our Strength's Great American Bake Sale and are asking readers to join them in the 1 MILLION Cupcake Challenge.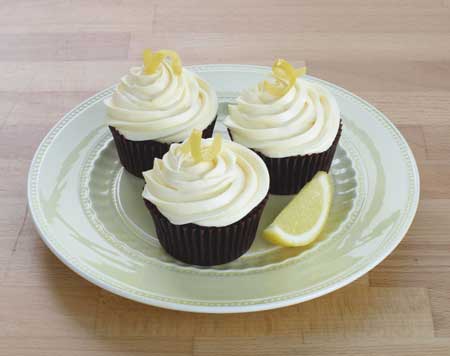 Photo Courtesy of Duncan Hines
If you like hosting bake sales or want to try it for the first time, this is a great way to get started. You sign up as an individual or team (or you can join an existing team in your area), then use Share Our Strength's  Bake Sale Resource Checklist to help you with the logistics of running or participating in a bake sale. I found their list of potential locations pretty helpful. They suggested block parties, retirement homes, and even work.
(Pssssst. There's also an awesome Recipe Database !)
As for Duncan Hines, they're upping the ante by matching funds derived from top-selling bake sales and giving 5 bake sale participants a chance to go to the Emmy Awards.
Matching Funds: From the week of April 11 through the week of July 18,  Duncan Hines will match the funds received from the top fund raising Great American Bake Sale team (Monday-Sunday, up to $5,500 per week until July 24, 2011).
Emmy Award Sweepstakes: Those who join the Duncan Hines 1 MILLION Cupcake Challenge and host an official Great American Bake Sale from April 11 through July 24 are eligible to win one of five grand prizes in the Duncan Hines 1 MILLION Cupcake Challenge Sweepstakes. Each grand prize includes a three-day/two-night trip for two to Los Angeles including Fans in the Stands seats on the Red Carpet of the 63rd Primetime Emmy® Awards on Sept. 18, 2011.
You can find all the rules and more details at 1 Million Cupcake Challenge. And if you want exclusive access to recipes, baking tips and coupons, join the Duncan Hines Bakers Club.
Now about the cupcake in the photo, it's made with chocolate cake mix and lemon curd! This is one I have to try. Here's the recipe if you want to do it first.
Lemon Chocolate Cupcakes

1 pkg. Duncan Hines® Triple Chocolate® Decadent Cake Mix
1 cup jarred or homemade lemon curd
1 tub Duncan Hines® Creamy Home-Style Cream Cheese Frosting
Juice and zest of one lemon
Yellow food coloring (optional)

Baking Instructions
1. Bake cupcakes as directed and let cool completely.

2. Using a paring knife, cut a small inverted cone out of the top center of the cupcake. Cut no more than 2/3 of the way down into the cupcake.

3. Fill the empty space in the cupcake with lemon curd (about one teaspoon).

4. Using a fine grater, take off the yellow zest of the entire lemon.

5. Cut the lemon in half and squeeze juice into a small bowl.

6. Add the lemon zest to the frosting.

7. Start by adding one teaspoon of lemon juice to the frosting. Mix and taste. If you want a stronger lemon flavor, begin adding more—a 1/2 teaspoon at a time to taste.

8. Add a drop of yellow food color to frosting and mix in thoroughly.

9. Frost cupcakes and serve.