Lemon Chocolate Cupcakes are based on a recipe from an old Duncan Hines promotion called The One Million Cupcake Challenge. That promotion ended long ago, so I'm just leaving the recipe here in case you are having a chocolate/lemon craving. It happens.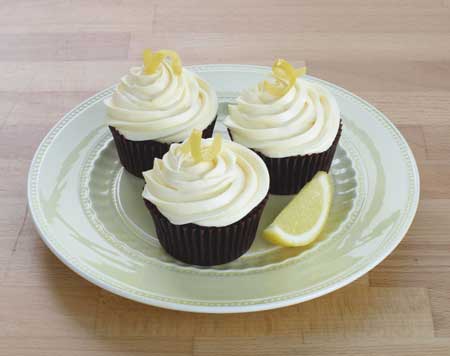 Photo Courtesy of Duncan Hines
Lemon Chocolate Cupcakes
1 pkg. Duncan Hines® Triple Chocolate® Decadent Cake Mix
1 cup jarred or homemade lemon curd
1 tub Duncan Hines® Creamy Home-Style Cream Cheese Frosting
Juice and zest of one lemon
Yellow food coloring (optional)
Baking Instructions
1. Bake cupcakes as directed and let cool completely.
2. Using a paring knife, cut a small inverted cone out of the top center of the cupcake. Cut no more than ⅔ of the way down into the cupcake.
3. Fill the empty space in the cupcake with lemon curd (about one teaspoon).
4. Using a fine grater, take off the yellow zest of the entire lemon.
5. Cut the lemon in half and squeeze juice into a small bowl.
6. Add the lemon zest to the frosting.
7. Start by adding one teaspoon of lemon juice to the frosting. Mix and taste. If you want a stronger lemon flavor, begin adding more—a ½ teaspoon at a time to taste.
8. Add a drop of yellow food color to frosting and mix in thoroughly.
9. Frost cupcakes and serve.