Triple Lemon Cake was inspired by the fact I didn't have any good chocolate on hand.  Frankly, I wanted to make brownies, but duty called in the form of a bunch of lemons and an open jar of curd.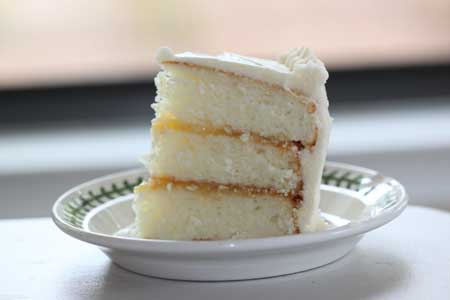 Fine Cooking Triple Lemon Cake
This recipe was adapted from one in Fine Cooking and requires two 8x2 inch deep cake pans. It turned out all my 8 inch cake pans were only 1 ½ inches deep, so I had to adjust the recipe and make it in three pans. I also streamlined it a bit to cut down on appliances and bowls, and at the end of the day, I think I liked my way better than Fine Cooking's because there was a better ratio of cake to lemon curd. 
Fine Cooking Lemon Curd
Speaking of which, when it came time to fill the cake with lemon curd, I decided that this cake deserved its own fresh batch and not just what was left of the jarred type in the refrigerator.   The cake will leave you with 5 egg yolks, so it makes sense to just whip up a quick batch of Fine Cooking's lemon curd.
If you are looking for an easy lemon cake with lots of fresh lemon flavor, here it is.  It is kind of a lot for just 3 people, so I think we're going to eat a few slices the squash it up and make cake pops.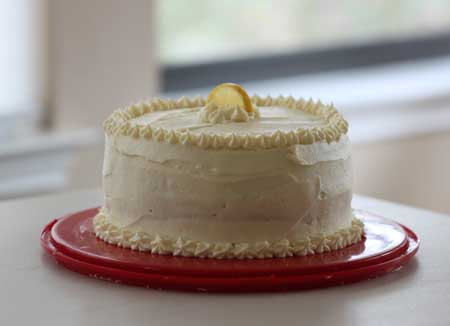 Recipe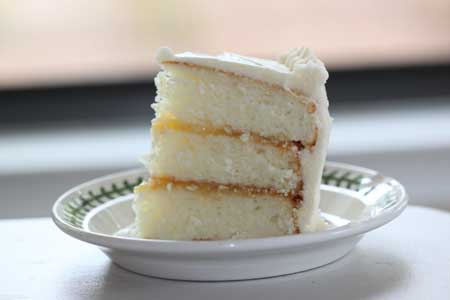 Triple Lemon Cake
Scratch lemon cake with lemon curd filling and lemon frosting.
Ingredients 
2 ⅓

cups

cake flour

9.25 oz

2 ¾

teaspoons

baking powder

¼

teaspoon

salt

5

large egg whites

at room temperature

¼

teaspoon

cream of tartar

1 ¾

cups

granulated sugar

2

tablespoons

lemon zest

lightly packed and finely grated

6

ounces

unsalted butter

at room temperature

1

cup

whole milk

at room temperature

teaspoon

vanilla extract
Frosting
2

sticks

8 oz unsalted butter, at room temperature

2

tablespoons

lemon zest

3 ½

cups

sifted confectioners' sugar

3

tablespoons

fresh lemon juice

1-2

tablespoons

of milk or as needed
Instructions 
Preheat oven to 350ºF. Spray three 8 by 1 ½ inch round cake pans with flour-added baking spray or just grease generously and dust with flour.

Mix the flour, baking powder and salt together in a medium size bowl and set aside.

In the bowl of a stand mixer using the whipping attachment, whip egg whites on medium speed until foamy, add cream of tartar, increase speed to high, beat until whites just hold stiff peaks. Scrape them into a second bowl to wait.

In the stand mixing bowl, the same bowl you used to whip the whites, mix ¼ cup of the sugar with the lemon zest, stirring it around to make an aromatic lemon sugar. Add the softened butter and beat with the paddle attachment until creamy, then add the remaining 1 ½ cups sugar and beat until light and fluffy. Add a little of the milk and beat just until blended.

With the mixer on low speed, add flour mixture alternating with remaining milk in 3 batches, scraping sides of the bowl.

Add about ¼ of the whites to batter and fold in with a heavy duty scraper, then fold in remaining whites gradually. Divide batter evenly between cake pans and smooth tops. Bake for about 28 minutes or until tops are brown and a toothpick inserted comes out clean.

Let cool for 10 minutes, remove from pans and let cool completely on rack.

Spread the top of two cakes with lemon curd and stack so that you have three layers and two levels of lemon curd filling. Let cake stand for about 30 minutes while you make the frosting.

Frosting: In an electric mixer, beat butter and lemon zest until light and fluffy. Add confectioners' sugar gradually and beat well. Add lemon juice and beat for 1 minute. Add milk as needed until you get a creamy, spreadable consistency.