I need to buy my daughter more cookbooks, because while I own probably 200, she has 3 -- 5-Minute Mug Cakes, The Magic of Jello, and Sugar, Butter, Flour: The Waitress Pie Cookbook. I'm not sure she has a favorite, but being a musical theatre and Sara Bareilles fan, she loves the Waitress book. You wouldn't expect a musical theatre themed cookbook to have such great recipes, but this one does.  Maybe because the author isn't really Jenna from Waitress, but Sheri Castle, is a talented cook and teacher.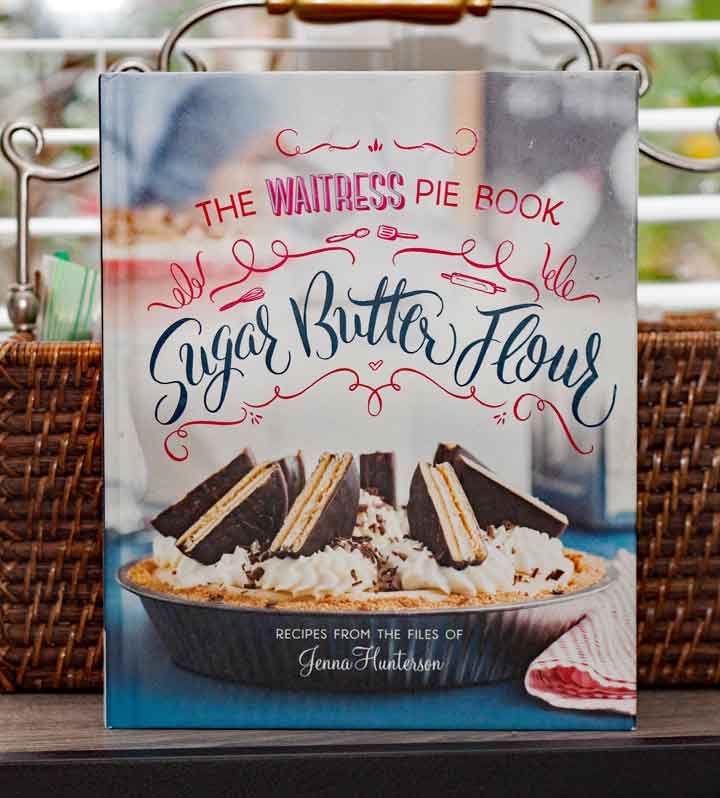 My daughter (aka Fuzz or Emma) will be heading back to college soon, so she's been using what little time she has left to hone her pie making skills. From her Waitress book, she chose the Thanks for Taking Me to the Moon Peanut Butter Pie, which I think was an excuse to buy Moon Pies. Emma had never tried a Moon Pie, so we bought some for the pie and sampling occurred. She liked them so much that she only put one or two on the pie and saved the rest.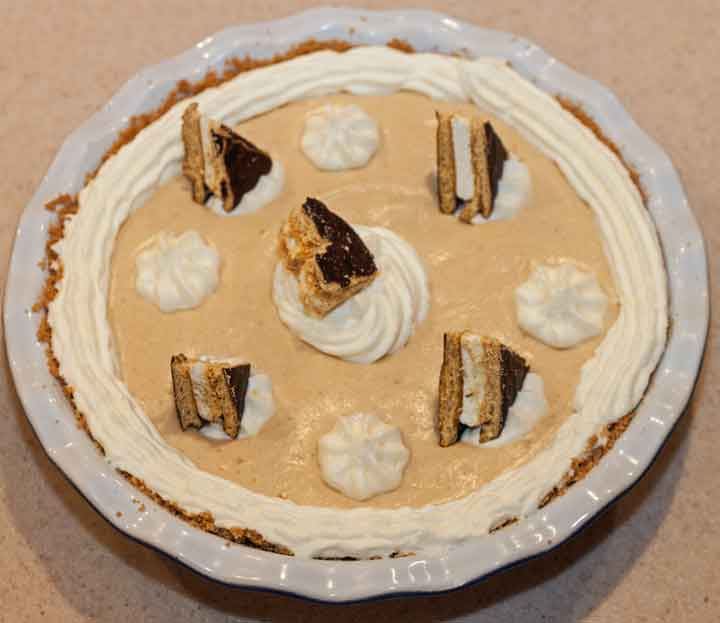 Personally, I would have piled all of the Moon Pies on top. Hmm, now I'm thinking I want to pile Little Debbie Christmas Trees on something, but that's for another blog post. For this slice, I added more Moon Pie and whipped cream. Sorry, Emma. You are down another Moon Pie.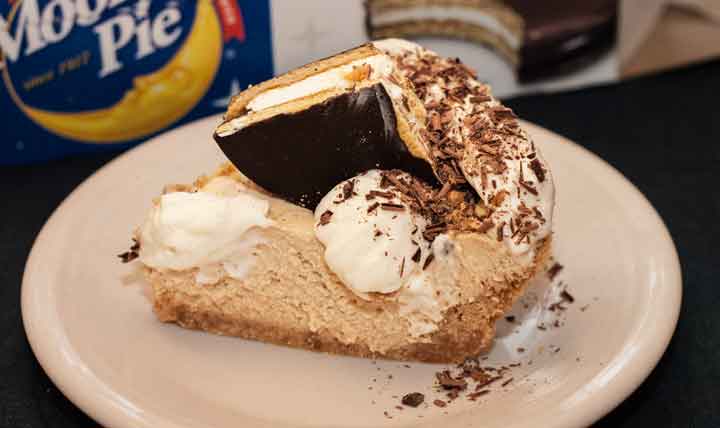 Snack cakes aside, the pie was really good. We don't make a lot of peanut butter pie because my husband thinks he doesn't like it. But he liked The Waitress Peanut Butter Pie! The graham cracker crust is interesting because it doesn't have any sugar, and the flavor of the crust combined with the filling is like a giant Nutter Butter. The only thing "wrong" with this pie is it doesn't have a chocolate layer. Chocolate shavings don't cut it, but they are pretty.
Recipe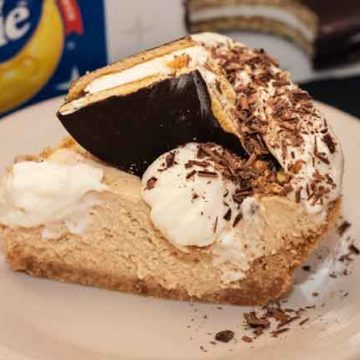 Thanks for Taking Me to the Moon Pie
Adapted from Waitress the Musical Pie Book
Ingredients 
Graham Cracker Crust
1 ¾

cups

graham cracker crumbs

6

tablespoons

unsalted butter

melted
Chocolate Filling
1

8-ounce package cream cheese, softened

1

cup

creamy peanut butter

Jif

1

cup

confectioners' sugar

1 ½

cups

heavy cream

chilled

1

teaspoon

pure vanilla extract
Marshmallow Whipped Cream
1

cup

heavy cream

chilled

2

tablespoons

confectioners' sugar

1

cup

marshmallow cream

(Marshmallow Fluff)

4

Mini Moon Pies (we used large ones)

halved crosswise, for garnish

1

tablespoon

grated bittersweet or semisweet chocolate

for garnish
Instructions 
Preheat the oven to 350°F. Mix the graham cracker crumbs and butter and press into a 9½-inch deep-dish pie pan. Chill for 15 minutes to firm up the butter. Bake in the center of the oven for about 10 minutes, or until just set and fragrant. Let cool to room temperature.

Make the filling. With an electric mixer, beat the softened cream cheese, peanut butter and confectioner's sugar until smooth.

In another medium bowl, beat the cream and vanilla on high speed until it holds firm peaks. Beat the whipped cream into the cream cheese mixture on low speed. Transfer the filling to the cooled crust and chill for 3 hours. At some point during the chill time, you can make the topping.

Topping. Using an electric mixer, beat the cream and confectioners' sugar on high speed until it holds soft peaks. Add the marshmallow cream and beat to firm peaks. Scoop the topping into a pastry bag fitted with a fluted tip and pipe it decoratively over the filling.

Arrange cut up Moon Pies decoratively on top of the pie and garnish with chocolate.