There's a new brownie recipe making the rounds, and it's from Ralph Lauren's wife, Ricky. Featured in  The Ladies Village Improvement Society Cookbook: Eating and Entertaining in East Hampton, the Lauren family calls these Nana's Brownies because Ricky's mom used to make them for Ralph's birthday every October. So you could also call these Nana's Brownies or  Ricky's Brownies, but for now we'll go with Ralph Lauren's Brownies to make them sound stylish!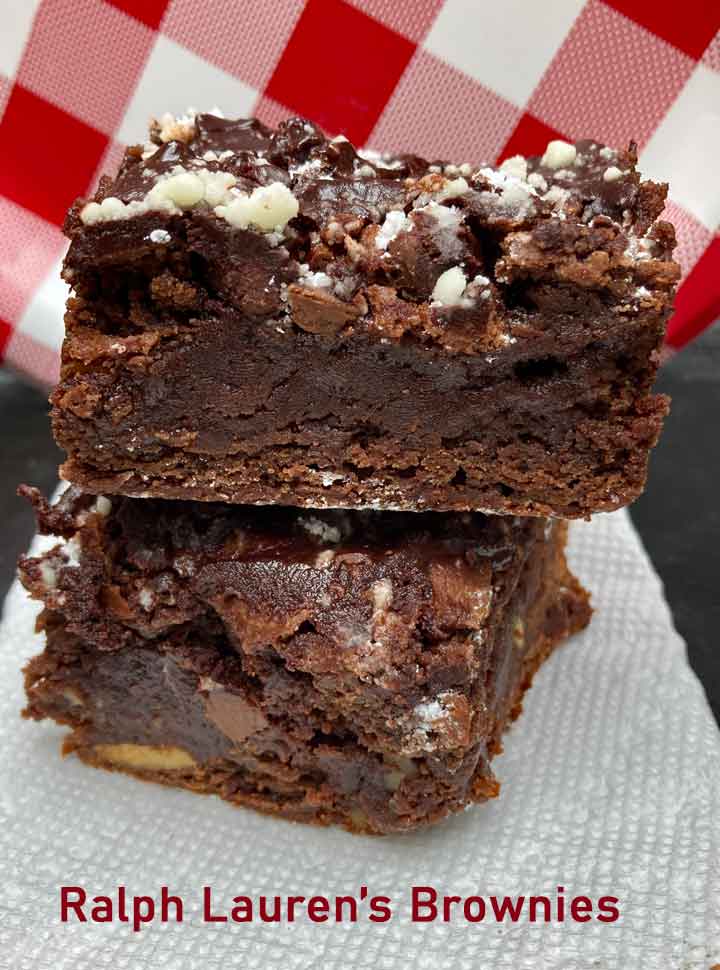 They really do eat well in The Hamptons, and these brownies are indicative. They are fabulous! I was worried they'd be too boozy, but they are not. They'd still be very good without the rum, though I'd be inclined to use it again.
Ralph Lauren's Brownies are chewy/cakey on the outside and fudgy in the center with no dry parts. There's a good balance of fudgy and cakey so they are "in-between" brownies.
Rum Glaze
The glaze, however, is not that sweet. Or at least I didn't think so which is why I dumped confectioners' sugar all over the brownies. You could probably get away with using bittersweet or extra bittersweet chocolate in the glaze or just increasing the confectioners' sugar slightly (rather than dumping it on like I did).  Either way, Ralph Lauren's brownies are good.  I'm already looking forward to making a second batch for the neighbors.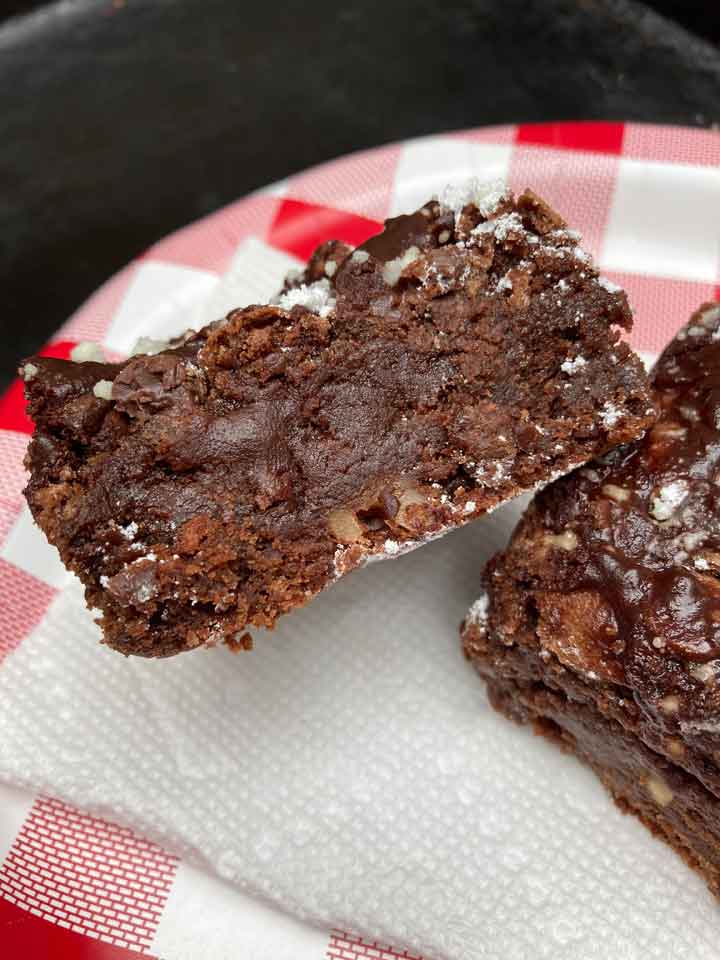 Tips
Be sure to use the walnuts, the brownies aren't the same without them.
I made all of my batches with Ghirardelli unsweetened.  The brand of chocolate may affect the results.
Don't over-bake -- these can go from perfect to dry pretty quickly. When you remove the thermometer it should still be climbing to 210 and not already at it.
For a half batch, 350 seems to work better.
The brownies are cakey/fudgy so again -- do not make if you want super fudgy brownies. The Bon Appetit version with bittersweet chocolate is more of a sure thing if fudgy is your goal. These are good because they are less sweet and more intensely chocolate.
Bon Appetit Version/Epicurious Version
Just so you know, there is a second version of the recipe that was published in Bon Appetit in 2015. It is a half batch version, but calls for bittersweet chocolate vs. unsweetened. I didn't realize the bittersweet version existed until after I'd made the unsweetened version, and honestly that is probably for the best. I would have gone with the bittersweet version.
But of course I did try the bittersweet version -- the Nana's Brownies recipe from Epicurious.  It is very similar, but (as mentioned) a half batch and calls for a few tablespoons of cocoa and bittersweet instead of unsweetened.  The Epicurious version is great too, and sweeter.  I feel like the version with unsweetened chocolate is a little more intense and interesting.
Nana's Brownies
Recipe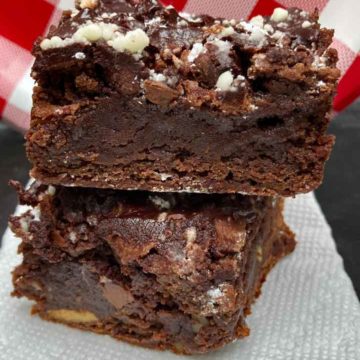 Ralph Lauren's Brownies
I've already made these several times and love the results. They can quickly go from perfect to somewhat dry if overbaked. For a half batch, halve all ingredients, use an 8 inch square pan and bake at 350F for about 30 to 35 minutes.
Ingredients 
2

cups

all-purpose flour, weigh or measure with a light hand

(250 grams)

1 ½

teaspoons

baking powder

½

teaspoon

salt

6

oz

unsweetened chocolate

chopped (170 grams)

2

sticks

unsalted butter

(230 grams)

3

cups

sugar

(600 grams)

6

large

eggs

1

tbsp.

pure vanilla extract

I used cheap vanilla

1 ½

cups

chopped walnuts

plus more for garnish
Rum Glaze
6

tbsp.

unsalted butter

(84 grams)

4

oz.

unsweetened chocolate

chopped, use good. (115 grams)

6

tablespoons

confectioners' sugar

I recommend a little more

Pinch

of salt

2

tsp.

pure vanilla extract

4

tbsp.

dark rum or brandy

56 ml
Instructions 
Preheat the oven to 375°F. Grease a 9x13 inch baking pan. I've only tested in metal and don't recommend glass at this point. Line bottom of pan with parchment paper and grease the parchment or dust with flour.

In a small bowl, whisk together the flour, baking powder, and salt.

In a saucepan, melt the chocolate and butter with the sugar over medium-low heat. Remove from heat and stir until smooth.

In a large bowl, beat the eggs and vanilla until mixed but not frothy. Stir in the chocolate mixture and then the flour mixture until fully incorporated. Fold in the chopped walnuts.

Spread in the prepared pan. Bake for 30-35 minutes, until the edges are set and a cake tester comes out with a few crumbs attached. Let cool. The brownies should sink a bit as they cool, but when everything settles they'll be good.

Meanwhile, make the rum glaze: In a medium saucepan, melt the butter and chocolate over low heat. Sift in the confectioners' sugar and salt. Stir in the vanilla and rum, and keep warm.

Spread the brownies with the warm rum glaze. Cut into 2-inch squares and decorate each with a walnut half. Refrigerate for 1 hour before serving.
Notes
I sprinkled some chocolate chips on top before baking.
HALF BATCH:  Use and 8 inch square pan and bake for 35 minutes or until internal temperature is about 208-210.  Brownies will puff up and sink a bit as they cool.