I have no intention of turning this into a low carb cookie blog, but being as it's January and people have good intentions for the new year etc, I've found myself in the position of baking cookies for people who would like cookies with fewer carbohydrates.
I'm a proponent of protein rich diets, but I'd never be able to live on an Atkins regimen, so I lean towards moderate carbs, high protein and low fat foods. For every serving of cookies, there's a big serving of meat or chicken to go with it. It all works itself out in the end. Blah, blah, blah about that. Let's get to the cookies.
This recipe came from my friend Jennifer who found it in Light & Healthy magazine. Between the two of us, it's been changed around a bit. Jennifer used the full serving of sugar and sugar free chocolate chips. I used Splenda Brown Sugar Blend and regular chocolate chips. In the end, both of us ended up with cookies with a carb count of about 7 carbs per cookie. These taste great! If you think meringues are boring, try them with brown sugar, hazelnuts and chocolate chips. Yum.
Recipe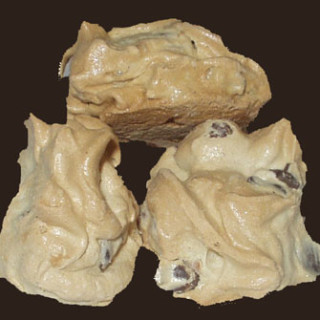 Hazelnut Chocolate Chip Meringues
A meringue cookie made with Splenda
Ingredients 
2

egg whites

½

teaspoon

vanilla extract

⅓

cup

Splenda Brown Sugar Blend or ¾ cup brown sugar

2

ounces

hazelnuts -- toasted and coarsely chopped

about 1 cup

⅓

cup

semisweet chocolate chips
Instructions 
Preheat oven to 350. Line cookie sheets with parchment or Silpat.

In a medium bowl, beat egg whites until stiff peaks form. Beat in vanilla and brown sugar blend or brown sugar. Fold in nuts and chips.

Line a cookie sheet with parchment paper. Drop dough on paper with a rounded teaspoon. Bake for about 15 minutes or until golden. Remove from oven and let cookies cool on baking sheet. If you'd prefer a crispier cookie, turn off heat in oven and let cookies sit in closed oven for a while. These freeze very well.