Maybe it's the cold weather, or possibly I'm just homesick for Texas, but last night I made an old favorite from The Austin Junior League that really hit the spot. It's pretty much a compilation of Texas dessert staples starting with a pecan cookie base, Blue Bell vanilla ice cream, caramel sauce (or cajeta) and a big splash of Scotch, which is funny since the dessert is called Southern Comfort.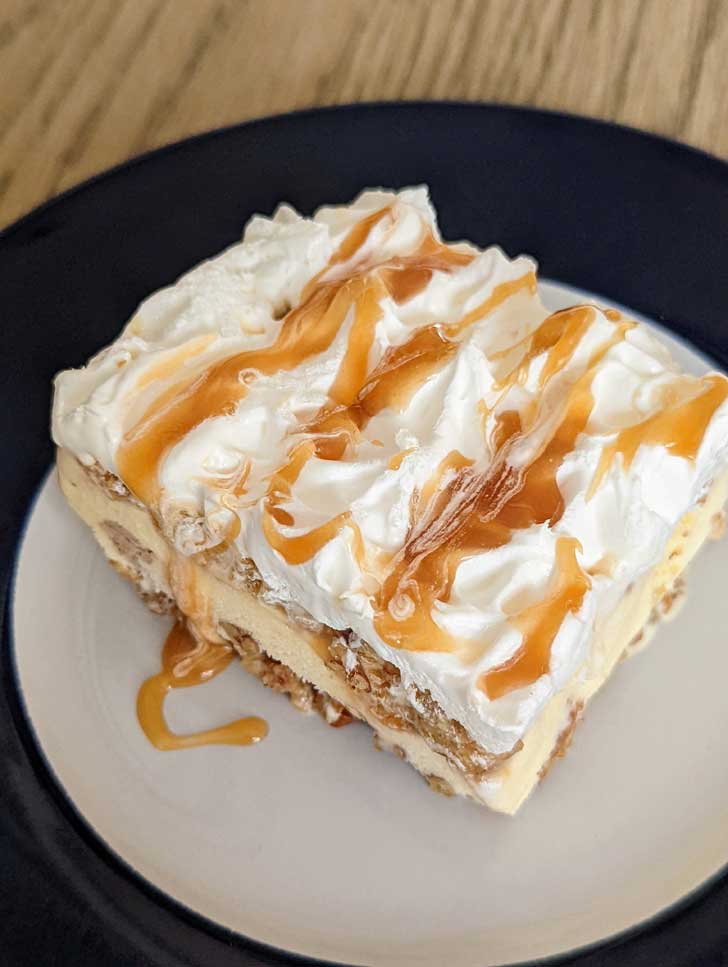 Scotch or Bourbon
Southern Comfort is just a name someone came up with, but you can make this with Scotch (preferred) or bourbon. To be honest, I've never tried Southern Comfort. I always thought it was whiskey but it seems that's a myth. It would probably work too.
Serving Sizes
The original recipe is assembled in a 9×13 inch dish and is designed to serve 15, but if you're thinking about making it for Valentine's Day or just a leisurely Sunday night dessert, you can scale it down. I made last night's batch loaf pan size and I also assembled a little shot glass Season's 52 style size. If you don't have shot glasses, you could use tiny mustard jars or better yet, recycled French style yogurt jars.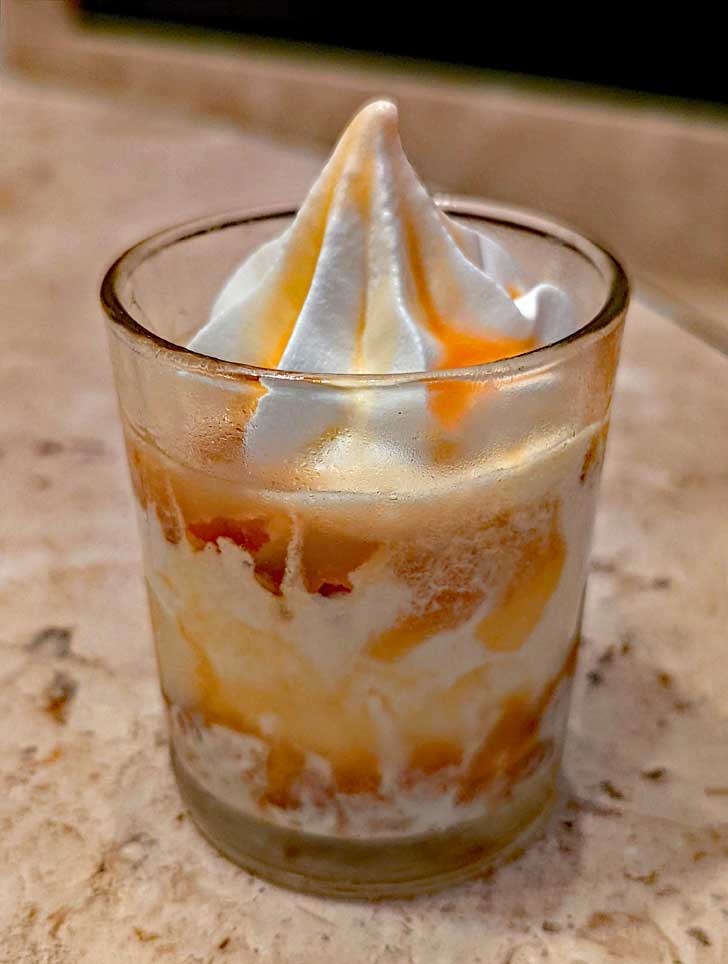 A Few Tips and Photos
This is one of the easiest desserts you can make, but I took a few photos and have a couple of tips. First, here's a picture of the pecan cookie crunch base. Watch it carefully, as it can burn around the edges. It will appear rather greasy and bubbly right out of the oven, but will cool into a crunchy cookie. And if for some reason it's underbaked, you can just throw it back in the oven after crumbling. Also, it's not very sweet, but don't worry. The caramel fixes that.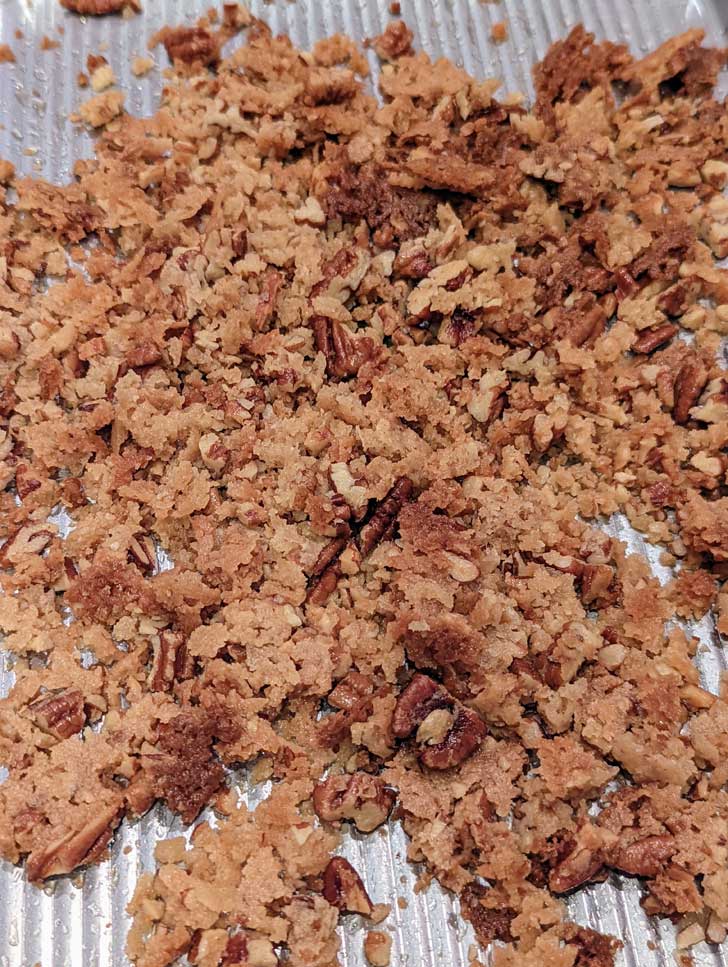 Caramel Sundae Sauce
This is a great excuse to buy fancy gourmet caramel sauce or even make your own. However, since you are combining it with Scotch or bourbon, you can use any caramel sauce and it will still be fantastic. The amount of caramel sauce called for in the original Southern Comfort recipe is 2 jars. That's a little ambiguous, but caramel sauce does still come in 12 oz jars and that size works. But don't overthink it. Just pour on what looks good. Make sure to pour the caramel sauce directly over the cookie crust.
Blue Bell Ice Cream or Amy's!
Use whatever brand you like, but if you are truly going for a Texas theme then Blue Bell is a good bet. If you want more of an Austin theme you could use Amy's Mexican Vanilla. That's probably one of the flavors I miss most of all from Austin. It's much richer than Blue Bell and has a very distinct flavor.
More Caramel Recipes
Recipe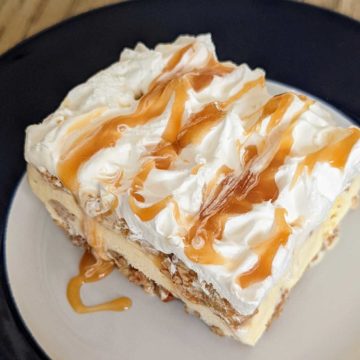 Southern Comfort
An easy dessert made with caramel, ice cream, pecans and bourbon.
Ingredients 
1 1/2

cups

all-purpose flour

(210 grams)

1/2

cup

tightly packed brown sugar

(110 grams)

2

sticks

salted butter, best quality (add 3/4 tsp salt if using unsalted)

(230 grams)

1 1/2

cups

chopped pecans

2

jars

caramel ice cream topping (about 20-24 oz total)

1/2

gallon

vanilla ice cream

1/2

cup

bourbon or Scotch

whipped cream or whipped topping

optional
Instructions 
Preheat oven to 350 degrees F. Have ready a large, rimmed nonstick baking sheet.

In a mixing bowl, stir together flour and brown sugar. Pour in the butter and stir well, then stir in the chopped pecans. Press it down into a firm layer on the baking sheet. No knead to grease.

Bake the crumbly mixture for about 20 to 30 minutes. It may take a little shorter or a little longer, so keep an eye on it. Mine's usually done in 20. It will be browner around the edges than in the center. If your oven runs hot, you may want to bake at 325, but give 350 a try first.

Let cool slightly, then crumble up the mixture and spread half in the bottom of a 9×13 inch glass dish.

Layer with half of 1 jar of caramel ice cream topping, all of the ice cream, remaining of the first jar of caramel, and remaining crumbs.

Cover with plastic wrap and freeze until firm. When ready to serve, cut into squares.

Heat the remaining jar of caramel ice cream topping in a saucepan until warm, then stir in the Scotch or bourbon. Spoon over the plated ice cream squares.

Optional: You can put whipped cream or whipped topping over the cut squares and then add the sauce. I see no reason not to do this.