My go-to brownie pan is an 8 inch square, but a few months ago we were invited to a picnic so I made brownies in a 15x10 inch jelly roll pan. Maybe it was the dark brown sugar & espresso, or maybe it was just that I'd cut the brownies large and wrapped them individually. Whatever the case, I've never seen a pan of brownies disappear that quickly.
Jump to Recipe
15x10 Inch Pan Brownies vs 13x9 inch Pan Brownies
One reason I used the jelly roll pan rather than the usual 13x9 inch was that I recently bought a 15x10 inch USA pan that's always on the counter. In the past, my old 15x10 inch pan was buried under piles of other pans and there'd be an avalanch of cookware whenever I went looking for it. This new one's always at arm's reach. So it was convenient, plus I wanted to see how thin the brownies would be and what the crust would be like when baked in a shallower pan. Here's a picture of the first batch. I splurged a and used Guittard's Bittersweet Wafers melted into the brownies and on the half of top. The bottom half has Ghirardelli's bittersweet chips.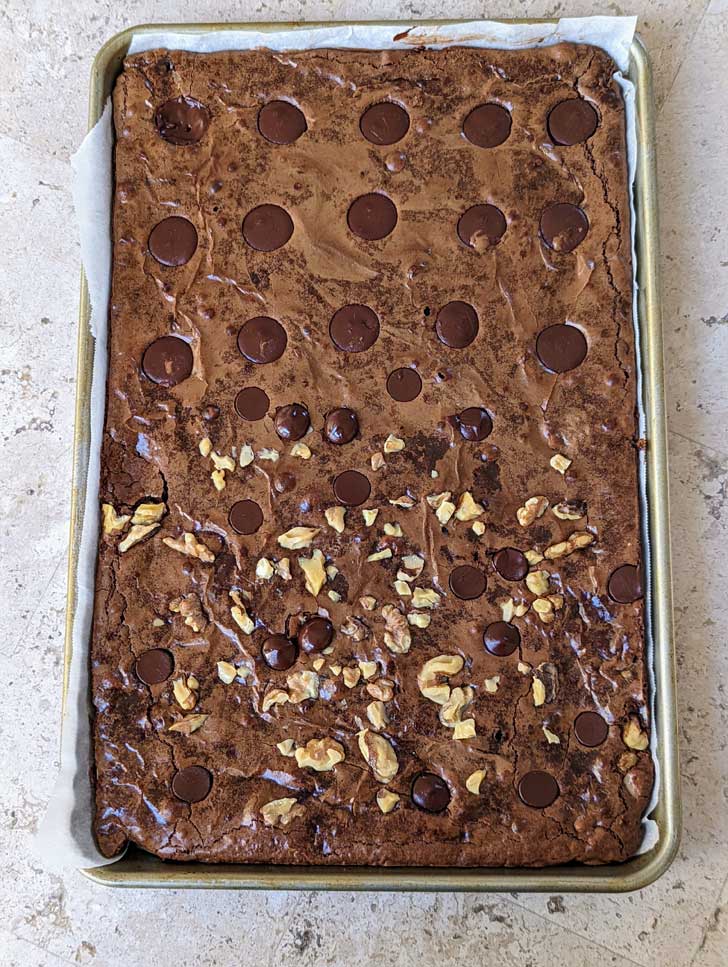 Chocolate for 15x10 Inch Pan Brownies
We loved the version made with the melted Guittard wafers, but it was pretty expensive, so I made a second batch with melted Ghirardelli bittersweet chips and a third batch using melted chocolate bars from Aldi -- half dark chocolate 49% Choceur and half 85% Moser Roth. The melted Ghirardelli chip version was good, but the texture wasn't quite as smooth as the brownies made with baking wafers or melted bars. So if possible stick with bars. Also, don't leave out the extra 28 grams of unsweetened chocolate. It might seem insignificant, but it's part of the recipe. Any brand will do.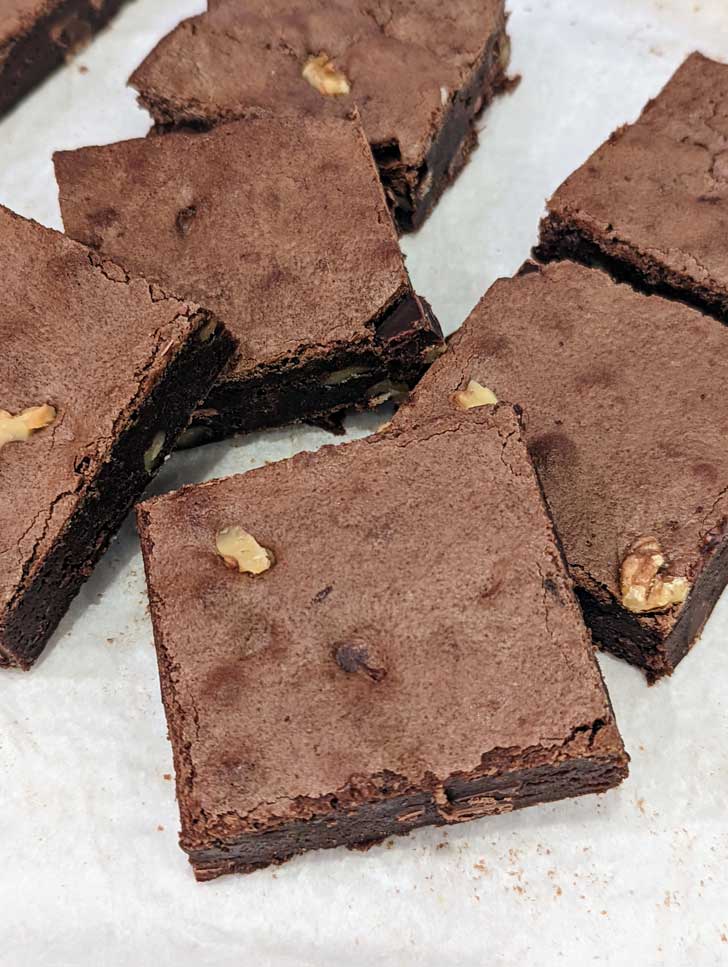 Coconut Oil and Flaky Salt for Greasing Pan
The best tip I've ever read on Twitter is this one: Grease brownie pans with coconut oil and sprinkle sea salt on the bottom so that you get a taste of salt in each bite. These brownies are thinner, so the salt bite is amplified and more noticeable but in a good way. It's an optional step, and only for people who like a little burst of salt.
Espresso Powder
Espresso powder is worth using as it really adds to the flavor. I like espresso, but am sensitive to caffeine so I use it anyway and eat the brownies before noon. If you don't have or don't want to use espresso powder, just leave it out.
1 Tablespoon of Vanilla
This may seem like a lot of vanilla for one brownie recipe, but remember it's a 15x10 inch pan with 2 ½ cups of sugar and 1 ⅓ cups of flour, so proportionately it's not that much.
Dark Brown Sugar in Brownies
The dark brown sugar (along with the espresso powder) makes these brownies special, so I recommend using dark over light. The dark brown sugar gets added to the melted chocolate mixture so it is mostly dissolved, while the granulated sugar is added later.
Large Batch Size
A 15x10 inch pan brownies should yield 24 decent size brownies suitable for wrapping individually. For a party, you could divide each of the brownies in half or into quarters and serve 48 wedges or 96 cubes give or take missing scraps and edge pieces. I like to trim the edges and bake them like biscotti.
Gluten-Free Large Batch Brownies
I've been doing a lot of gluten-free baking lately, so when I get a chance I'll test these with a 1:1 blend. There's no reason why it shouldn't work, but I'll report back after testing. I will also test in a 9 inch square pan, which is the size I use when halving recipes calling for a 15x10 inch or jelly roll pan.
Recipe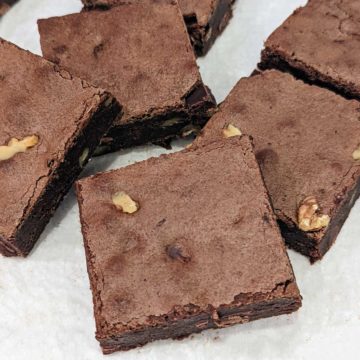 15x10 inch pan brownies
Large batch of thin brownies baked in a 15x10 inch pan.
Ingredients 
230

grams

unsalted butter, cut into chnks

(2 sticks)

230

grams

semisweet or bittersweet chocolate, chopped

(half a pound/8 oz)

28

grams

unsweetened chocolate, any brand

(1 ounce)

1 ½

teaspoons

instant espresso powder

( you can use up to 2 teaspoons)

200

grams

dark brown sugar

(1 cup)

5

large

eggs

(250-270 grams)

300

grams

granulated sugar

(1 ½ cups)

½

teaspoon

salt

1

tablespoon

vanilla extract

185

grams

King Arthur all-purpose flour (KA for chewier)

(1 ⅓ cups)

84

grams

chocolate chips or chunks

(½ cup)

⅔

cup

walnuts (optional)
Instructions 
Preheat the oven to 330 degrees F. You can use regular or convection. In my convection oven they take exactly 25 minutes at the internal temperature hovers around 200 degrees F when they are done.

Line a 15x10 inch rimmed sheet pan with a sheet of parchment. Grease the parchment with a little more butter (or use coconut oil).

Begin melting the butter in a heavy duty saucepan. When it's halfway melted, add the chocolate and stir well. Turn heat to low and gently melt the chocolate with the butter. This can also be done in a double boiler.

When chocolate is melted, remove the hot chocolate from the stove and stir in the espresso powder and dark brown sugar. Stir well to remove any lumps of brown sugar. Set aside to cool.

In a mixing bowl, whisk the 5 eggs together. Whisk in the granulated sugar, salt and vanilla. Stir in the melted chocolate mixture.

Add the flour and stir until blended. Make sure the batter is completely cool (you don't want to melt the added chocolate chips) and add chocolate chips and nuts.

Scrape into the sheet pan and spread evenly. Dot the top with extra chocolate and nuts if desired.

Bake for about 25 minutes or until internal temperature hovers around 200 -- a little over is okay. The timing may vary with your oven, so it is helpful to use a meat thermometer the first time. Check them at 20 minutes if possible.

Let cool, then chill brownies. Lift from pan and cut into squares.
Notes
The texture is much better when completely cooled, chilled and brought back to room temperature.