This recipe was inspired by one from The New York Times, and I love It because it brings pantry staples together in an interesting way. First, you bake a really basic 8 inch pan chocolate cake. Once baked and cooled, you spread cherry preserves over the top. Lastly, you top it with a cocoa flavored whipped cream. Extra whipped cream and cherries are optional!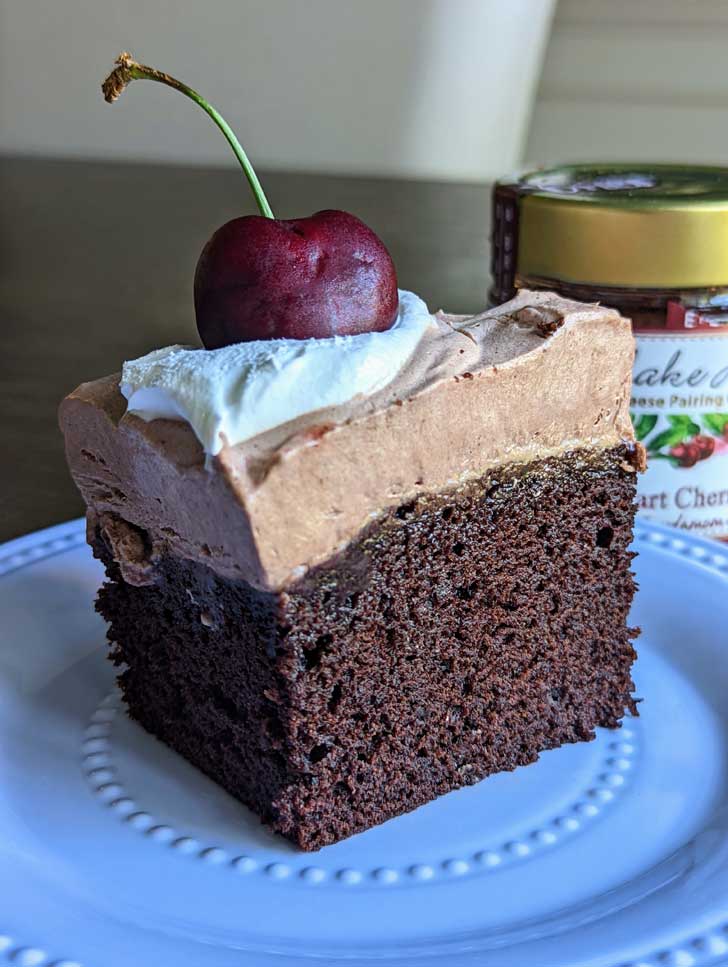 The first time I made it I followed the recipe from The New York Times, noting that the chocolate cake was similar to one of my other favorite easy chocolate cakes. So for the second round, I used a different chocolate cake recipe, a different brand of preserves and scaled down the amount of whipped cream topping.
The Chocolate Cake Base
The chocolate base is is a stir and bake recipe similar to Black Magic Cake or Hershey's Perfectly Chocolate, but with the addition of almond extract which goes well with the cherries. I really like the Nana's Devil's Food Cake recipe, so I made my new version using that recipe as the base. It baked up a little moister than the one from The NYC, the both were great.
Cherry Preserves
For the first cake I used a brand called Blake Hill that has cardamom in it. If you are a cardamom fan and like preserves, it's pretty good. For the second cake I used Bonne Maman. I hadn't purchased Bonne Maman in a while and had forgotten just how much whole fruit the include in their preserves. We loved the cherry preserves because they made the cake similar to a Black Forest, but raspberry preserves would be excellent.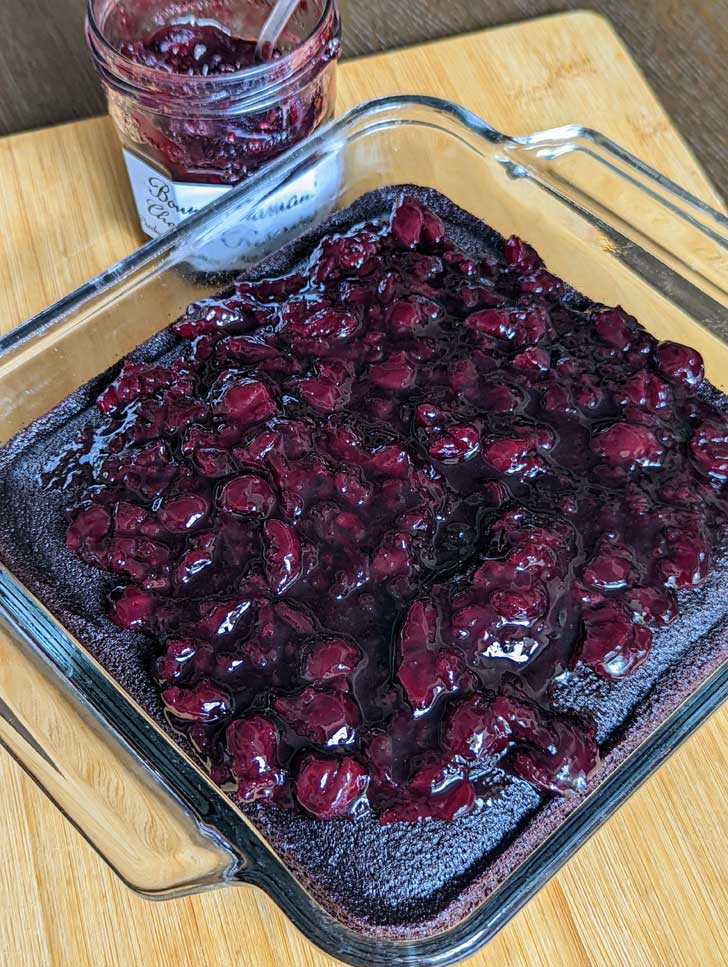 Whipped Cream Topping
The NYT recipe for the whipped cream topping makes a ton, so you can pile it high. The first time I made it I liked the feeling of having having more than I needed. But then I realized it really was way more than I needed, so for the second round I halved it and still had plenty of topping -- enough to pile on or pipe. So my version calls for the smaller amount, which is 1 cup heavy cream, 2T. cocoa powder and 2T. granulated sugar. This is plenty to cover an 8 inch cake and a little more than enough to cover a 6 inch if you decide to make the cake even smaller.
6 Inch NYC Chocolate Cherry Cake
If an 8 inch cake is still too much for you, you can halve it and bake it in a 6 inch square pan. It's an unusual size, but ever since I found my little 6 inch square glass pan at Goodwill, I've been halving 8 inch square recipes and making small batches of various cakes and brownies for the family. The 6 inch glass dishes are harder to find, there are a couple of 6 inch square metal pans from Wilton and Fat Daddio on Amazon. You could also halve the recipe and bake it in a 6 inch round pan or maybe even an 8 ½ by 4 ½ inch loaf pan. Whichever size you go with, this is a great little cake.
Recipe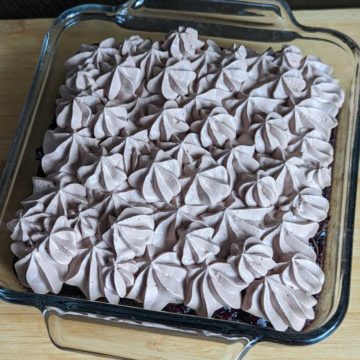 Chocolate Cherry Cake
An 8 inch square chocolate cake topped with cherry preserves and cocoa flavored whipped cream.
Ingredients 
6

tablespoons

unsweetened natural style cocoa powder

(35 grams)

½

cup

hot brewed coffee or hot water

(114 grams)

1

cup

all-purpose flour

(130 grams)

½

tsp

salt

½

tsp

baking powder

1

tsp

baking soda

1

cup

sugar

(195 grams)

½

cup

olive oil

(I didn't weigh this)

½

cup

whole milk

(114 grams)

1

large

egg

½

tsp

vanilla

½

teaspoon

almond extract

½

cup

cherry preserves (use more or less)
Whipped Chocolate Frosting
2

tablespoons

Dutch process cocoa powder

(12 grams)

2

tablespoons

granulated sugar

(24 grams)

2

tablespoons

boiling water

(28 grams)

1

cup

whipping cream

(230 grams)
Instructions 
Preheat oven to 350 F. Grease an 8 inch square baking dish (a metal pan should be fine too).

In a mixing bowl, whisk together the cocoa powder and the hot coffee. Let cool.

In another bowl, whisk together flour, salt, baking soda, baking powder and sugar.

Add the oil, milk, egg and both extracts to the mixing bowl with the cocoa blend and whisk until smooth, then stir in the dry mixture. Beat vigorously by hand for 60 seconds.

Pour the batter into the pan.

Bake at 350 for 30 to 35 minutes. (or until done).
Whipped Cream Frosting
Combine cocoa, sugar and hot water in the bowl of a stand mixer or in a mixing bowl. Stir until smooth. Let cool slightly. Add 1 oz/28 grams of the cold whipped cream to cool it down. Stir. When cool, add all remaining whipping cream and beat with an electric mixer until it's the consistency of whipped cream. Spread or pipe over the cherry topped cake.

Store in the refrigerator.