I'd planned on making the Reine de Saba from Bon Appetit, but now I'm kind of in the mood for these — Oprah's Favorite Brownies from Baked NYC.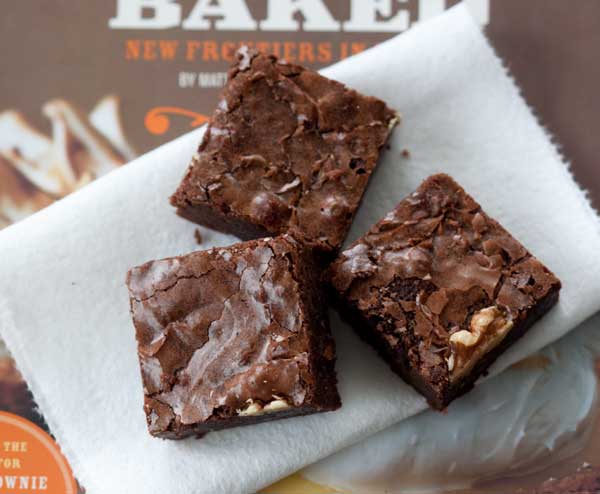 Update: I have been making the Baked Brownies for years now. At first I thought they were a little on the rich side (bordering on greasy), but I made some slight changes to my technique and now these are among my favorite brownies.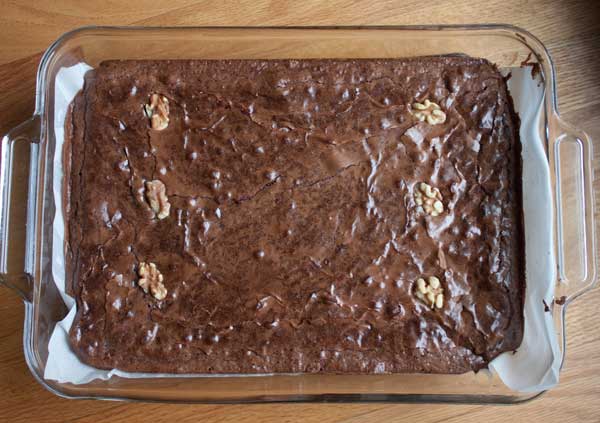 First, I always use a glass pan now.  The original recipe says glass or light colored metal, but I think these bake a little more evenly and reliably in the glass pan.  Second, the dark Dutch cocoa powder worked better than lighter cocoa powder.  I use Valrhona when I can get it. And finally, I now use a slightly heavier scoop of flour.  The recipe calls for 1 1/4 cups which can either be 126 grams or 175 grams depending on how heavy a scooper you are.  I went with the higher amount (still 1 1/4 cups, but packed more) and had better results.
So here's how I make the Baked Brownies these days.
Recipe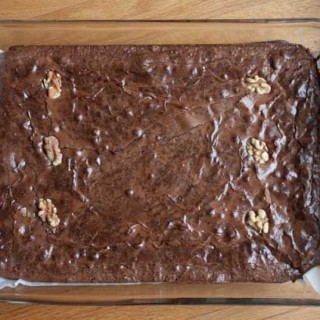 Deep Dark Brownies -- The Baked NYC Recipe
The Baked Brownie as adapted from Baked: New Frontiers in Baking by Matt Lewis and Renato Poliafito.
Ingredients 
11

ounces

dark chocolate

coarsely chopped (Ghirardelli Bittersweet)

1

cup

8 ounces unsalted butter, cut into 1-inch pieces

1

teaspoon

instant espresso powder**

1 1/4

cups

all-purpose flour

170 grams

1

teaspoon

salt

2

tablespoons

dark unsweetened cocoa powder

Valrhona (28 grams)

1 1/2

cups

granulated sugar

295 grams

1/2

cup

packed light brown sugar

100 grams

5

eggs

at room temperature

2

teaspoons

vanilla extract
Instructions 
Preheat oven to 350°F. Grease a 9x13-inch glass baking dish. Line the pan with parchment paper.

Place the chocolate, butter, and instant espresso powder in a large bowl set over simmering water. Stir until the chocolate and butter are completely melted and smooth. Turn off the heat, but keep the bowl over the water and add both sugars. Whisk until completely combined, then remove pan from stove and allow to come to room temperature.

Gently whisk together 3 of the eggs and gradually whisk them into the cooled chocolate mixture until combined. Add the remaining 2 eggs and whisk until combined. Add the vanilla and stir until combined. Do not overbeat the batter at this stage or the brownies may turn out cakey and lose their shine.

Sprinkle the flour mixture over the chocolate mixture. Using a rubber spatula (not a whisk), fold the flour mixture into the chocolate until just a bit of the flour mixture is still visible.

Pour the batter into the prepared pan and smooth the top. Bake in the center of the oven for 30 minutes, rotating the pan halfway through the baking time, until a toothpick inserted into the center of the brownies comes out with a few moist crumbs sticking to it. Let the brownies cool completely, then lift them out of the pan using the parchment paper. (I recommend chilling for a bit first). Cut into squares and serve.

Store at room temperature in an airtight container or wrap with plastic wrap for up to 3 days. Personally, I prefer freezing the brownies so they stay fresh longer.
Notes
I usually use 1 teaspoon of Nielsen Massey coffee extract and add it when I add the vanilla.