A few weeks ago I was all set to make my a batch of Easy Rocky Road ice cream, but was missing one ingredient -- evaporated milk. After a quick rifling through my pile of clippings, I found this old recipe for chocolate gelato that calls for whole milk and cream only. So I made the chocolate gelato and have made it several times since. It's a good recipe, and motivated me to learn more about gelato vs. ice cream.
Jump to Recipe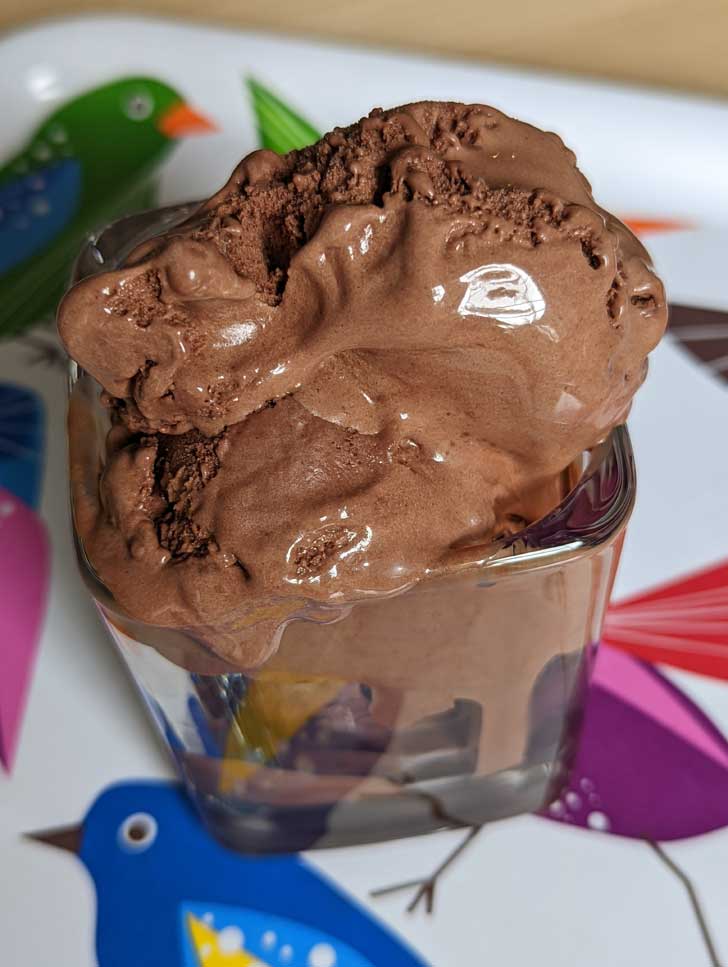 How is Gelato Different From Ice Cream?
On paper, homemade gelato and ice cream recipes are similar. The key difference seems to be that gelato has a higher percentage of milk than cream, meaning less butterfat. In theory, this is supposed to give gelato a cleaner flavor, as there's less of a fatty feel coating the palate. But gelato is still very rich, because even though it has less butterfat, it also has less air, so it's typically denser and smoother than ice cream. So those are two key differences, but there are lots of others. And there's also the question of eggs. While some gelato recipes do not call for eggs, many of them do. More specifically, they seem to call for yolks only, like this one. So of all these things, I'd say the main difference is that gelato has more milk.
Evaporated Milk in Gelato
The reason I picked this gelato recipe in the first place was that it does not call for evaporated milk. The chocolate gelato is fine without it, but after making the recipe a couple of times, I wanted to see just what would happen if I incorporated a little evaporated milk in with the other milk. As I'd hoped, using about ⅔ cup of evaporated milk in place of some whole milk made the gelato smoother! So you can make this with whole milk and cream as per the original recipe, but if you do happen to have a small can of evaporated milk, it's worth using.
Some More Notes on Chocolate Gelato
This recipe is from the same source as my vanilla gelato. I've been making the vanilla flavor for years, but for some reason I never got around to making the chocolate variety until now. Here are a few notes. Also, as I'm writing this, I'm thinking I now need to try the evaporated milk trick with the vanilla flavor.
Bittersweet Chocolate- The original version of this recipe calls for 4 oz of chopped bittersweet chocolate. I tried that and thought it was overly rich. For the second round I used 2 oz bittersweet and it was still rich, but good. Using bar chocolate is best, but you can get away with using good quality chips, like Ghirardelli Bittersweet.
Cocoa Powder -The gelato also has cocoa powder, and I've been using Ghirardelli brand Dutch processed. It can get lumpy, and while some of the lumps will smooth out during cooking, it helps to sift it. That being said, you don't have to! Some of the lumps will go away with straining.
Straining -- Also straining the chocolate mixture improves the texture, so if you have a sieve go ahead and use it. If not, you can skip straining and the gelato will still be very good.
Milk -- As mentioned, I've tested with 2 cups of whole milk and 1 ⅓ cups whole milk mixed with about ⅔ cup evaporated. Both versions were good, but the evaporated milk version was smoother.
Cream -- I use heavy cream. In ice cream recipes, the milk is usually heated in the custard, but the cream does not have to be. Some recipes throw it all into the custard mixture with the milk, while some recipes have you add it after making the milk & eggs custard. My recipe does a little of each. I reserve half cup of the cream to add at the end. This helps the mixture cool quicker.
Egg Yolks -- Four large. If you eat a lot of egg whites and are always looking for ways to use the yolks, this recipe should come in handy because you only need the yolks.
Sugar -- I used all cane sugar, but think replacing up to ¼ of it with a mild syrup such as maple would be excellent and maybe make the texture even softer.
Vanilla Extract -- Added to the custard after cooking. I used Nielsen Massey (found it at TJ Maxx!)
Salt -- Offsets the sweetness.
Espresso Powder -- Totally optional. I think it adds a touch of flavor, but being sensitive to caffeine I usually leave it out, so I didn't put it in the ingredient list.
Recipe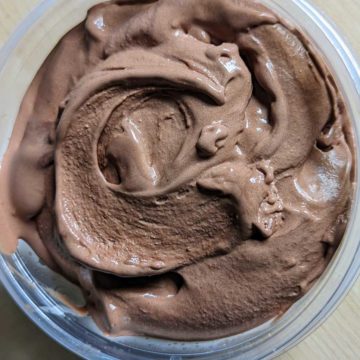 Chocolate Gelato
A basic chocolate gelato recipe that can be used as a base for other flavors such as Rocky Road or Mexican Chocolate.
Ingredients 
1

cup

heavy cream

(8 oz/224 grams)

2

cups

whole milk or use 1 ⅓ cups milk and ⅔ cup evaporated milk

(16 oz/448 grams)

½

cup

unsweetened cocoa powder (Dutch processed)

(48 grams)

2

ounces

bittersweet or semisweet chocolate

(56 grams)

4

large

egg yolks

(about 70 grams, doesn't have to be exact)

¾

cup

sugar

(150 grams)

1

teaspoon

vanilla extract

1

pinch

salt
Instructions 
Before you start, weigh out your cocoa powder and sift it. Also, chop the chocolate and separate the eggs so that your ingredients are ready to go!

Set aside ½ cup of the cream to be added later, then put remaining ½ cup of cream and the 2 cups of milk (or the milk and evaporated milk combo) in a heavy 3 quart saucepan. Heat until very hot and just starting to simmer.

Meanwhile, in a mixing bowl (preferably one with a spout), whisk together egg yolks and sugar.

Without allowing it to boil, spoon ½ cup of the hot milk mixture into the egg yolk mixture, whisking constantly. Repeat twice until you've added somewhere around 1 ½ cup of the hot milk, then pour everything back into the saucepan.

Add the cocoa powder to the saucepan and continue whisking and heating over medium low until mixture hits 185 degrees.

Turn off the heat, then strain into a clean bowl. Whisk in the chopped chocolate and the vanilla. When chocolate is fully melted, stir in the remaining ½ cup of heavy cream and the pinch of salt.

Cover with a sheet of parchment or wax paper pressed up against the mixture to prevent a skin from forming, then cover bowl with plastic wrap. Chill for about 4 hours or until very cold and thick.

When ready to use, process in the ice cream maker using manufacturer directions.