I love Rocky Road ice cream, but there's also a special place in my heart for Blue Bell's Dutch Chocolate. This ice cream combines elements of both. Chocolate covered almonds and marshmallows make it Rocky Road, and Dutch processed cocoa gives it a flavor similar to Blue Bell's. As a bonus, this recipe is easy and doesn't take very long.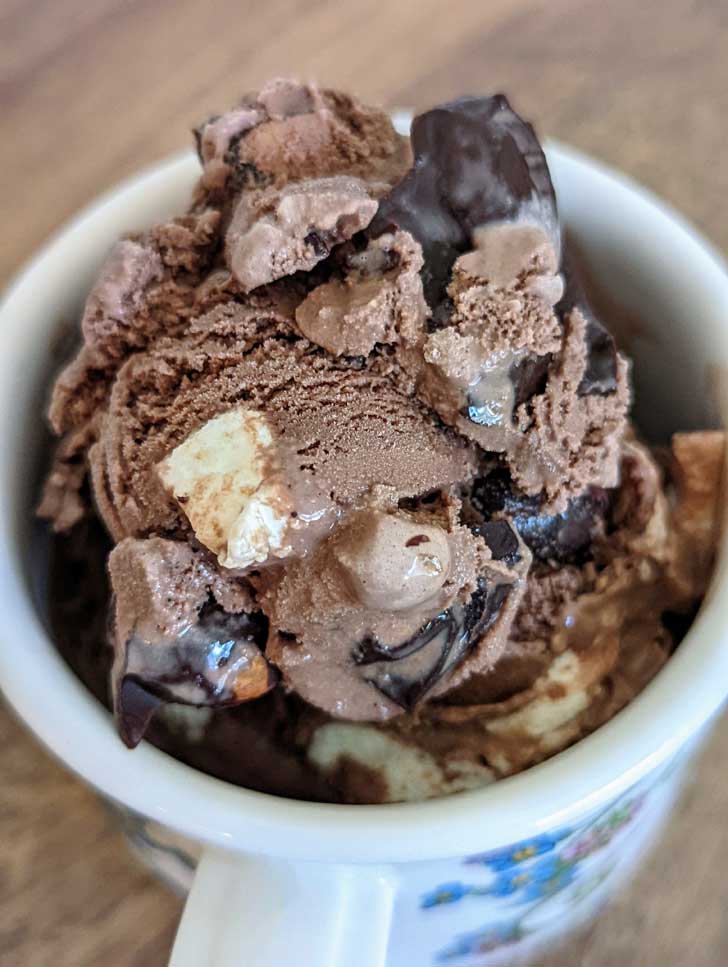 How to Make
To make this ice cream, you briefly warm condensed milk and Dutch process cocoa powder over the stove and stir until smooth. Let it cool, then combine with cream (or half & half), evaporated milk and vanilla and blend until frothy. You then freeze in your ice cream maker before adding chocolate covered almonds and marshmallows. For such an easy ice cream, this one is surprisingly good.
Cream vs. Half & Half
The ice cream is pretty rich, but you can lighten it a bit by using half & half instead of cream. I made the first batch with cream, but for subsequent batches I used half & half and enjoyed it just as much. To lighten the recipe further, you can stir in half tub of Cool Whip. The ice cream is perfectly fine without it, but if you want to trick yourself into thinking you have more ice cream, the Cool Whip adds some bulk. It also keeps the frozen ice cream a bit softer so it's easier to scoop.
Chocolate Covered Nuts and Marshmallows
The best thing about homemade Rocky Road ice cream is that you can tailor the nuts and marshmallows to fit your mood. We always have roasted almonds, so I coat the almonds with melted dark chocolate, freeze, then chop and add to the ice cream. For the marshmallows, I like the texture of sliced large marshmallows. So you can use sliced Jet Puffs or if you like the smaller marshmallows, just throw in a lot of them.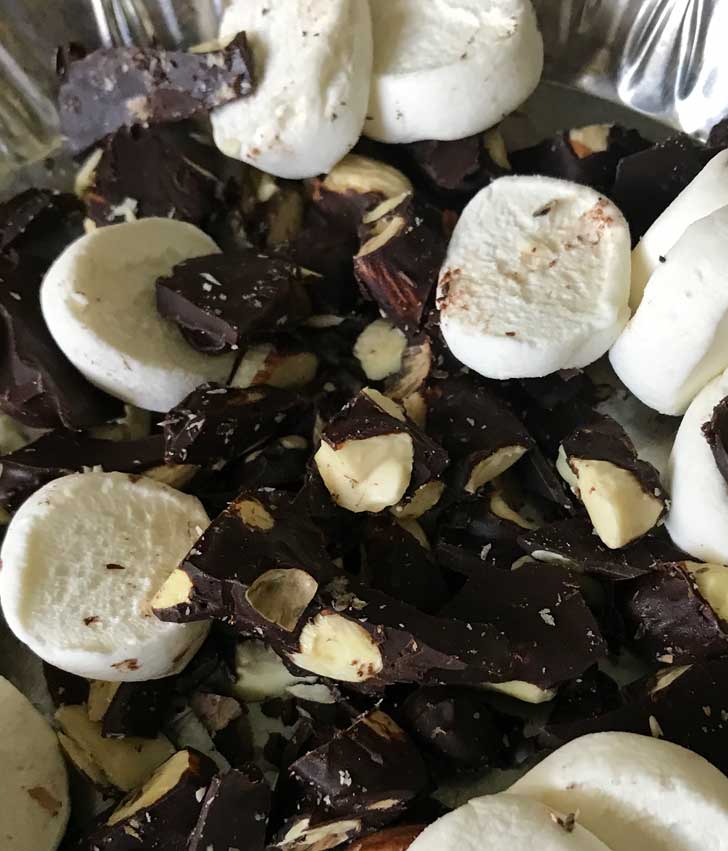 If seeing the chocolate and marshmallows has you craving Rocky Road but you don't have an ice cream maker, you can make the marshmallows and chocolate as directed and use the Eagle Brand no-churn recipe as the base. If you're leaning toward buying an ice cream maker, I recommend the Cuisinart or the Lello.
Rocky Road Ice Cream Ingredients
Roasted Almonds and Chocolate — You can buy roasted unsalted almonds or roast whole raw almonds at 350 F for about 7 minutes.
Chocolate — I've tested with Dove Dark and Trader Joe's dark. Melting the chocolate and refreezing it is what makes the chocolate pieces melt in your mouth with the ice cream, so always remember to melt your chocolate, re-freeze and chop before adding. Never add straight chocolate chips to homemade ice cream unless you like the texture of rocks in ice cream. For even softer chocolate bits, you can add a little coconut oil to the melted chocolate before re-freezing.
Marshmallows — One of these days I'd like to make this with chopped homemade marshmallows. Wow, that would be good. Until then, Jet-Puffed.
Condensed Milk — I use whatever brand of condensed milk is on sale. For the peanut butter ice cream I prefer fat free condensed milk, but for this one regular condensed milk works best — especially if you are using half & half rather than cream.
Cocoa Powder — Dutch process cocoa tastes so good in ice cream. Lately I've been using Ghirardelli brand, but there are lots of good Dutch cocoas out there.
Cream or Half & Half — Cream is richer but half & half is still rich and very tasty!
Evaporated Milk — Important for smooth texture.
Vanilla — Any good vanilla should work.
Recipe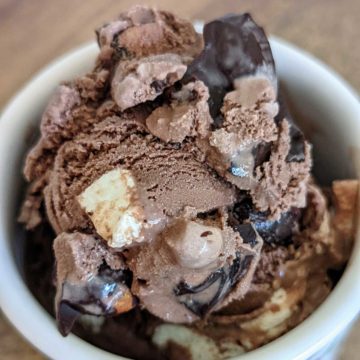 Easy Rocky Road Ice Cream
An easy Dutch chocolate flavored ice cream loaded with marshmallows and chocolate covered almonds. This recipe should give you around 4 pints of ice cream depending on how much air is incorporated and whether or not you fold in the whipped topping.
Equipment
1 ice cream maker

1 blender
Ingredients 
1/2

cup

whole almonds, roasted

4

ounces

dark chocolate, chopped

12

large

marshmallows, cut into thirds
Ice Cream
1

can

condensed milk

(389 grams)

1/2

cup

Dutch process cocoa powder

(48 grams)

2

cups

half & half or heavy cream

(448 grams)

1

cup

evaporated milk

(230 grams)

1

tablespoon

vanilla

2

cups

Cool Whip or sweetened whipped topping (optional)

(120-150 grams)
Instructions 
In a small saucepan, combine the condensed milk and cocoa powder. Set over medium heat and stir until smooth. Remove from heat and let cool slightly.

While the chocolate mixture is cooling, melt the chopped chocolate in a small microwave-safe bowl stirring every 30 seconds. Add the roasted almonds to the melted chocolate and stir to coat. Scrape the chocolate covered almonds and the melted chocolate onto a plate or small tray lined with parchment or foil. Freeze until firm. When firm, chop the almonds and chocolate and toss with the sliced marshmallows. Keep in the freezer.

In a blender, combine the cooled condensed milk mixture with the cream (or half & half), evaporated milk and vanilla. Blend until frothy.

Transfer mixture to the ice cream maker and process as directed.

For a lighter, airer ice cream, fold whipped topping into the ice cream while it's still soft (right as you remove it). Or skip this step completely and do not use whipped topping.

Stir in the chopped chocolate covered almonds and chopped marshmallows.

Scrape into pint or quart containers and freeze until firm.