I've always considered flourless peanut butter cookies a quick and easy substitute for traditional "with-flour" peanut butter cookies. Now they're trendy, thanks to the Brooklyn bakery, Ovenly. And guess what? If you don't want to bake the cookies you can just order a dozen for a mere $59. If you have that much to spend on peanut butter cookies, they're probably worth it. Personally, I'd rather apply that to a flight to Brooklyn and visit the bakery.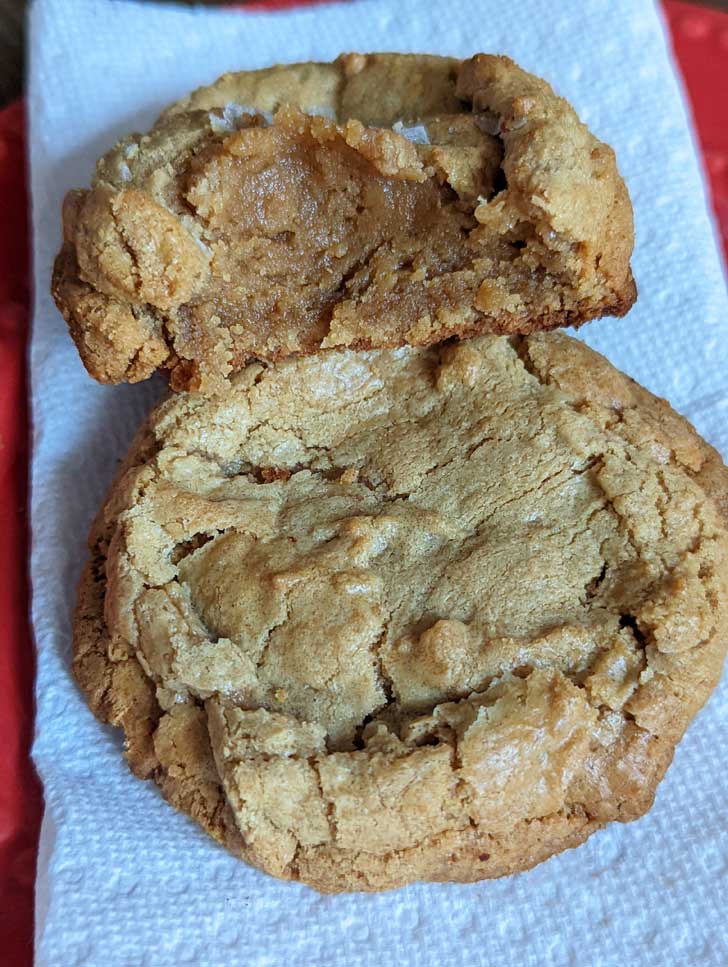 Flavor and Texture
But since I probably won't make it to Brooklyn for a while, I went ahead and tried the recipe made famous by Smitten Kitchen and Ovenly's cookbook. According to reviews and comments, they are supposed to be large, domed, and extremely peanut buttery thanks to the fact that they are primarily peanut butter. Most reviews are glowing, but some are more critical. And to be honest, I was thankful for that because I thought maybe I'd done something wrong. My cookies were domed and looked like Ovenly's, but I had mixed feelings about the texture, which Jesse over at The Kitchn describes as "fudgy". And that's a pretty good description. They are like peanut butter fudge in cookie form. Plus they're really sweet.
I was all ready to take a contrary stance on these cookies, but things changed after a few hours. The cookies cooled and the texture improved. While they are on the sweet side, I can see why these would be wildly popular at a party. They are quite different from your usual peanut butter cookies. So I do like these, though I'm also a fan of sandy-textured peanut butter cookies like Julia Moskin's and Chef Snoop Dogg's. They're all just different styles. There are some people who always, ALWAYS find peanut butter cookies too dry, and I think this recipe would be perfect for that group.
New Scale - Oxo Good Grips
In somewhat related news, I bought a new scale! It's the Oxo Good Grips. The price was about $50 at Bed, Bath and Beyond, but I was able to use a coupon and saved $10. Even with the coupon, this scale was more expensive than my others, but so far it's pretty good. It has an 11 lb capacity, a pull out display (makes cleaning easier) and most importantly, measures very small amounts such as 3 grams of baking soda. My old scales weren't very good with tiny amounts.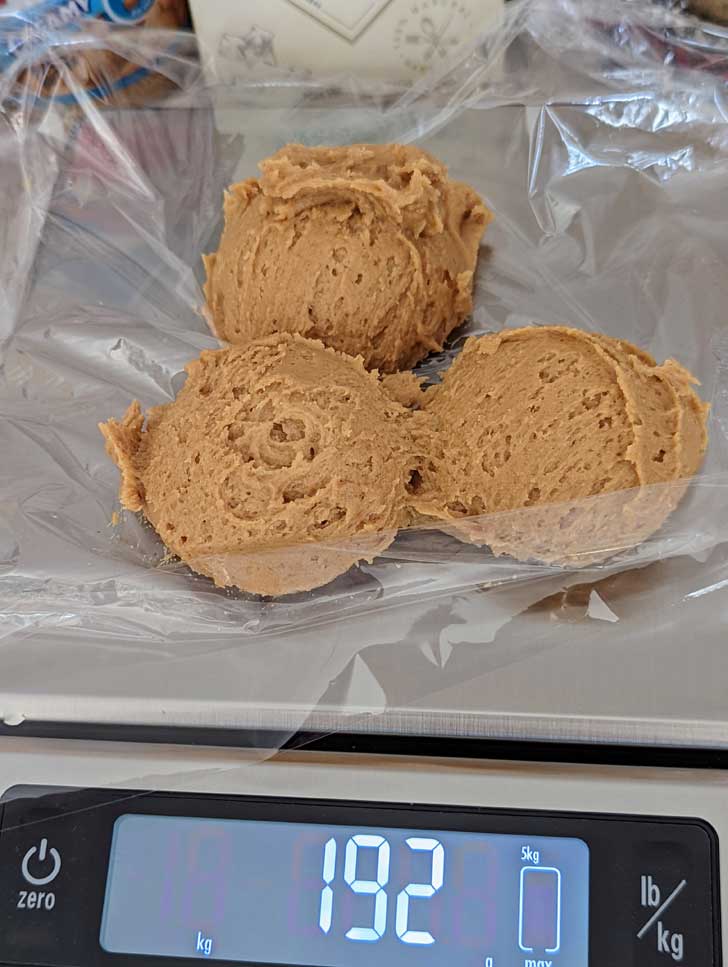 Small Batch Version
If you're curious about the Ovenly inspired cookies but don't need a full batch or don't want to use up all the peanut butter in the house, you might consider trying a small batch. For the small batch, put your mixing bowl on the scale, set the tare to "0" and use these weights. This should give three cookies.
85 grams light brown sugar (7 tablespoons, but can use less if desired) 2 tablespoons lightly beaten egg (24 grams) ⅛ teaspoon vanilla 114 grams Skippy brand smooth peanut butter (7 tablespoons) Maldon Sea Salt or whatever type flaky sea salt you have
Beat together sugar, egg and vanilla, scraping sides of bowl to mix. Add peanut butter and stir to make a soft dough. Use a cookie scoop to scoop about 3 balls. Wrap and freeze for 30 minutes. Bake at 350 for about 22 minutes. Let cookies cool on the baking sheet for 5 minutes, then very carefully transfer to a wire rack to finish cooling. If possible, let the cookies cool before you eat them. They are much better having sat for a bit.
Recipe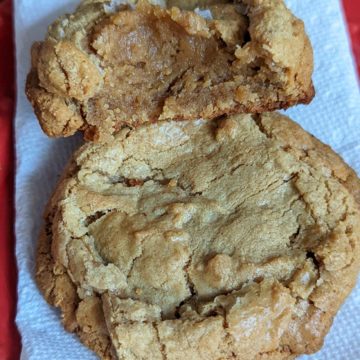 Ovenly Inspired Peanut Butter Cookies
Flourless peanut butter cookies like the ones from Ovenly in Brooklyn. I make these using the gram amounts. Volumes are just approximations. The most difficult step in this recipe is letting the cookies cool completely before tasting. They really do seem better when cool.
Ingredients 
¾

cup

plus 2 tablespoons brown sugar , lightly packed

(170 grams)

¾

cup

plus 2 tablespoons smooth Skippy brand peanut butter

(224 grams)

1

large

egg

(48 grams)

¼

teaspoon

vanilla

¼

teaspoon

salt, plus a pinch
Instructions 
Beat the sugar and egg together until smooth. Beat in vanilla. Add peanut butter and beat until you have a soft dough.

Using a large cookie scoop, scoop dough into 6 balls. For smaller cookies, use a medium scoop. If you don't have a scoop, just make balls.

Put the balls on a plate line with plastic wrap, then cover and freeze for about 30 minutes or until you are ready to bake the cookies.

Preheat oven to 350 degrees F (176 C). Line a couple of cookie sheets with parchment paper or leave ungreased/un-lined.

Put the frozen cookie dough balls on a baking sheet. Sprinkle with a bit of sea salt and bake for 20 to 22 minutes (check at 16 if making small cookies). Let cool on baking sheet for a few minutes, then transfer to a wire rack and let cool completely.