I haven't posted much lately because I've been on a mad chocolate cake baking spree. I bought some 4-inch round cake pans and tried Cheryl Day's chocolate cake from Back in the Day, made Ina Garten's recipe from Make it Ahead, and then tested some variations on the Reddit-famous Nana's Devil's Food cake. At some point they all started to taste the same, but one stood out. It's a gluten-free chocolate cake from an old America's Test Kitchen book.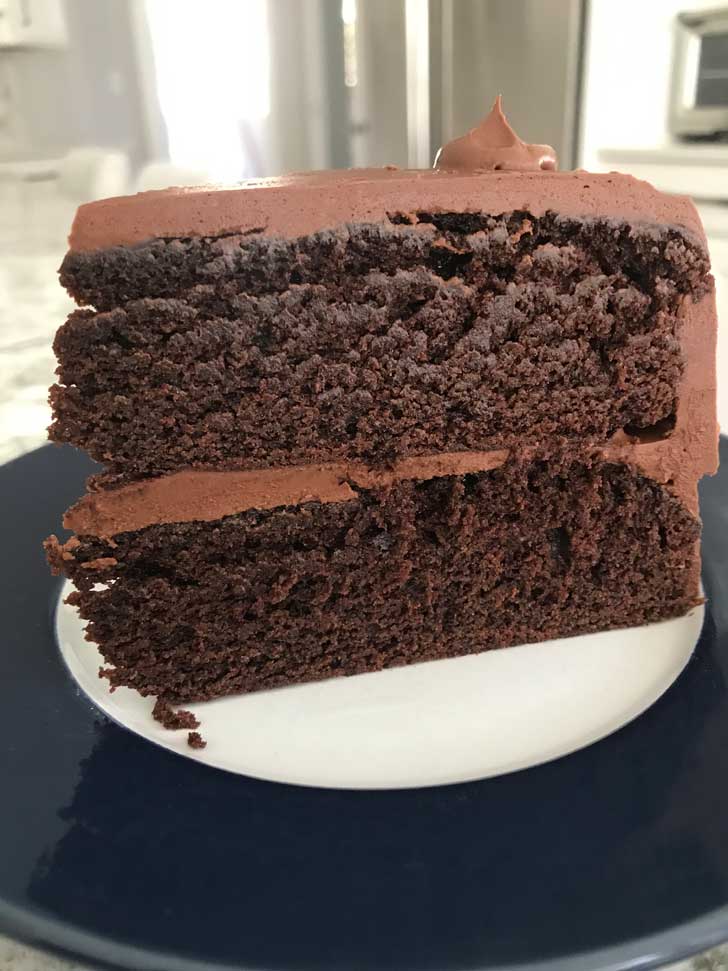 Flour for Gluten-Free Chocolate Cake
The ATK book with the original recipe is How Can it be Gluten Free. It's a terrific resource even though it's fairly dated. Their version of the cake calls for a gluten-free blend which you make with rice flour, brown rice flour, potato starch, tapioca flour, and milk powder. Acquiring all of these flours is worth it if you plan on doing a lot of gluten-free baking. However, if you only do it occassionally it makes more sense to buy a gluten-free blend and just use that. I've been making this with King Arthur Measure for Measure, and that's basically the only "specialty" ingredient.
What Makes a Good Chocolate Cake
I look for recipes that call for both cocoa powder and melted chocolate as well as a little oil. Or sometimes I like a mixture of oil and butter. Buttermilk is usually a key ingredient in good chocolate cake too, but at the end of the day it depends on the full recipe. This gluten-free chocolate cake has the oil and the melted chocolate/cocoa combo, but doesn't call for sour cream or buttermilk. It is a firmer cake that slices neatly, but it's not at all dry. Plus you can be creative and change up the flavor by using different brands of chocolate and types of cocoa. I tested with both natural and Dutch and both worked well.
Good Deals on Chocolate
Most chocolate cakes will taste slightly different based on what kind of chocolate you use. The idea of substituting chocolate chips is tempting, and in some cases it works out (like with certain brownies), but in most cases if a recipe calls for semisweet or bittersweet chocolate you should use bars or wafers. I love Scharffen Berger and Guittard wafers, but they are splurge chocolates that I only use on recipes I've made plenty of times. For experimenting, Lindt and Ghirardelli are great and usually reasonably priced. Other good deals on chocolate can be found at Aldi, Lidl and Trader Joe's. This cake (and the frosting that goes with it) will work best with bars with 60 to 70% cacao.
Chocolate Swiss Meringue Buttercream
The frosting on the cake in the photo is a Chocolate Swiss Meringue Buttercream. It's an excellent frosting, but it takes some practice. I've written the directions in the card, but if you've never made this kind of frosting you should watch a YouTube video. Tessa's from Handle the Heat is a good one. She does a fantastic job addressing the curdling issue, which will help you keep the faith halfway through when the mixture looks like a curdled mess.
If you'd like an easier and not overly sweet chocolate frosting, Ina Garten's Mocha Frosting is a good one. It sets a bit more than the Swiss Meringue, but it's easier to make since it doesn't involve egg whites. It also uses less butter and more chocolate, so if you can find a good deal on chocolate it's not ridiculously expensive.
And of course there's always the old standby. For convenience, that one is still my favorite. However, I have another icing in the works that's going to get its own post because it's so good. Stay tuned!
Recipe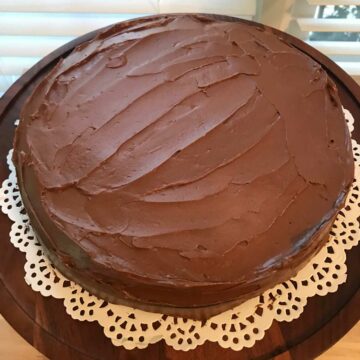 Classic Gluten-Free Chocolate Cake
Gluten-free version of classic chocolate layer cake adapted from America's Test Kitchen.
Ingredients 
Cake Layers
1

cup

vegetable oil or light olive oil

Want to try with coconut oil!

6

ounces

semisweet chocolate, chopped

dark or bittersweet okay too

⅔

cup

unsweetened cocoa powder, natural

(60 grams)

1 ½

cups

King Arthur Measure-for-Measure

(210 grams)

1 ½

teaspoons

baking powder

½

teaspoon

baking soda

1

teaspoon

salt

4

large

eggs

1 ½

cups

sugar (might be fun to use some brown in place of the granulated)

(300 grams)

¾

teaspoon

vanilla extract

1

cup

milk, whole

(230 grams)
Creamy Chocolate Swiss Meringue Buttercream
3

sticks

unsalted butter, cut into 24 chunks and softened

(12 oz/336 grams)

12

ounces

bittersweet chocolate, chopped

(336 grams)

4

large

egg whites

(150 grams)

⅔

cup

sugar

(140-150 grams)

⅛

teaspoon

salt

1

teaspoon

vanilla extract
Instructions 
Preheat oven to 350°F. Grease two 9x2 inch round pans and line bottoms with parchment. Grease parchment.

In a microwave safe bowl, combine the chopped chocolate, oil, and cocoa powder. Melt chocolate by heating at 50% power for 2 minutes, stopping halfway through to stir. Be careful not to overheat, and be sure to do a lot of stirring so that chocolate melts from residual heat. Set aside to cool slightly.

In another bowl, mix together flour, baking soda, baking powder, and salt.

In a mixing bowl, whisk together the eggs, then whisk in the sugar and vanilla extract. Gradually whisk the chocolate mixture into the egg mixture.

Add flour mixture alternately with the milk, beating by hand with a heavy duty scraper (or using an electric mixer on low speed) until fully blended.

Divide batter between pans and bake on middle rack until a tester inserted in center comes out clean. For 9-inch pans, this should take about 30 minutes, but it might vary from oven to oven.

Set the pans on a wire rack and let layers cool for about 10 minutes in the pans.

Loosen edges with a knife and invert layers onto racks. Carefully remove parchment paper and let cool completely.
Chocolate Meringue Buttercream Frosting
If you haven't already done so, soften the butter. The best way to do it is to just cut it and let it sit out for an hour or two (covered), but you can also do it very carefully in the microwave using one of the low power settings. It's best to do it ahead of time, though. The butter needs to be very soft but not melted.

Melt the chocolate in the microwave by heating on high and stirring every 30 seconds until it is smooth. Set aside to cool.

Combine the egg whites, sugar and salt in a stand mixer bowl. Set the mixing bowl over but not touching boiling water. Hold the bowl carefully with an oven mitt.

Whisk the egg white mixture over the boiling water until is white and foamy and a thermometer registers 150 degrees F.

Transfer bowl to the mixer stand.

With the whisk attachment, beat on medium for about 5 minutes or until mixture has cooled somewhat and it looks like shaving foam.

Add the butter one piece at a time with the mixer going. It will go from creamy to curdled and back to creamy.

Once all the butter has been added, gradually add the cooled melted chocolate and the vanilla, beating on low. It should look creamy at this point and no longer curdled. Increase speed to medium and beat for about 30 seconds to lighten.

If something happened along the way and your frosting seems too soft, chill the bowl and rewhip.