Whole Wheat Chocolate Chunk Banana Bread was inspired by the banana bread sold at Cocoa & Company, one of our favorite neighborhood shops. Cocoa & Company specializes in chocolate and has a wall of chocolate bars from around the world, but what I like best about the shop are the coffee and pastries.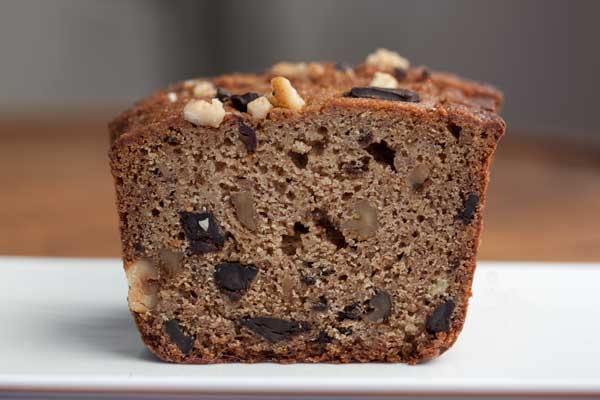 Whole Wheat Chocolate Chunk Banana Bread
One of the pastries that's almost always on display is Gale Gand's banana bread. I haven't yet bought a slice, but I'll have to now that I've attempted to make it at home.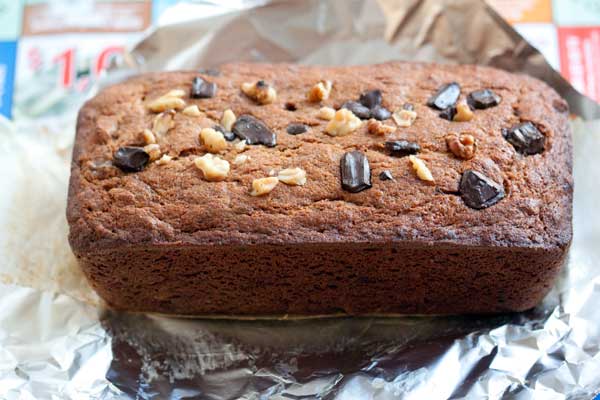 Smaller Size Loaves
I made the bread twice and each time I halved it and used an 8×4 inch loaf pan. I really liked the petite size loaf and would probably halve it again, even though the recipe is for the full size version.
Moisture Leval and Texture
Some things I noticed along the way were that even with all the honey and butter and ingredients that typically make quick bread moist, the whole wheat flour keeps this loaf sturdy. I won't call it dry because that has negative connotations and this bread is excellent, but the crumb is such that it can hold a good deal of nuts and chocolate and the bread slices quite evenly and neatly. Also, chocolate chips work, but chocolate chunks were more noticeable in both appearance and taste.
Keeps Well
And finally, it improves on Day 2 making it a good make-ahead treat. We haven't finished this loaf, but I'm already looking forward to making it again – maybe with hazelnuts.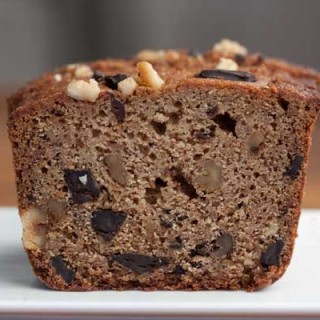 Whole Wheat Chocolate Chunk Banana Bread
Whole Wheat Chocolate Chunk Banana Bread is based on a recipe by Gale Gand
Ingredients 
2

sticks

unsalted butter, melted and cooled

(230 grams)

1/2

cup

tightly packed dark brown sugar

(110 grams)

1/2

cup

honey

(150 grams)

2

large eggs

(115 grams)

3

very ripe bananas

(mashed)

1/2

cup

sour cream

(114 grams)

1

teaspoon

vanilla extract

2

cups

whole wheat flour

(250 gram), stir and aerate well if using volume measure

1 1/2

teaspoons

baking soda

1/2

teaspoon

salt

omit if using salted butter

1/2

cup

to 3/4 cup chopped and toasted walnuts

2/3

cup

good chocolate cut into chunks

or use more if desired
Instructions 
Preheat the oven to 325 degrees F. Grease and flour a loaf pan (around 9×5, but a little over if possible) and line with a strip of parchment. Dust with flour. Alternatively, you can use two 8×4 inch loaf pans.

With an electric mixer, beat the butter and sugar until well mixed. Add honey and beat well. Add eggs and bananas and beat until blended, then stir in sour cream and vanilla.

In a separate bowl, whisk the flour, baking soda and salt together for about 15 seconds.

Add the flour mixture to the banana mixture and stir until fully blended, then stir in nuts and chocolate chunks. Pour into pan.

Bake until firm on top and toothpick inserted comes out with moist crumbs or internal temperature is between 205 and 210 — about 70 minutes (cover loosely with foil after 40).

Let cool in pan set on a rack for 30 minutes, then remove from pan and let cool completely.
Notes
For a half batch, an 8×4 inch loaf pan works perfectly. Whatever pan you use should be fine so long as you leave about 3/4 to 1 inch room for the bread to climb.