Crustless Spinach Quiche is one of our favorites. Made with a full cup of ricotta cheese, a bit of feta, and some Parmesan and Swiss, it's high in protein and relatively low in carbs.  The only vegetables are onions and baby spinach, so feel free to add in some chopped peppers, sautéed broccoli or whatever you like.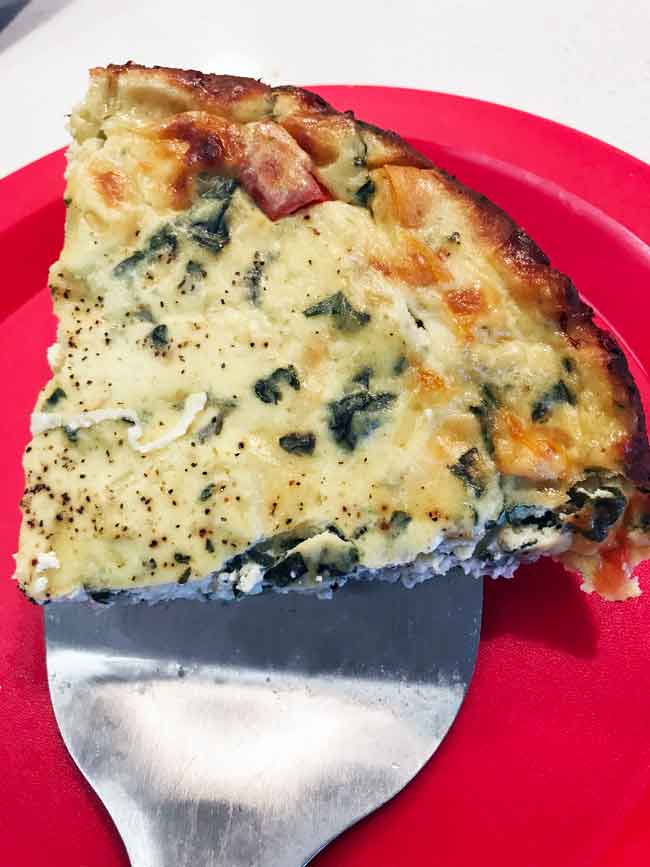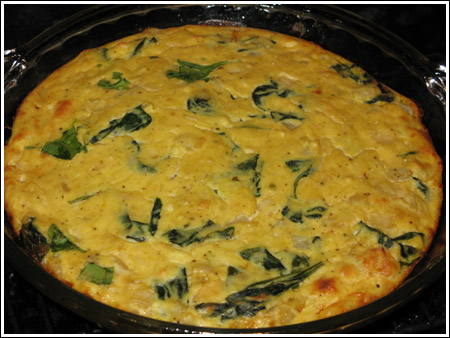 Crustless Spinach Quiche
1 teaspoon (5 ml) olive oil
⅔ cup (40 grams) diced onions
3-4 cups baby spinach leaves
1 clove garlic, minced
3 large eggs
¼ teaspoon (1 ml) black pepper
¼ teaspoon salt (feel free to use more or less)
½ to 1 teaspoon (.5 to 1 ml) unsalted seasoning mix (I use Trader Joe's 21 Seasoning Salute)
½ tablespoon (8 ml) Worcestershire Sauce
1 cup (240 ml) low fat ricotta cheese
2 oz (56 grams) crumbled feta cheese
¼ cup (28 grams) shredded Swiss cheese
¼ cup (28 grams) shaved or grated Parmesan cheese
Preheat oven to 350 degrees F (176 C). Grease a 9 inch round pie dish (or a cake pan) with butter or spray with cooking spray.
Heat oil in a large skillet. Add onions and sauté for 3 minutes. Add spinach and garlic and sauté for another 2 minutes or until spinach is completely wilted. Remove from heat.
Whisk eggs, pepper, salt, seasoning mix, Worcestershire sauce, ricotta cheese, feta cheese and Parmesan cheese together in a mixing bowl. Stir in spinach mixture, then pour into pie plate.
Bake on center rack of oven for 40 minutes. Let sit for about 5 minutes before slicing.
Makes 4 servings
**If you are using salt-free Spike, you might want to add a pinch of salt.