After years of having zero interest in banana pudding, my family is coming around. I'm pleased with this because banana pudding is a dessert I grew up with. Like Texas Sheet Cake, it appeared at just about every barbecue. And honestly, I didn't really appreciate it then. Now I'm middle aged and craving things from childhood, like classic banana pudding. Not the kind made with condensed milk, pudding mix and whipped cream, but the back-of-the-box Nilla version with a simple milk custard, fresh bananas and vanilla wafers. And that's what Richard Sax's banana pudding is, but with wafers optional.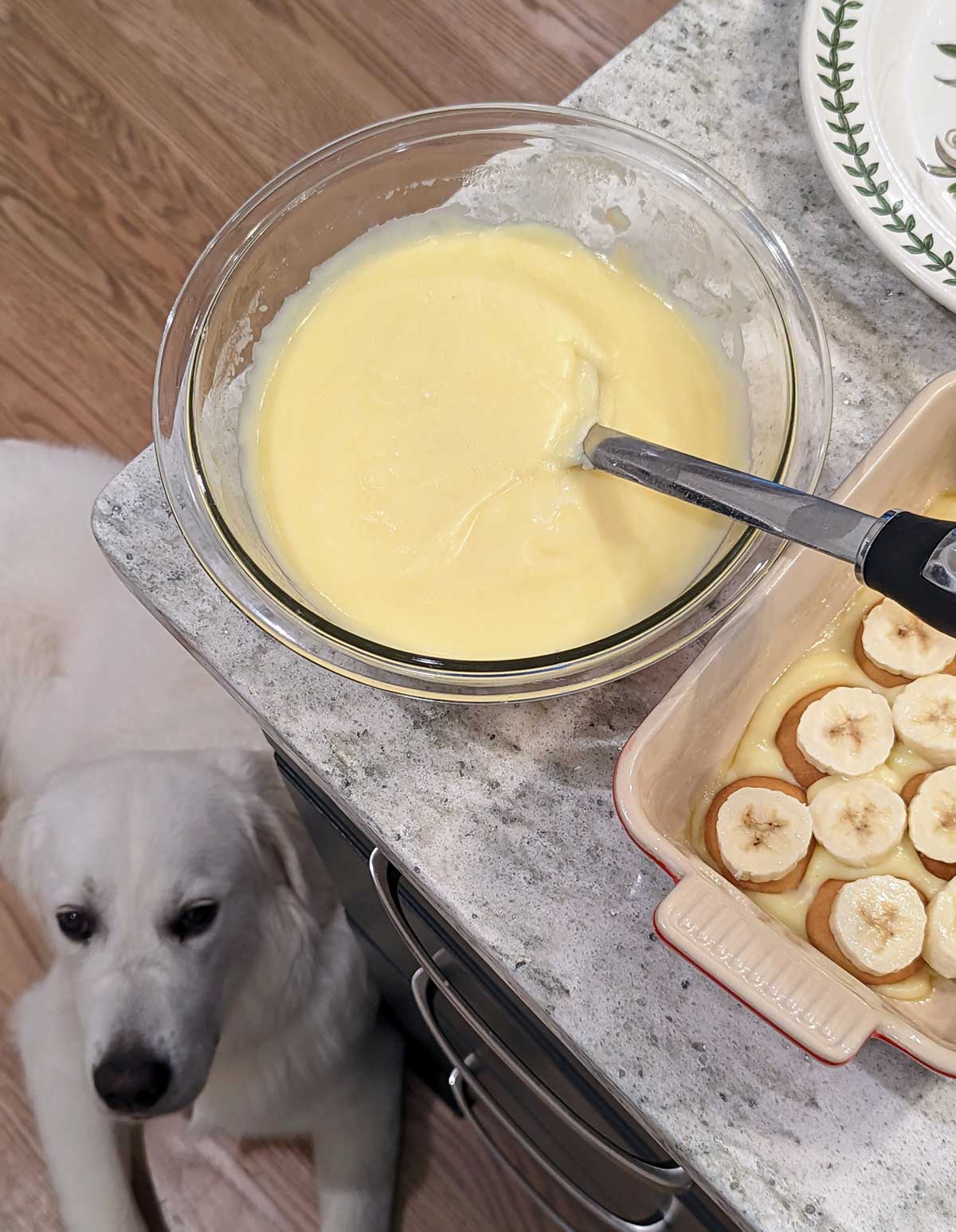 Slightly Lightened Version of Original Nilla?
Before making Richard Sax's banana pudding, I made the original Nilla Wafers recipe in order to compare the two. I'd forgotten just how thick and dense the Nilla recipe is. It's practically a cake given the ratio of cookies to pudding. And then I tried Richard Sax's from Classic Home Desserts. He describes his as "lightened a bit" as it's made with whole eggs rather than just yolks. And he made the cookies optional, which I totally understand after putting so many in the Nilla version. I wouldn't ever leave them out completely like Mr. Sax, but the pudding doesn't need quite so many as the recipe (put out by the cookie company).
Whole Eggs
So what's different about Richard Sax's version other than the lack of cookies? Unlike the back of the box version, the whites are not whipped into a meringue. Sax's version uses one yolk and two whole eggs in the custard, which helps make it thick. Something else I noticed about this was that it didn't ooze as much on day 2. It was stiffer, but still creamy, but not a lot of banana liquid. Maybe the egg whites in the custard somehow soak up excess liquid? I don't know, but this was a nice benefit, and I'm wondering if it was a fluke.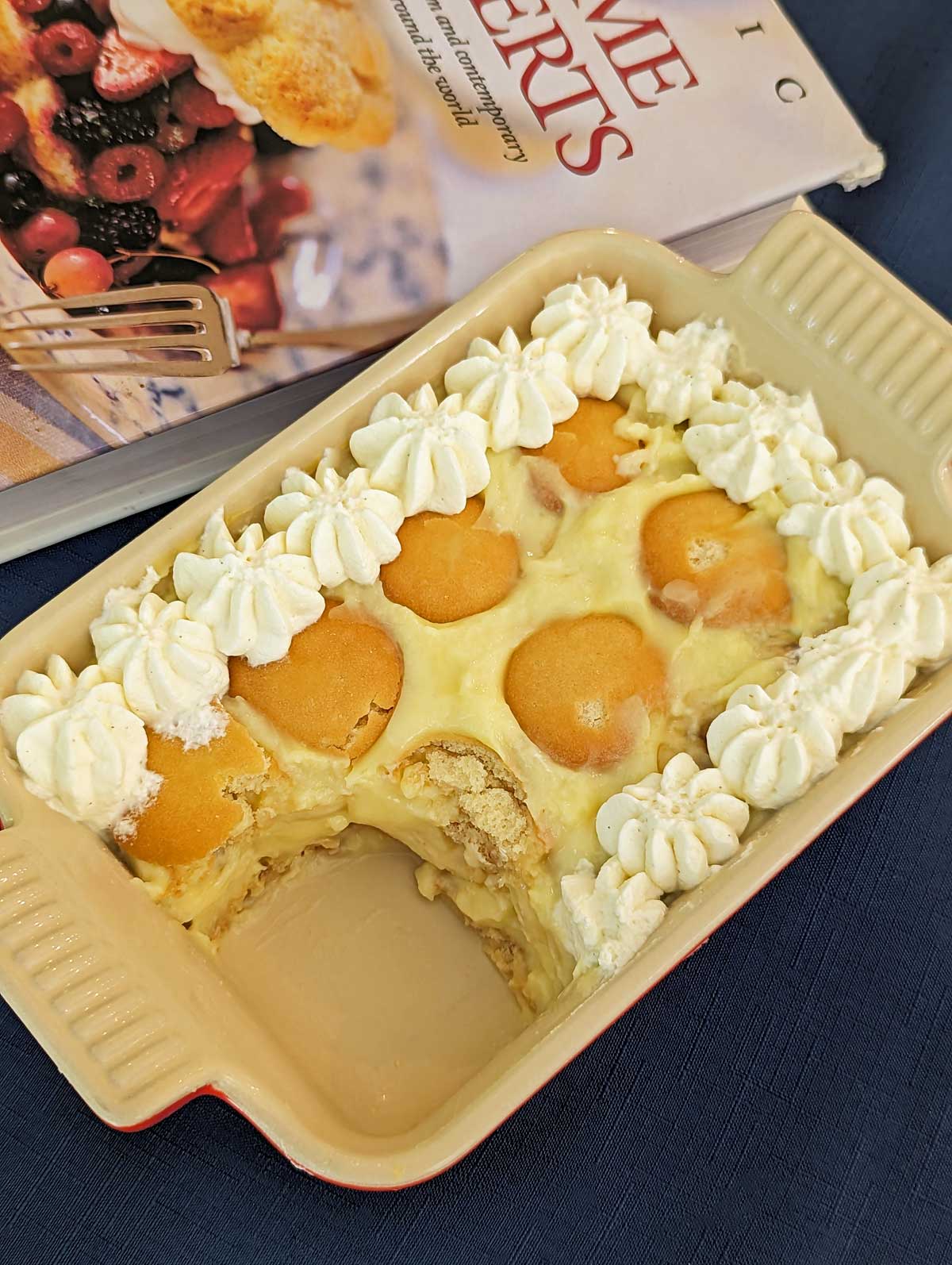 Serving Richard Sax's Banana Pudding
Here's the recipe for the full batch, which is supposed to serve 4. With the cookies, I'd say it serves at least 6, but I do relatively small servings since we eat dessert regularly. Don't get too caught up with the size and shape of the dish, because you can improvise all you want with banana and/or cookie layering. I've been using a 1.1 quart Le Creuset Second. I'd been looking for an excuse to buy the dish and am glad I did.
Recipe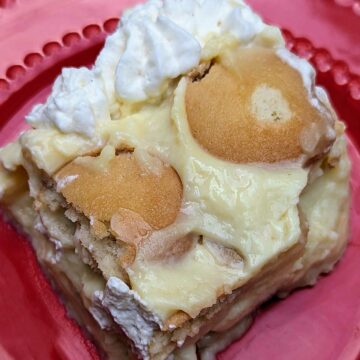 Richard Sax's Banana Pudding
A "cookies optional" version of banana pudding from Classic Home Desserts.
Ingredients 
2 ½

cups

whole or low fat milk

⅓

cup

plus 3 tablespoons sugar

(about 70 grams plus another 36 grams)

2

large

eggs plus 1 egg yolk

¼

cup

cornstarch

(32 grams)

1

tablespoon

butter

(14 grams)

⅛

teaspoon

salt (optional)

2

teaspoons

vanilla extract

2

large

bananas, firm and ripe plus a little lemon juice for tossing sliced bananas in

10-20

count

Vanilla Wafers (optional)
Instructions 
In a mixing bowl, whisk together ½ cup of the milk, ⅓ cup of the sugar, eggs and egg yolk until blended, then whisk in the cornstarch until smooth.

In a heavy saucepan, heat remaining 2 cups of milk along with the 3 tablespoons of sugar.

Whisk (or pour, if using a spouted saucepan) a little of the hot milk into the egg mixture, whisking constantly so as not to cook the eggs, then gradually whisk in the remaining hot milk. Return all of the mixture to the saucepan.

Bring almost to a boil over medium heat, then reduce heat and boil gently, whisking constantly, until thick and smooth (about 2 minutes, but could take longer). Immediately (says Sax) remove the pan from the heat.

Off heat, whisk in the butter. I also added a pinch of salt, but that's optional. Let cool briefly, then whisk in the vanilla.

Spread a thin layer of pudding over the bottom of a casserole dish (1 to 1 ½ quarts), though Sax just says "an attractive 1 to 1 ½ quart glass bowl). Add a layer of vanilla wafers (if using) and bananas. Add a second layer of cookies and bananas and custard.

Put a piece of wax paper directly over the surface.

Refrigerate for 2 hours or until cold. Top with sweetened whipped cream before serving or just serve without it.