Sourdough Honey Whole Wheat Bread is perfect if you are working with a small sourdough starter and need small batch sourdough recipes.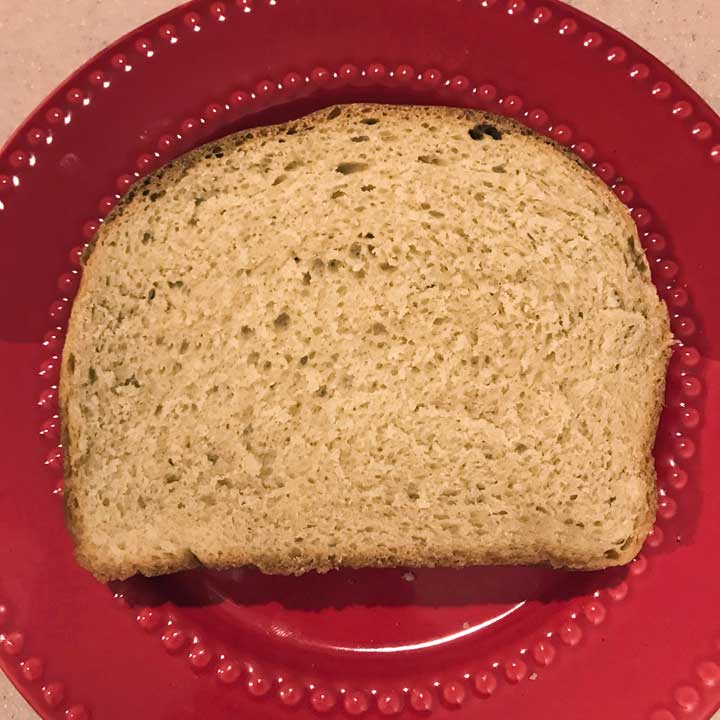 That's my situation. I'm using the sourdough starter recipe from Serious Eats and it is healthy, bubbly and maybe the best starter I've ever had. Being a small batch, it doesn't eat up too much flour. I feed it about 1 oz of flour and 1 oz of water per day rather than 4 oz per day, which is pretty common. So given that, I'm always looking for relatively small batch sourdough recipes. This recipe uses about 3 oz of starter makes one loaf of Sourdough Honey Whole Wheat Bread.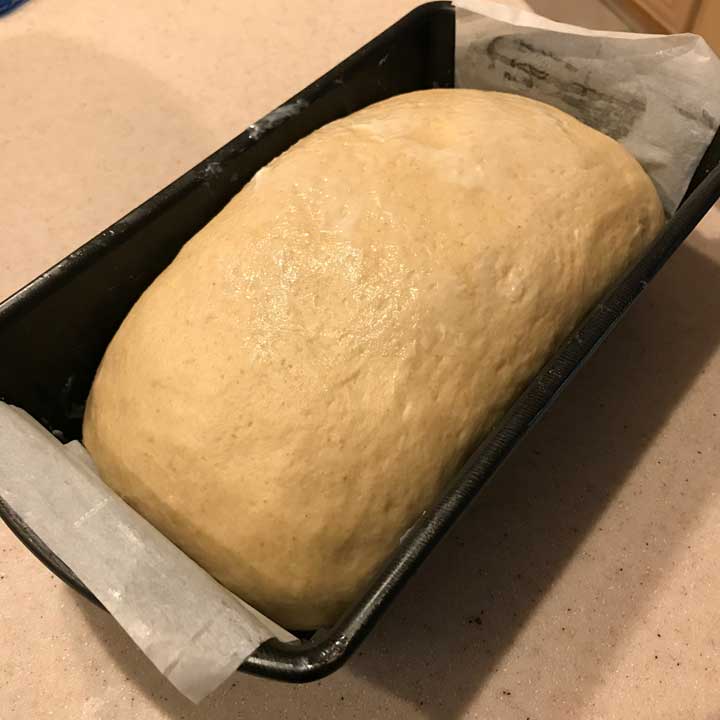 The bread has three different rising times, but if you start early in the afternoon it will be ready for dinner. It rises perfectly and makes quite a handsome loaf -- perfect for toast and sandwiches.
Sourdough Honey Whole Wheat Bread Ingredients
Bread flour or All-purpose -- I used White Lily brand bread flour which is among the lowest protein of the bread flours. It's similar to King Arthur AP. If you don't have bread flour, you can use King Arthur AP. You could probably use other brands of all-purpose.
Whole Wheat Flour -- I used white whole wheat.
1 ⅛ teaspoon yeast -- active dry (not fast rising). Equals half a packet
Milk -- Whole milk would be better, but I used reconstituted nonfat skim milk because I was out of regular. When heating the milk and water, make sure to measure the temperature and use 125F.
Starter -- 6 tablespoons starter weights about 80 grams.
Honey -- the bread is not very sweet, so maybe go with 2 "generous" tablespoons.
Salt -- With 1 ½ teaspoons it is pretty salty. I liked the salt, but if you are sensitive to salt in bread you can cut it to 1 ¼ or even 1 teaspoon.
Butter -- Softened. Oil would probably work too.
Baking Soda -- I actually forgot to add it, but I suppose it is there to help brown the crust. The bread rose just fine without it.
If you like the idea of whole wheat bread but don't have any sourdough, I recommend Wheat and Flax Bread. If you just want white bread, the Gold Medal White Bread recipe is great.
Recipe
Sourdough Honey Whole Wheat Bread
An easy sourdough loaf that only requires a small amount of starter
Equipment
Stand mixer with dough hook
Ingredients 
½

packet of active dry yeast

1 ⅛ teaspoon

1 ½

cups

whole wheat flour

210 grams

2

cups

AP or bread flour

250 grams

½

cup

water

½

cup

milk

6

tablespoons

active starter

80 grams

2

tablespoons

honey

40 grams

1 ½

teaspoons

salt

1 ½

tablespoons

butter

softened

½

teaspoon

baking soda

I left it out by accident
Instructions 
Grease a 9x5 inch loaf pan.

In a large mixing bowl, combine the yeast, ½ cup whole wheat flour (70 grams) and ½ cup of the bread flour (63 grams).

Combine milk and water to make 1 cup of liquid, and heat to 125 degrees F. Pour the liquid mixture into the flour mixture and stir well, then add the bubbly sourdough and beat until well blended. Cover the bowl with plastic wrap and set in a warm place for 1 ½ to 2 hours.

Stir in the honey, salt, butter and baking soda, then add the 1 cup (140 grams) of whole wheat flour. Add remaining 1 ½ cups of bread flour half cup at a time, stirring until the dough feels soft but not too sticky.

Using the dough hook, knead the dough until smooth and elastic. You can also do this by hand if you don't have a dough hook. Cover the dough and let rise until doubled in bulk (about 1 hour). Transfer to the greased 9x5 inch loaf pan and let dough rise again until doubled - -probably another hour.

When ready to bake, preheat oven to 375 degrees and bake for 35 minutes or until loaf sounds hollow.