Today's recipe was given to me by a reader named David who says that without a doubt, these are the best cookie he's ever eaten. He got the recipe years ago from the Raleigh News and Observer which credits the source as The Guglhupf Bakery in Durham.  David, thanks so much for this recipe!  The cookies are puffy, crackly, shiny, soft in the center and pretty much everything one good ask for in double fudge cookies.  They're also really simple to throw together.
The full batch makes about 40 cookies and calls for a full pound of chocolate, but you can easily halve or quarter the recipe and make fewer cookies. David mentioned in the notes that he has successfully substituted self-rising flour, so if you have a bag of that lying around and want to use it up, you can take out the baking powder and salt and use that. David has also substituted chocolate chips for the pound of chocolate.
Recipe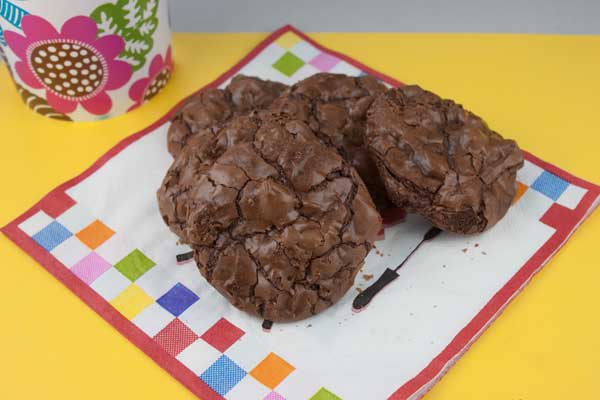 David's Double Fudge Cookies
Double fudge cookies
Ingredients 
1

pound

semisweet chocolate

chopped

6

tablespoons

butter

4

large eggs

1 ⅓

cups

sugar

1

teaspoon

vanilla

¾

cups

all-purpose flour

Trader Joe's gluten free flour can be used

½

tsp

baking powder

¼

tsp

salt

1

cup

chocolate chips

½

cup

chopped nuts
Instructions 
Preheat oven to 350 degrees. Line 2 or 3 cookie sheets with parchment paper.

In the top of a double boiler, combine semisweet chocolate and butter and melt over simmering water. Alternatively, melt gently in the microwave using a low setting and stirring often. Let cool slightly. It shouldn't be too warm when you add it to the egg mixture.

Combine the eggs and the sugar in a large mixing bowl and beat with an electric mixer until thick and pale. Add the melted chocolate-butter mixture and vanilla and beat until mixed.

Mix the flour, baking powder and salt together in a small bowl, then stir into the chocolate mixture. Fold in chocolate chips and nuts. If for some reason your dough is too soft too scoop (mine wasn't, but it happens with some recipes), just let it sit for a few minutes and it should thicken slightly as it cools.

Drop the batter by heaping tablespoonfuls onto the parchment paper lined cookie sheets, spacing them about 2 inches apart. Bake until cookies are puffed and their surface cracked, about 10 minutes.
Notes
David's Notes: I used Ghirardelli 60% cacao semisweet chocolate chips for the semisweet chocolate (about 2 ¾ cups is a pound) and Ghirardelli milk chocolate chips for the chocolate chips. I used self-rising flour and omitted the baking powder and salt. I also increased the flour to 1 cup, since the batter was very loose. I melted the semisweet chocolate in the microwave oven at 50% power for 1 minute, then stirring and repeating until the chocolate melted, then stirring in the butter. I refrigerated the batter overnight and baked the cookies the next day. All of these changes and they still some of the best cookies I have ever baked!