Years ago, my grandmother gave me all of her cookbooks. Among the bunch was one called "Loaves and Fishes", which I naturally assumed was a church cookbook; Quite the contrary. It was written by the owners of a catering and specialty foods store in Long Island. The book had been given to my grandmother by her daughter (my aunt) whose inscription in the book said "Mom, now you can make the fabulous brownies we had in New York" As if. My grandmother has always been perfectly happy with brownies from the grocery store bakery. Cloning fancy Hamptons brownies was not something you'd see on her agenda. My agenda was a little different.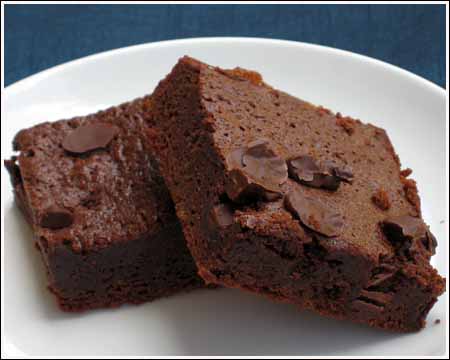 These are definitely not cake-like, but they aren't "baked fudge" either. They are dense and light and the same time. The refrigerator is probably the place to preserve them, but these brownies taste best at room temperature. Whatever you do, don't overbake them. In my oven, which is perfectly calibrated of course, 22 minutes was the max. I know this because the brownies near the edges aren't as good as the ones in the middle.
In the Loaves and Fishes book, the authors say that this brownie recipe is reputed to be the original William Greenberg recipe. Then they go on to joke that a lady in Florida gave them the same one. So who knows.

New York Brownies
New York Brownies are very fudgy and at their best on Day 2. Waiting to try them is definitely the hardest part.
Ingredients
1 cup (4.5 ounces) flour (Measure carefully)
1 teaspoon of baking powder
1/4 teaspoon salt (decrease to 1/8 if using salted butter)
5 ounces unsweetened chocolate (99%) — try to use a really good brand
8 ounces unsalted butter
4 large eggs
2 cups granulated sugar
1 teaspoon vanilla
1/2 cup toasted pecans or walnuts of desired
Instructions
Preheat oven to 350 degrees F. Line a 13×9 inch metal pan with nonstick foil.
Sift together flour, baking powder and salt; Set aside.
Melt the chocolate and butter together in a small saucepan set over low heat, stirring often.
In a large mixing bowl, beat eggs with electric mixer until light. Slowly beat in sugar. Beat for about a minute or until light and fluffy. Beat in vanilla. Add melted chocolate to sugar mixture. By hand, stir in flour mixture. Pour into pan and bake for 22-24 minutes – no longer. The toothpick test doesn't really work here, but if you want to test anyway then keep in mind the toothpick should come out with chocolate on it.
Now comes the hard part! Let cool completely, then chill overnight. Yes, they really do need to chill for 24 hours to be at their best.
Lift from pan, place on a cutting board and cut into large or small squares.
Notes
Every time I pull these out of the oven I worry that they are underbaked, however, having been warned in the original version from The Loaves and Fishes cookbook, 22 minutes is all you need. I have cheated and gone up to 24. The brownies seem undercooked at first, but after cooling completely and sitting in the refrigerator for at least 12 hours, they are fudgy and delicious. When I put these up in taste tests with other brownies, they usually win.
I took the photo outside with natural light. Ignore the chocolate chips in the pictures. I threw those on top when I took them out of the oven. They looked dry on top, but In the end, they were not. Next time I am going to add toasted walnuts.
Related posts: