The inspiration for Charleston Cream Cheese Almond Muffins was a trip to Charleston where I picked up a cookbook by the late Frances Hamby, founder of Hamby's Catering. I'm still working my way through the book, but since I'd been craving the flavor of almond extract I couldn't wait to try the muffins.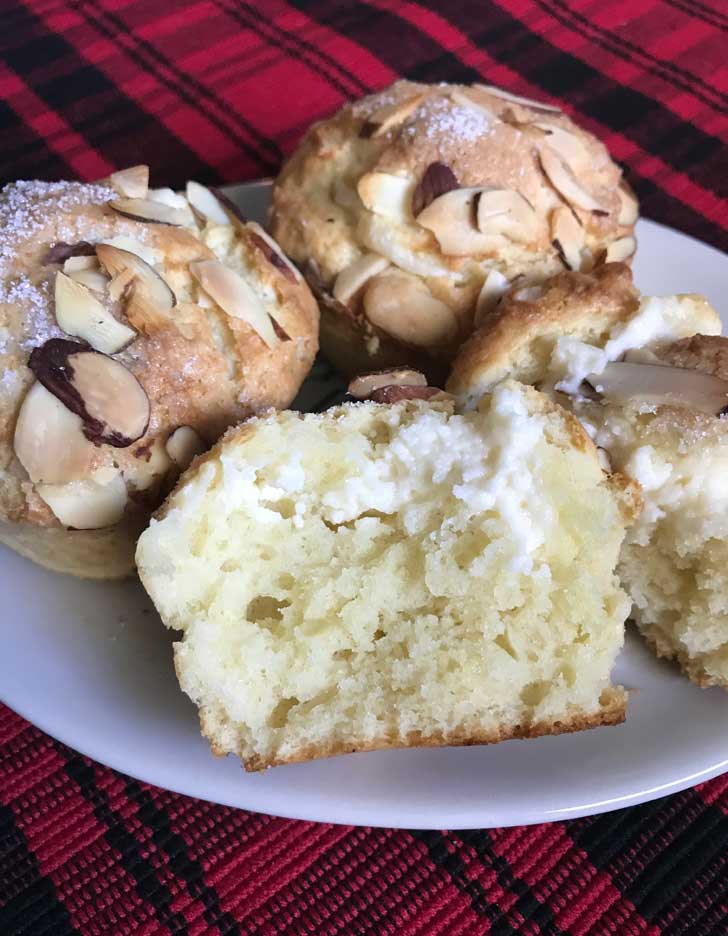 High Rising Cream Cheese Almond Muffins
They were so good! The book's version calls for a cream cheese filling made with cream cheese, sugar, egg and orange zest. It was very light textured and not too sweet. As for the cake, it was soft and crumbly like a cupcake. We loved the muffins, but for the sake of experimentation I wanted to see if I could make them rise a little higher and started playing with the recipe. The new ones do rise higher (if you start them at a high heat and reduce it), have a soft and moist crumb and a little pocket of sweetened cream cheese in the center. Their texture is more muffin-like than cupcakey, but like the originals, they have a lot of flavor from almond extract, almonds and a hint of orange from the zest in the filling.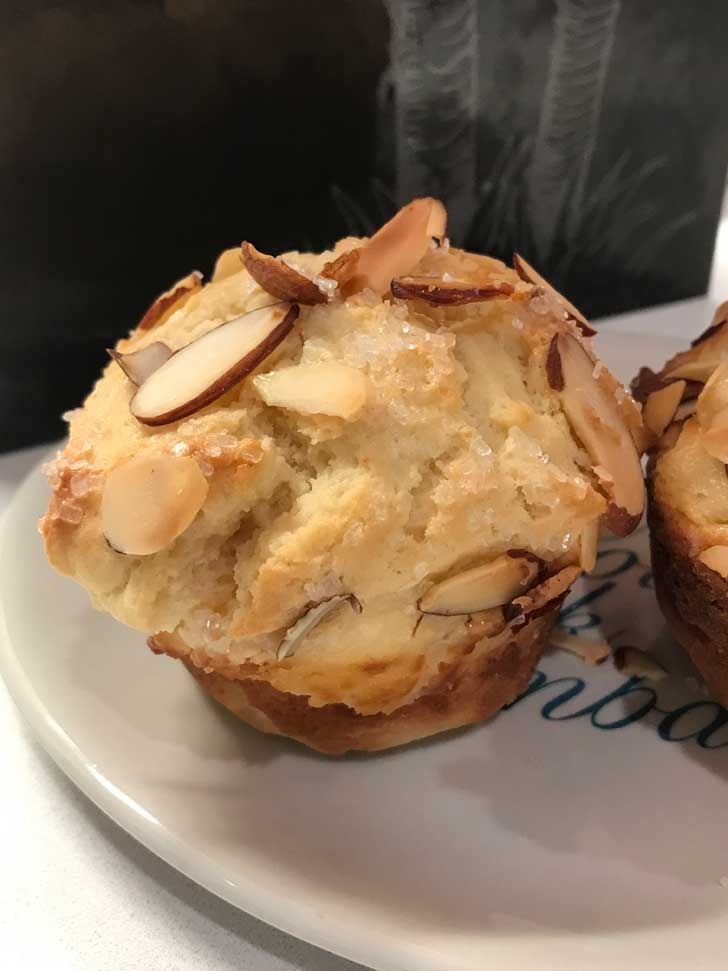 Thick Batter
The batter for my new version is a thick one. Made with sour cream, it's so thick you should be able to pile it in the cups. Here's what they looked like before being baked in a metal muffin pan.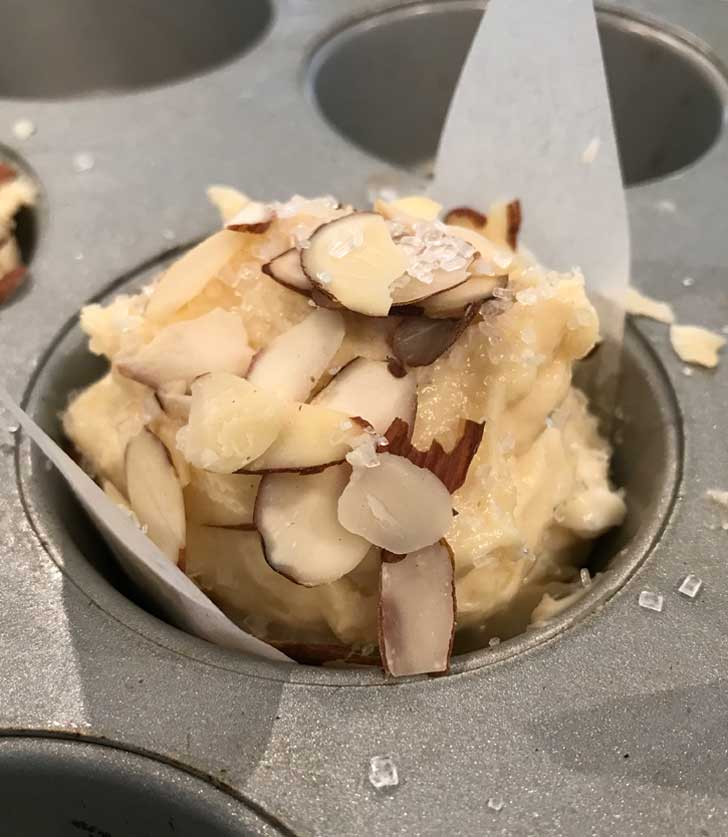 Silicone Muffin Pan
But I also tested with a silicone pan (Crofton, from Aldi). It worked beautifully for Baked Oatmeal Cups, and it worked well for these muffins, though with silicone the muffin "stalks" don't get quite as brown. The trade-off of not having to butter them or worry about sticking might be worth it, depending on the recipe. For me, the six cup silicone pan was just right for throwing together a quick half-batch (the recipe halves easily).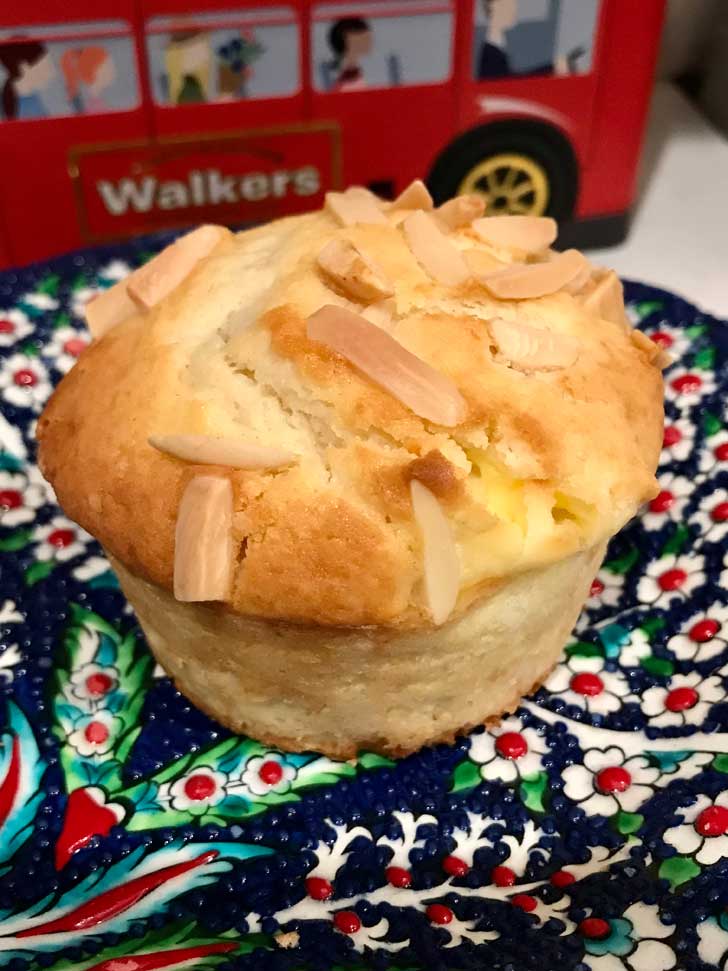 Gluten-Free Version
I've tested these muffins more than a few times and have used all-purpose and gluten-free flour. The gluten-free flour (I used Cup4Cup) works if you use the gram measurement reather than the volume, so if you use a gluten-free blend, weigh out 270 grams rather than just rely on the 2 cup volume.
Recipe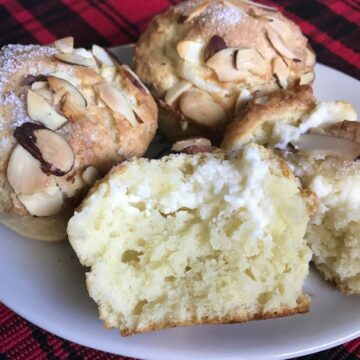 Cream Cheese Almond Muffins
Flavorful almond muffins with a cream cheese filling.
Ingredients 
Filling:
6

ounces

cream cheese, softened

(170 grams)

3

tablespoons

granulated sugar

(36 grams)

¼

teaspoon

orange or lemon zest
Muffins:
2

cups

all-purpose flour or 270 grams Cup4Cup or another gluten-free blend

(270 grams)

1 ½

teaspoons

baking powder

½

teaspoon

baking soda

½

teaspoon

salt

8

tablespoons

unsalted butter, softened

(114 grams)

¾

cup

granulated sugar plus one tablespoon

(162 grams)

2

large

eggs, room temperature

(100 grams)

2

teaspoons

almond extract

1

cup

sour cream, make sure it's not too cold

(240 grams)

½

teaspoon

vanilla (optional)

½

cup

slivered almonds or sliced almonds

coarse sparkling sugar (optional)
Instructions 
Preheat the oven to 400°F. Grease 12 muffins cups or line them with paper liners. If your muffin cups are shallow, you may have enough batter for more than 12 muffins.

In a small mixing bowl, using an electric mixer or a wooden spoon, beat together the softened cream cheese, sugar and zest.

Whisk together the flour, baking powder, baking soda and salt and set aside.

In a mixing bowl, using an electric mixer or just a wooden spoon, beat the softened butter and sugar just until creamy. Beat in eggs, one by one, only beating until each egg is incorporated (do not attempt to whip the batter). Stir in the almond extract and vanilla. Add the flour mixture alternately with the sour cream and stir by hand or with lowest speed of mixer until blended. It should be fairly thick.

Fill 12 muffin cups about ⅓ full with the thick batter. Put a generous tablespoon of cream cheese filling in each of the cups, then top with remaining batter, again dividing evenly. Batter should be thick enough so that you are piling it. Sprinkle sparkling sugar (or some regular granulated sugar) over the top, then sprinkle with the almonds and a little more sugar.

Set the muffin pan on a rimmed baking sheet to prevent any dripping.

For high rising muffins, bake the muffins at 400 degrees F for 10 minutes, then reduce the heat to 350 degrees and bake for another 10 to 15 minutes. If you are less concerned about how high the crowns are and don't want to deal with reducing the heat, just bake the muffins at 375 degrees F. for about 25 minutes (check at 20).

Let cool in cups for about 10 minutes, then carefully remove. You can serve them warm or let them firm up a bit and serve re-warmed later or at room temperature.