Here's another bran/fiber muffin which despite being chocolaty and rich tasting, is lower in fat than the previous bran muffin. This time, fiber comes from Fiber One cereal.
The original recipe is on the Fiber One web site, but I made a few changes and typed up my version below.
This recipe only requires one bowl. Woo Hoo!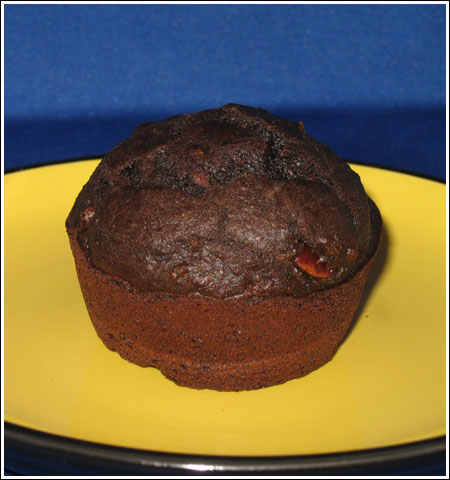 One Bowl Chocolate Fiber Muffins
1 cup Fiber One Cereal, crushed after measuring
1 1/3 cups buttermilk or 1 1/4 cup regular milk plus 4 teaspoons or vinegar
1/4 cup vegetable oil
1 large egg
3/4 cup packed brown sugar
1 teaspoon vanilla
1/2 cup unsweetened baking cocoa (natural type, not Dutch or European style)
1 teaspoon baking soda
¼ teaspoon salt
1 cup white whole wheat flour (such as Ultragrainor King Arthur) – 4.5 oz
1/3 cup semi-sweet chocolate chips
Preheat oven to 375 degrees F. Line 10 muffin tins with paper liners (or line 12 for smaller muffins).
In a mixing bowl, combine the crushed cereal and buttermilk. Let stand for 5 minutes to soften cereal. Add oil, egg, brown sugar and vanilla and stir until very well mixed. Stir in cocoa, baking soda and salt and (again) mix well. Finally, add the flour and stir just until mixed. Stir in chocolate chips and divide evenly among the 10 muffin cups; bake for 15-20 minutes (I baked for 17).
Let cool and remove from cups.
Makes 10
Related posts: