Oat Fiber Chocolate Muffins are low calorie chocolate muffins made with oat fiber, an ingredient often used in keto baking. I don't do a lot of keto baking, but I always have oat fiber and like using it to add bulk and cut calories in recipes. This is one of my favorites. These muffins weigh about 2.6 ounces each, and according to My Fitness Pal have a calorie count of around 150. That's pretty good for a large chocolate muffin!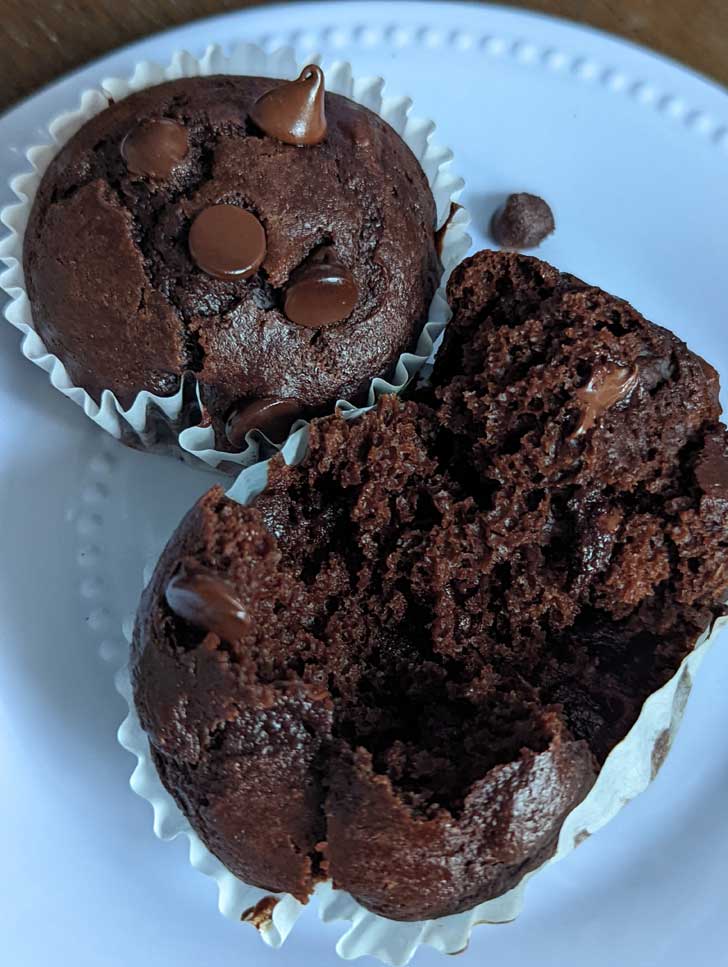 Oat Fiber Chocolate Muffins Count
I've been fiddling with this muffin recipe for a while, so I'm really looking forward to hearing how it works for others. I use fairly large (but not jumbo) muffin papers and make 5 muffins. There's enough batter to where you could make 6, but I like the muffins a little larger.
Ingredients
All-Purpose Flour -- Just plain old AP flour, but you could probably substitute bread flour or even whole wheat without any problems.
Oat Fiber -- I always use Anthony's brand. Last time I checked they were sold out, so you may have to try a different brand. This is one ingredient I've never seen in stores, though I've heard rumors of it making an appearance at Kroger. And just in case you didn't already know, oat fiber is not the same as oat bran or oat flour and can't be used interchangeably.
Unsweetened Cocoa Powder -- Hershey's (natural) but Dutch should be fine too.
Allulose -- Wholesome Sweeteners. If you use Swerve, the muffins might be slightly sweeter. I've only tested with a mixture of allulose and sugar.
Sugar
Baking Powder
Baking Soda
Salt
Applesauce -- Unsweetened. I buy it in individual serving cups so I can use small amounts at a time for baking.
Egg White
Greek Yogurt -- Any type should be fine, but I use plain whole milk Greek yogurt.
Brewed Coffee -- For more coffee flavor, you could use a teaspoon of espresso powder and 2 ½ oz of water. If you don't drink coffee, I'm pretty sure 2 ½ oz of warm water would work just as well.
Vanilla Extract
Chocolate Chips -- Most of the calories in this recipe come from the chocolate chips. ⅓ cup is about 2 oz, so these are pretty chocolaty! I use regular semisweet chocolate chips or sometimes Lily's sugar free., which aren't that much lower in calories.
More Recipes
Recipe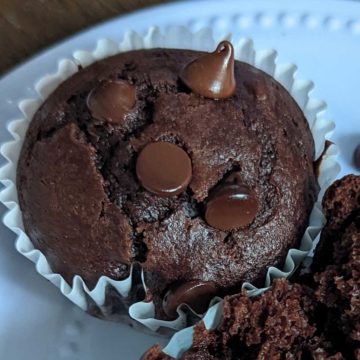 Reduced Calorie Chocolate Muffins
Big chocolate muffins with fewer calories ounce for ounce.
Ingredients 
⅓

cup

all-purpose flour or a gluten-free 1:1 blend

(48 grams)

2 ½

tablespoons

oat fiber (not oat bran or oat flour)

(My 2 ½ T. weighed 18 grams)**

¼

cup

unsweetened natural cocoa powder

(20 grams)

3

tablespoons

allulose or other calorie free sweetener

(35 grams) -- or just use sugar

3

tablespoons

sugar

¾

teaspoon

baking powder

⅜

teaspoons

baking soda

⅛

teaspoon

salt

¼

cup

unsweetened applesauce

1

large

egg white, or extra large

33-35 grams

¼

cup

5% Greek yogurt (whole milk)

2 ½

tablespoons

brewed coffee or water

1

teaspoon

of vanilla extract

⅓

cup

extra dark chocolate chips
Instructions 
Preheat oven to 400 degrees. Line 6 muffin cups with paper liners. The recipe yield is 5 because I often make these larger, but you can make 6 smaller ones.

In a large bowl, mix together flour, oat fiber, cocoa powder, sugar, allulose, baking soda, baking powder, and salt. Make a well in the center.

To the well, add applesauce, egg white, Greek yogurt, vanilla and coffee. Stir those ingredients together, then stir everything together. Add the chocolate chips.

Divide the mixture between the muffin cups -- it should come almost to the top. Put in the oven,

Bake at 400 degrees F for 5 minutes, then drop heat and bake at 350 for 10 to 12 minutes. Let muffins cool before serving.
Notes
I've only tested with Anthony's brand and I used the gram amount.