If you're looking for big, bakery style bran muffins, you'll want to skip this recipe because these are the opposite. These are "normal" size low calorie bran muffins made with allulose, oat fiber, prune puree and all the ingredients I could combine to make a 2 ounces size muffin around 100 calories.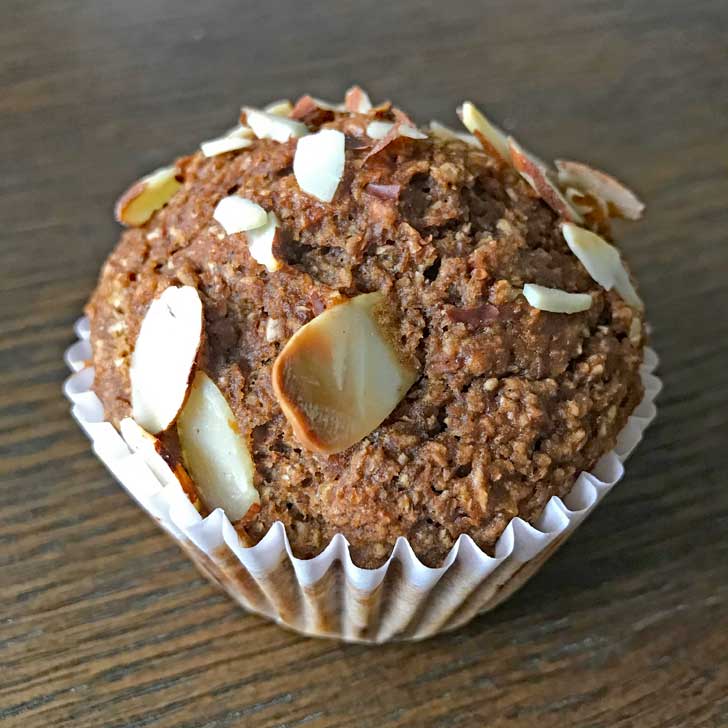 Allulose and Oat Fiber
The two key ingredients are Wholesome Sweeteners allulose and oat fiber. Allulose adds sweetness and the oat fiber adds bulk but zero calories. The muffins look kind of small, but they are around 2 ounces each and pretty filling from all the fiber. If you are not familiar with these two ingredients, you can still make the muffins using substitutes in the ingredient list.
Low Calorie Bran Muffin Ingredients
Here's a list of ingredients with a few notes. Also, these are not keto. Here's a link to the keto bran muffin recipe.
Unprocessed Wheat Bran -- Basic ingredient which you shouldn't have trouble finding at any health food store or on-line.
Oat Fiber -- Adds bulk and zero calories. It's used in commercial low carb, low calorie breads, and is becoming a more popular ingredient. I recommend Anthony's brand. If you don't have the oat fiber you can make low calorie bran muffins with another ¼ cup of wheat bran, but it will increase the calorie count a tiny bit.
Flour -- Regular all-purpose or white whole wheat are fine.
Allulose -- Available in the baking aisle of regular grocery stores under the name Wholesome Sweeteners. You can also order it. Allulose is not as sweet as sugar, so if you substitute sugar or another sweetener you will need less. For instance, you can use 3 tablespoons of coconut sugar or brown sugar in place of the 4 tablespoons allulose. Using sugar will add about 25 calories to each muffin.
Oil -- Any type of oil should be fine. I use canola or grapeseed.
Molasses -- Mild or strong. I accidentally used blackstrap in one batch and the muffins were still good.
Prune Baby Food -- From the baby food aisle. It's inexpensive, makes a great fat substitute and adds flavor.
Maple extract -- Tiny bit. The muffins won't taste like maple, they'll just have an extra layer of background flavor. Same with the vanilla. You can leave it out if you need to.
Buttermilk -- If you don't have buttermilk you can make it by mixing a little lemon juice or vinegar with regular milk.
Baking Soda -- This recipe uses a pretty modest amount, and yet the muffins do rise. However, they are dense rather than fluffy.
Half Dozen Bran Muffins
I make Low Calorie Bran Muffins in batches of six and have not tested a double batch. Rather than double, you may want to try the small batch first just in case you don't like the muffins. I was going for tasty, but also VERY low calorie, ounce per ounce.
Richer Bakery Style Muffins
If you're not so worried about the calories and just want some richer and sweeter muffins, I recommend the old Marcy Goldman recipe or the Molasses and Raisin Bran Muffins or any of the ones made with sour cream. But for 100 calories, these are pretty filling. I'm curious to hear what you think.
Calories and Macros
I calculated the calories in MyFitnessPal and the muffins came in between 100 and 110 calories depending on how I changed the sweeteners, whether I added almonds and how many raisins were thrown in. Please consider any calorie counts just ballpark figures. But ounce for ounce, these are lower than most of the other recipes.
Recipe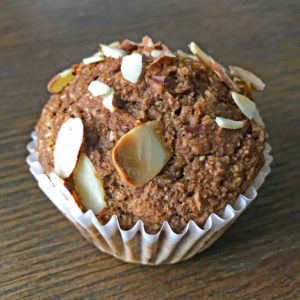 Lower Calorie Bran Muffins
An easy bran muffin recipe that is, ounce for ounce, pretty low in calories.
Ingredients 
45

grams

wheat bran

(¾ cup)

25

grams

oat fiber (or use 25 grams more wheat bran)

(¼ cup)

45

cup

all-purpose flour

(⅓ cup)

⅛

teaspoon

salt

Can use slightly more if desired

¼

teaspoon

cinnamon

¼

teaspoon

baking soda

40

grams

allulose (About 4 tablespoons)

or use 3 tablespoons sugar

1

large

egg

(55 grams)

12

grams

canola oil (or any other oil)

1 tablespoon

22

grams

molasses

(generous tablespoon)

84

grams

buttermilk

(¼ cup plus 2 tablespoons)

50

grams

prune puree (prune babyfood)

(3 generous tablespoons)

⅛

teaspoon

maple extract and ¼ teaspoon vanilla**

2

tablespoons

raisins or other dried fruit

optional
Instructions 
Preheat oven to 375 degrees F. Line 6 muffin cups with paper liners. For larger muffins, use only 5.

In a mixing bowl, mix together the wheat bran, oat fiber, flour, baking soda, salt, cinnamon and allulose.

Make a well in the center of the dry mixture and add the egg, oil, molasses, buttermilk and prune puree along with the vanilla extract and maple extract. Stir the liquid ingredients together in the well, then incorporate all of the dry ingredients and stir until evenly blended.

Stir in raisins or dried fruit (if using)

Divide the batter between the muffin cups.

Bake at 375 for about 18 minutes. You can bake longer if you need to, but they should be done in 18 minutes.

Let the muffins cool for at least ½ hour. They improve as they cool, so if you want to eat one warm it's best to make them ahead, let cool and then toast or warm in the oven.