With Fuzz home for the holidays, she has more time to eat breakfast. I don't know if that means she will actually eat breakfast, but it doesn't hurt to tempt her a bit with Sour Cream Bran Muffins. Since Epicurious billed this recipe as "The Rolls Royce of Bran Muffins" I figured I'd try it. Now I wish I'd made these sooner.
I'm linking directly to the recipe, but I did make some minor changes (after picture).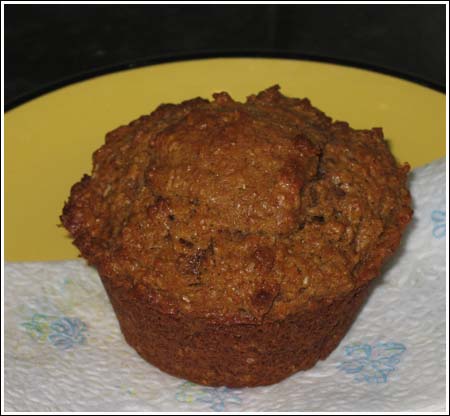 — added 1 teaspoon vanilla, 1 teaspoon cinnamon & 1 teaspoon ginger
— omitted raisins (upon request, though I would have preferred them)
— made 8 muffins instead of 12 (filled muffin tins almost to top)
These are big, soft and extremely moist as opposed to dense and chewy. However, they're not cupcake-ish whatsoever. They're bran muffins with mass appeal. Good for house guests, children, special occassions. Not particularly healthful, but they do have fiber.