With Fuzz home for the holidays, she has more time to eat breakfast. I don't know if that means she will actually eat breakfast, but it doesn't hurt to tempt her a bit with Sour Cream Bran Muffins. Since Epicurious billed this recipe as "The Rolls Royce of Bran Muffins" I figured I'd try it. Now I wish I'd made these sooner. They are a bit grainy, yet mostly cakey and moist and pretty much like you'd expect to find at a coffee shop.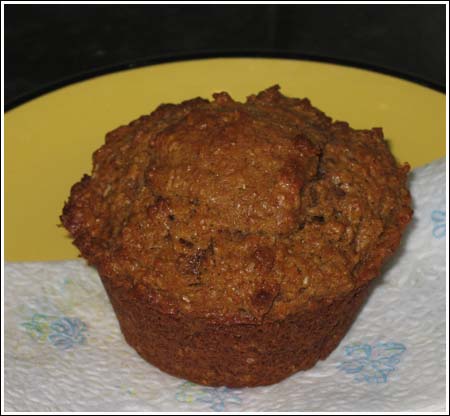 I'm linking directly to the recipe (link stopped working), but I did make some minor changes (after picture).
-- added 1 teaspoon vanilla, 1 teaspoon cinnamon & 1 teaspoon ginger
-- omitted raisins (upon request, though I would have preferred them)
-- made 8 muffins instead of 12 (filled muffin tins almost to top)
Sour Cream Bran Muffins Texture
Sour Cream Bran Muffins are big, soft and extremely moist as opposed to dense and chewy. However, they're not cupcake-ish whatsoever. They're bran muffins with mass appeal. Good for house guests, children, special occasions. Not particularly healthful, but they do have fiber.
Recipe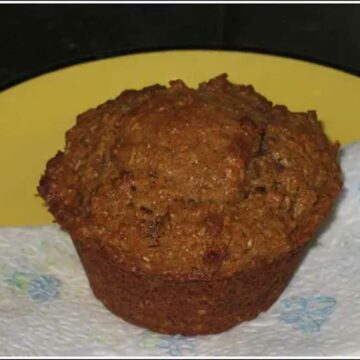 Sour Cream Bran Muffins
This is one of our favorite bran muffin recipes.
Ingredients 
1

cup

all-purpose flour

130 grams

1

teaspoon

baking soda

¼

teaspoon

salt

1

cup

wheat bran

1

teaspoon

cinnamon

¼

teaspoon

ginger

1

stick

½ cup unsalted butter, softened (114 grams)

¼

cup

firmly packed light brown sugar

50 grams

1

large egg

beaten lightly, room temperature

1

cup

sour cream

240 grams – at room temperature

¼

cup

dark molasses

80 grams

½

cup

raisins

75 grams, optional
Instructions 
Preheat oven to 400 degrees F. Butter 12 muffin cups or line with paper liners.

If you haven't already, bring the egg and sour cream to room temperature.

Stir or whisk together the flour, the baking soda, the salt, and the bran. If using spices, stir those in too.

In a large bowl with an electric mixer cream together the butter and the brown sugar until the mixture is light and fluffy, beat in the egg, the sour cream, and the molasses, and stir in the raisins.

Add flour mixture to sour cream mixture, and stir the batter until it is just combined. (The batter will be lumpy.)

Spoon the batter into muffin tins and bake the muffins in the middle of a preheated 400°F. oven for 20 minutes. If they are not done in 20 minutes, reduce heat to 350 and bake for another 3 to 5.

Turn the muffins out onto a rack and let them cool.