It's probably not the first thing you'd think of for a holiday dessert, but this week I felt like Key lime pie and was up for the challenge of making it slightly more nutritious. I'd made some good low fat key lime pies in the past and knew it could be done, but a few months ago I saw a version using Fiber One cereal and lime yogurt and was curious to see how a dessert made with those two ingredients would taste.
Results? Fiber One Key Lime Pie was pretty darn good! I even got a special compliment on it, which was a surprise since my initial mention of the ingredient list got a "blech" from Todd. I think by the time I served it he'd forgotten what I'd made it with because after he ate a piece he said "That was really good crust" rather than "That was really good crust for something made with fiber cereal and yogurt."
Overall I'd say if you are a key lime pie fan and like the idea of desserts that aren't completely unhealthy, this one's a good choice. Also, I don't know much about diabetes but given the low amount of sugar and the fiber, this seems like one you might be able to modify for someone who has to watch their blood sugar.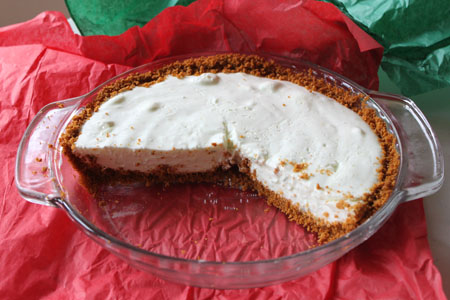 Now that I've made that one, I've also put a second on the list. A while back Cook's Country published a recipe using fat free condensed milk, Greek yogurt and reduced fat cream cheese. While it obviously won't pack the fiber punch of this one, it sounds good too. Cooks Country has a reduced fat key lime pie on their website and registration is free.
The recipe I used was for Fiber One Key Lime Pie, but I modified it and put my version (with notes!) below.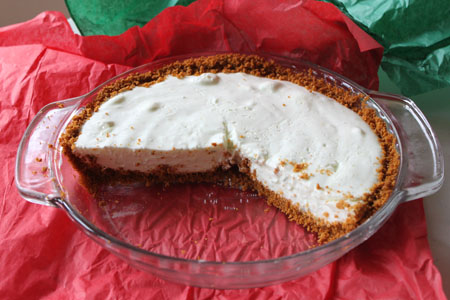 Mmmm. Fiber Filled Key Lime Pie
Key Lime Pie made with Yoplait lime flavored yogurt and Fiber One cereal.
Ingredients 
Crust
2

cups

Fiber One cereal

4

tablespoons

melted butter

1

tablespoon

corn syrup

I think maple syrup or golden syrup would work

1

teaspoon

vanilla
Filling and Topping
2

tablespoons

cold water

1

tablespoon

fresh lime juice

1 1/2

teaspoons

unflavored gelatin

4

oz

reduced fat cream cheese

softened

16

oz

Yoplait Fiber One Key lime pie yogurt

I had to use a different brand because they were out of this one

1/2

cup

frozen

thawed reduced-fat whipped topping

2

teaspoons

grated lime peel
Instructions 
Preheat oven to 350°F. Crush cereal in a food processor until it's the consistency of breadcrumbs. Fiber One says you can do this step with a heavy duty plastic bag, but if you have a food processor it makes the job easier and you get a fine grind.

In medium bowl or in the bowl of the food processor, mix crust ingredients until blended. Press crust mixture evenly and firmly in bottom and up side of (well greased!) 9-inch glass pie plate. Bake 10 to 12 minutes or until firm. Cool completely, about 1 hour.

In a 1-quart saucepan, mix water and lime juice. Sprinkle gelatin on lime juice mixture; let stand 1 minute. Heat over low heat, stirring constantly, until gelatin is dissolved. Cool slightly, about 2 minutes.

In medium bowl, beat cream cheese with electric mixer on medium speed until smooth. Add yogurt and lime juice mixture; beat on medium speed until well blended. Fold in whipped topping and lime peel. At this point, do a taste test and see if you think it's sweet enough. I folded in a heaping tablespoon of powdered sugar and was happy with the results.

Spoon into crust. Refrigerate until set, about 2 hours.