This recipe calls for cream cheese, which is why I felt compelled to try this even though it's just banana bread. The cream cheese adds a little moisture, flavor and structure. The bread rose quite a bit but was sturdy and light at the same time. That is, it wasn't as dense and heavy as some banana breads. It's also not overly sweet. All in all, very good and definitely worth throwing into your big pile of banana bread recipes.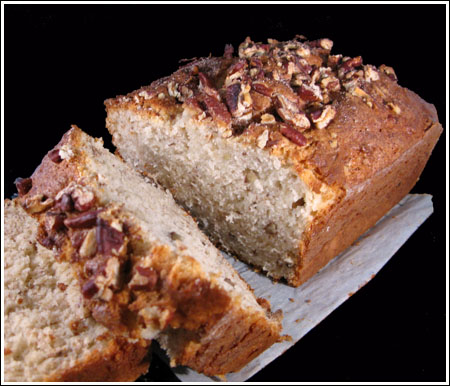 Cream Cheese Banana Nut Bread
2 1/4 cup all purpose flour (10.1 oz)
1 1/2 tsp baking powder
1/2 tsp soda
1/2 teaspoon salt
8 oz cream cheese, softened
4 tablespoons unsalted butter, softened
1 cup granulated sugar
1 cup mashed banana (8 oz)
2 large eggs
1 teaspoon vanilla
1 cup pecans, toasted and chopped (divided use)
1/4 teaspoon cinnamon mixed with 1 heaping teaspoon sugar (optional)
Preheat oven to 350 degrees F. Grease and flour a 9×5 inch loaf pan.
Mix flour, baking powder, baking soda and salt together in a mixing bowl; set aside.
Beat cream cheese, butter and sugar until light and fluffy. Add bananas, eggs and vanilla and beat until mixed.
Add flour mixture and stir until it is almost mixed in. Add the ¾ cup of the pecans and stir pecans mixed and flour has disappeared – -batter should still be pretty lumpy.
Pour into pan. Toss remaining ¼ cup pecans with cinnamon/sugar mixture and sprinkle over top. Bake at 350 for 1 hour and 10 minutes. Cool 10 minutes before removing from pan.
Makes 1 loaf
Related posts: