Small Loaf Pan Banana Bread is my extremely creative name for this banana bread recipe made in small loaf pans. To be exact, 3×5 inch pans. There is also such thing as a mini loaf pan that's even smaller, but I like the 3×5 size because they are a good compromise in terms of size. Most recipes will give you 3 loaves, so you get one for yourself and two to share.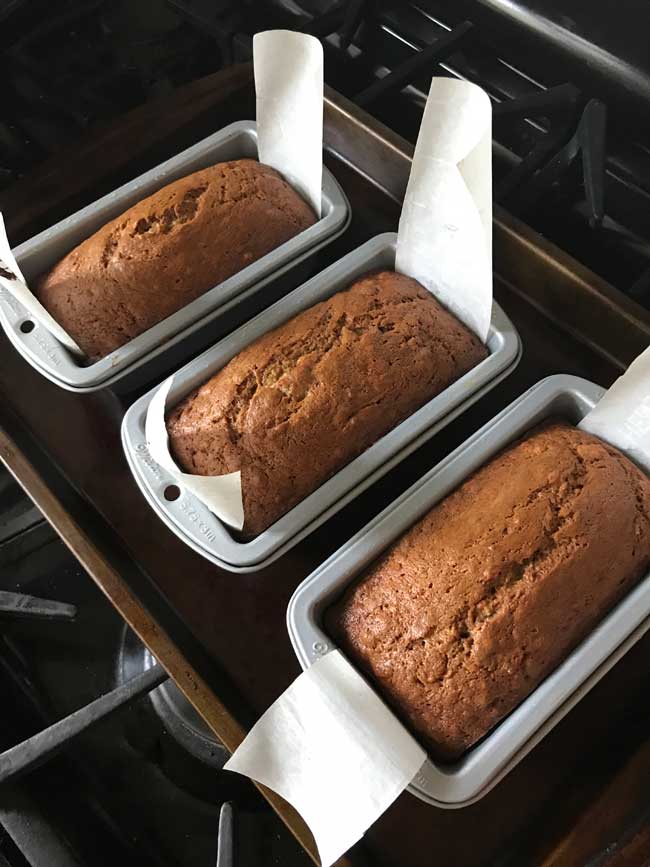 As for this recipe, it's one I stumbled upon and almost didn't try because I have too many banana bread recipes already. In the end I did try it and am adding it to my ever growing list of number one, best-ever, ultimate, favorite banana bread recipes.
If you're wondering what the others are, the list includes Best Ever, Sour Cream and High Rising.Those are the current favorites, but I like this one a little better for several reasons. Plus it worked really well in my new 3 piece mini loaf pan set (hence the name Small Loaf Pan Banana Bread).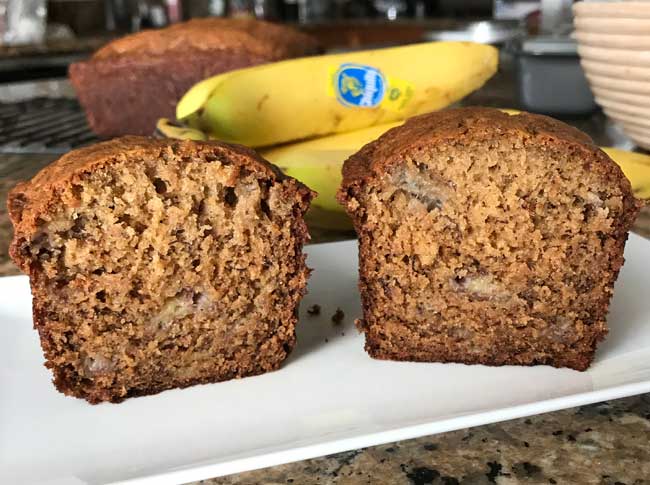 Small Loaf Pan Banana Bread Tips
The recipe is originally from Bon Appetit, but I used sour cream instead of mascarpone, added a little vanilla, and adjusted the baking time to work with the small loaf pans. The loaves have a dark brown color, are not overly nor under sweet (in my opinion) and have a moist but not mushy texture.  The small loaves also have nicely domed tops! I was expecting more of a brick shape after reading the reviews on BA, so the domed tops were a pleasant surprise.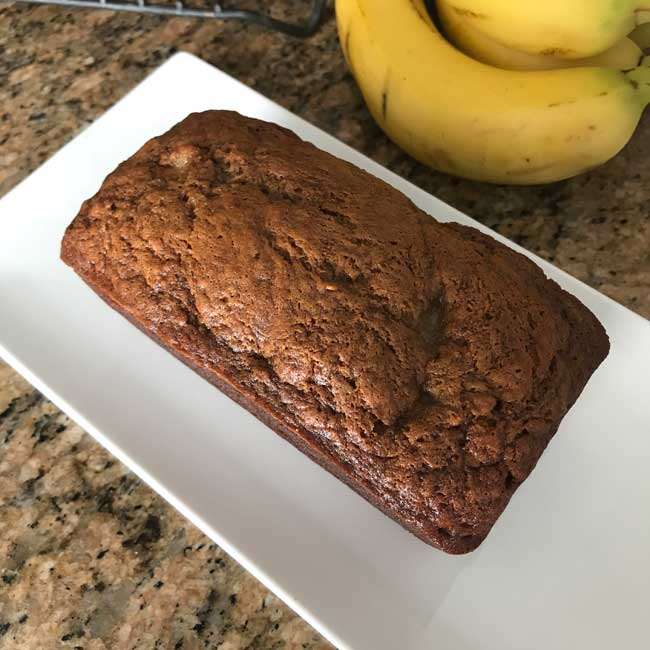 I'm glad I tried this one even though I'm embarrassed by how many different banana breads I have on this blog.  Next time I make it I'll add nuts and post another photo.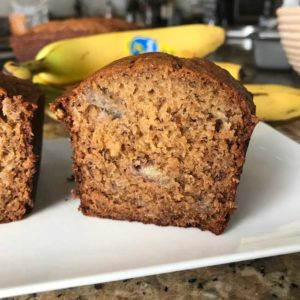 Small Loaf Pan Banana Bread
Mini Banana Loaves
Equipment
Small Loaf Pans or Mini Loaf Pans
Ingredients 
1 1/2

cups

all-purpose flour

(200 grams)

1 1/4

teaspoons

baking soda

1/4

teaspoon

plus a pinch of salt

or 3/4 if using Diamond or other fine kosher

4

tablespoons

unsalted butter

very much soft but not melted

1

cup

packed dark brown sugar

(200 grams)

1/3

cup

sour cream or Greek yogurt

2

large eggs

lightly beaten with a fork in a separate bowl

1/2

teaspoon

vanilla extract

4

large

very ripe bananas

mashed (12 oz)

1/2

cup

chopped walnuts

optional
Instructions 
Preheat oven to 350°. Grease 3 small (3×5 inch) loaf pans and line with strips of parchment if desired.

Whisk together flour, baking soda and salt; set aside.

In a mixing bowl, using a big spoon or a heavy duty scraper, stir the butter, sugar and sour cream until well blended. Stir in the beaten egg and the vanilla.

Add the mashed bananas and stir until blended, then add the flour mixture and stir until blended. Stir in nuts (if using).

Divide the batter among the loaf pans and set on a rimmed baking sheet.

Bake for 42-45 minutes or until the internal temperature of the bread (you can poke a meat thermometer in it) is around 200 or slightly over.

Makes 3 loaves and each loaf serves about 4 people.