On the plane ride home, there was a lot of sneezing. This plus the fact that I ate very badly on this trip meant I was destined to catch a cold…and I think I did because my nose is getting stuffier by the minute and I'm feeling rundown. But not as rundown as before I ate one of these cookies.
I didn't have the energy to go to the grocery store, but luckily I had just enough ingredients to make a small batch of Chocolate Espresso Cookies from the current issue of Every Day Food. What I liked about this recipe, aside from the fact it was the only one for which I had the ingredients to make, was it had a full tablespoon of espresso powder. And boy, you can really taste it. These are excellent! I personally would not leave out the espresso even though the intro to the recipe tells you it's okay. No, I recommend using the full amount of espresso and hiding these from the kids.
By the way, I mentioned earlier that I thought I was the only person who liked cookies set and cooled better than hot out of the oven. Well, it was nice to read a few comments from people who agreed. And this, like so many others, is a cookie that tastes even better after it's completely set.
For the chocolate, I used Ghirardelli 58%. RECIPE HERE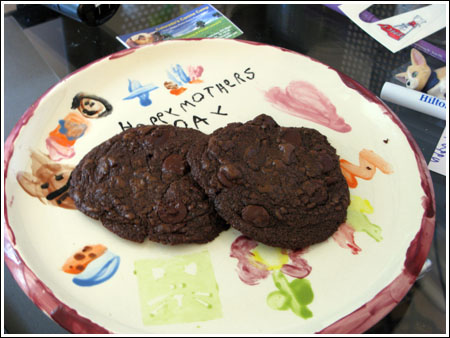 Related posts: