Last night I made Todd one of his favorite desserts, tres leches cake. It had been a while since I'd made one, but after seeing a coconut version on the stand mixer blog, I was inspired. The stand mixer version sounded good, but I was in the mood for a non-cake-mix enhanced cake so I used a recipe off Chowhound.
This one was good, but seemed a bit sweet, had a lot of eggs and had a low cake-to-milks ratio. But that wasn't necessarily a bad thing because Todd loved it and a lot of the Chowhound reviewers did too. As for me, I'm going to make a few more tres leches cakes these next few weeks and try to find a favorite. If you have a favorite, let me know! I will round up a few later today and make a "To-Try" list.
Full Recipe Here from Chowhound is here.
For a smaller cake, cut the recipe in half and make it in an 8 inch square glass pan. I did it and it worked just fine, though I did increase the final whipping cream topping slightly. Also, (and this is kind of trivial but someone on the Chowhound thread was wondering) I always whip the whites first so that I don't have to clean the beater. The whites stay airy while they sit and wait for the yolks to be beaten.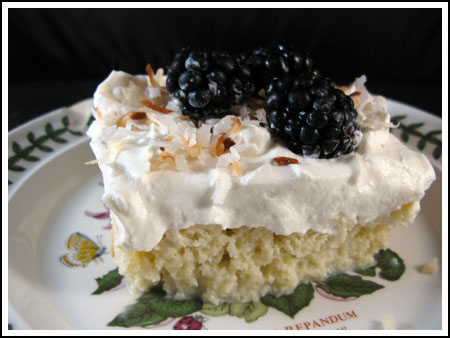 Coconut Tres Leches Cake
3 large eggs, separated
1/2 cup granulated sugar (3.5 oz/96 grams)
1/2 cup all-purpose flour (2.25 oz/65 grams)
7 oz (half a can) sweetened condensed milk
1/3 cup evaporated milk
1/4 cup unsweetened coconut milk
1/2 tablespoon rum
1 cup heavy cream
1/2 teaspoon vanilla
3/4 tablespoon powdered sugar
1/3 cup sweetened flaked coconut
1 cup fresh blackberries
Heat oven to 325 degrees F. Butter an 8 inch glass baking dish.
Beat egg whites in a large metal bowl until stiff peaks form. Set aside.
Beat egg yolks and sugar together until pale and fluffy – about 3 minutes.
Gently stir about 1/3 of the egg whites into the yolk mixture to lighten it. Then fold in remaining whites.
Sprinkle flour over egg mixture and gently fold flour into egg mixture, just until there are no more white flour streaks. Pour batter into the buttered baking dish and bake on center rack for 20-25 minutes – cake should look puffed and golden. Place on a wire cooling rack and poke holes all over the cake with a toothpick or a chopstick (I used a chopstick). Cool for 15-20 minutes.
Whisk together three milks and rum, and pour mixture evenly over cake. Continue cooling cake, about 45 minutes more, then cover tightly with plastic wrap and refrigerate at least 4 hours or overnight.
A few hours before serving, whip the cream until stiff peaks form, then beat in the sugar and vanilla. Spread it over the cake. Sprinkle toasted coconut over cake.
For toasted coconut, spread the coconut on a baking sheet and bake at 375 for about 8 minutes or until it starts to brown. Stir it around. Sprinkle toasted coconut over cake before serving. Cut into squares and garnish with blackberries.
Related posts: