This morning I bought ingredients to make one of Bon Appetit's latest, greatest pies — the Raspberry No-Bake. I'm intrigued because one person gave it 4 stars and another person gave it 1. What's the story? I have to know and will fill you in later.
For now, here's another recipe that also just happens to be on Epicurious. That's not where I found it, though. I found it on a cookie newsgroup that didn't post the source, then coincidentally I was going through my yellow Gourmet cookbook while the caramel was boiling and there was the recipe.
So this recipe is adapted from Gourmet magazine. I toasted the pecans and ignored the part about mixing dry ingredients separately, but it's more or less the same recipe… but with sea salt! Putting a little sea salt on top, an idea validated by another reviewer, takes these to the next level.
Also, a few reviewers wondered how they could possibly get 64 brownies out of a 9 inch pan. Well, if you freeze the brownies, lift from the pan and cut with a Chef's knife, it's not that difficult. Plus, the petit brownies look awfully cute.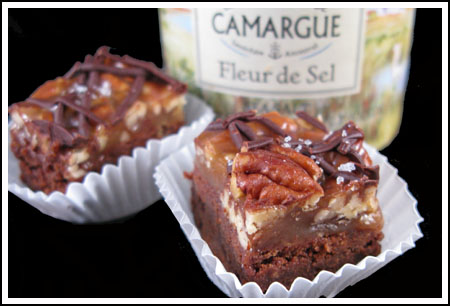 Turtle Brownies
Brownie Layer:
8 tablespoons unsalted butter, cut into pieces (114 grams)
4 oz semi-sweet chocolate chips (114 grams)
1 oz unsweetened chocolate
1 cup packed light brown sugar (210 grams)
2 large eggs
1 teaspoon vanilla
1/4 teaspoon baking powder
1/2 teaspoon salt
3/4 cup plus 2 tablespoons all-purpose flour (115 grams)
Caramel-Pecan Layer:
3/4 cup granulated sugar
1/3 cup light corn syrup
3 tablespoons water
1/3 cup heavy cream
1 teaspoon vanilla
1 1/2 cups toasted pecans – I chopped mine
Garnish — 1-2 ounce semisweet chocolate
Garnish — Fancy sea salt…the most expensive you can find! (kidding)
Preheat oven to 350 degrees. Line a 9 inch square metal pan with foil and spray foil with cooking spray.
Melt butter in a medium saucepan set over medium heat. Add chocolate, reduce heat to low and stir until melted (I actually did this in the microwave). Cool mixture slightly if hot, and with a wooden spoon, beat in brown sugar, followed by eggs and vanilla. Scrape sides of bowl and with the wooden spoon, beat in the baking powder and salt, making sure they're evenly distributed. Add the flour and stir gently until it is mixed in.
Spread batter evenly in pan and bake in middle of oven 30 minutes, or until a wooden pick comes out clean. Cool completely on a wire rack.
Spread the pecans on a cookie sheet and bake for 10 minutes or until aromatic. Let them cool, then chop.
Make caramel-pecan layer: In a heavy medium size saucepan bring sugar, corn syrup, water, and a pinch salt to a boil over medium heat, stirring until sugar is dissolved. Boil mixture, without stirring, until it turns a golden caramel – mine was golden in 8 minutes. Remove pan from heat and carefully add cream and vanilla (mixture will bubble up and steam). Stir in pecans and quickly pour mixture over brownie layer, spreading evenly. Cool brownies completely in pan on a rack.
For Garnish: In a double boiler or metal bowl set over a saucepan of barely simmering water melt chocolate, stirring, until smooth and remove top of double boiler or bowl from heat. Transfer chocolate to a freezer bag. Squeeze chocolate into one corner of bag and with a sharp knife (I used scissors) cut a tiny slice off corner to form a small hole. Squeeze chocolate decoratively over brownies. Chill brownies, loosely covered, until caramel is firm, at least 4 hours. Lift from pan by grasping parchment (or foil). Cut brownies into 16 squares, then cut each square into 4 squares. Set squares in regular or miniature size cupcake papers and sprinkle sea salt on top before serving. Makes 64
Note: I like to put my brownies in the freezer for 20 minutes before cutting.
Related posts: