This afternoon is our first Girl Scout meeting of the year. Yes, Girl Scouts! We've said goodbye to Brownies (though instead of a bridging ceremony, we went bowling) and are jumping into Juniors. It's an exciting day, and as the hostess I wanted to make something special. I thought about green & white cupcakes with fondant on top and a silhouette of Julette Low, then realized that would require a trip to Michael's, several hours of focus, and no time to clean house. I changed my mind and ended up making Malted Chocolate Chip Cookies.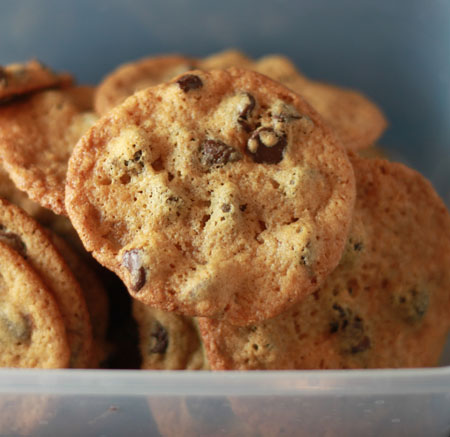 I've been making malted chocolate chip cookies for years, but the recipe I use calls for butter flavor shortening and chocolate syrup. It's a little unorthodox, but it makes a tasty cookie. Of course it's good to try new things, so when a friend sent me this recipe I promised I'd try it.
Thanks Kristin for sending it, and to give credit where it's due, thanks Gale Gand. Gale's recipe uses a slightly higher ratio of brown sugar, but I decided to go half and half to cut the sweetness a tiny bit. The cookies are thin, chewy, lumpy, bumpy and have a hint of malt. With a full half cup of malt, you'd think there would be more malt flavor, but there was just enough to let you know it's there. I think the Junior Girl Scouts will approve.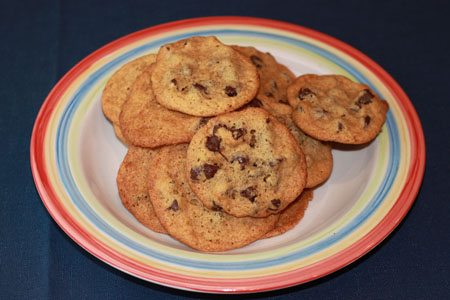 Malted Chocolate Chip Cookies
Chocolate chip cookies with malted milk powder
Ingredients
Malted Chocolate Chip Cookies
2 cups all-purpose flour
1 teaspoon baking soda
1 teaspoon salt
1 cup (2 sticks) unsalted butter, cold and cut into pieces
3/4 cup light brown sugar
3/4 cup granulated sugar
1 teaspoon vanilla extract
2 large eggs
1/2 cup malted milk powder (such as Carnation or Horlick's)
2 cups semisweet chocolate chips
Instructions
Preheat oven to 350 degrees.
Sift together the flour, baking soda and salt and set aside
In the bowl of a stand mixer with the paddle attached, beat the butter and both sugars for about 3-5 minutes or until very light. Reduce speed slightly and add the vanilla and eggs, beating just until mixed. Add the malt powder and mix at low speed just until combined. One-third at a time, add the flour mixture, beating after each addition just until combined. Gently mix in the chocolate chips. Drop by tablespoons onto the baking sheets.
to 10 (mine took 10-12 minutes), depending on how crispy you like your cookies. The cookies will be flat. Let cool on the cookie sheets for about 5 minutes or until sturdy enough to remove, then transfer to wire racks to finish cooling.
Notes
The yield is approximate -- it could be anywhere from 36 to 42
Related posts: