I have a few different recipes for Malted Chocolate Chip and Malted Milk Chocolate Chunk Cookies. There's this old one which is recognizable by the Crisco and chocolate syrup. It makes a slightly darker and very flavorful chocolate chip cookie. And then there's this one, which more like a basic thin chocolate chip cookie with a hint of malt. But now I have a new one that I think is the best! These Malted Milk Chocolate Chunk Cookies have a great texture plus just the amount of malt flavor I like — a lot.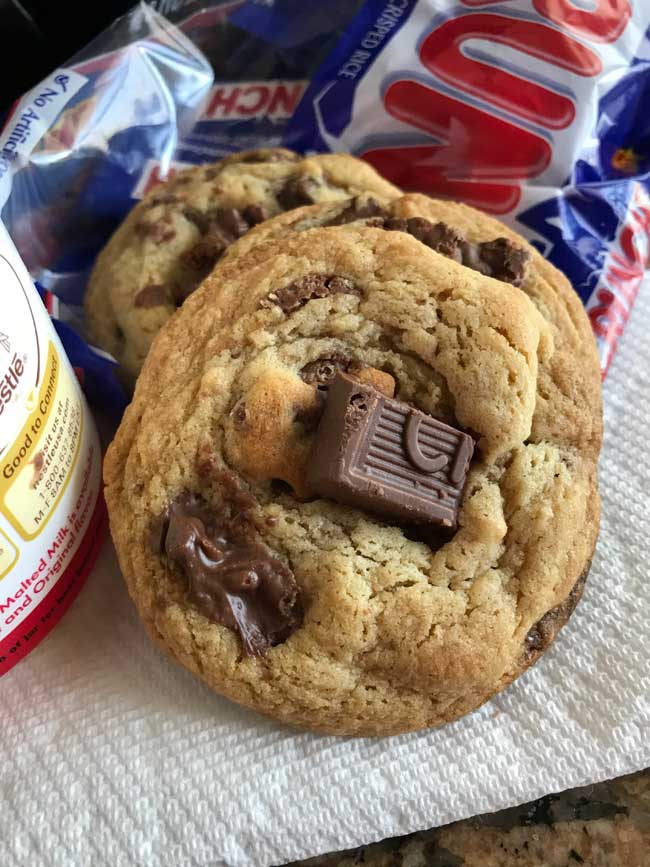 The recipe is based on a variation in the little booklet that Food Network Magazine included in their May 2018 issue called 50 Chocolate Chip Cookies. For this version they took their basic chewy variety, added 3/4 cup malt powder, increased the vanilla, cut the sugar down to ½ cup and omitted the salt. The first time I made these I accidentally forgot to cut the sugar and the cookie were still delicious. They spread a little more, but didn't taste overly sweet (pictured below).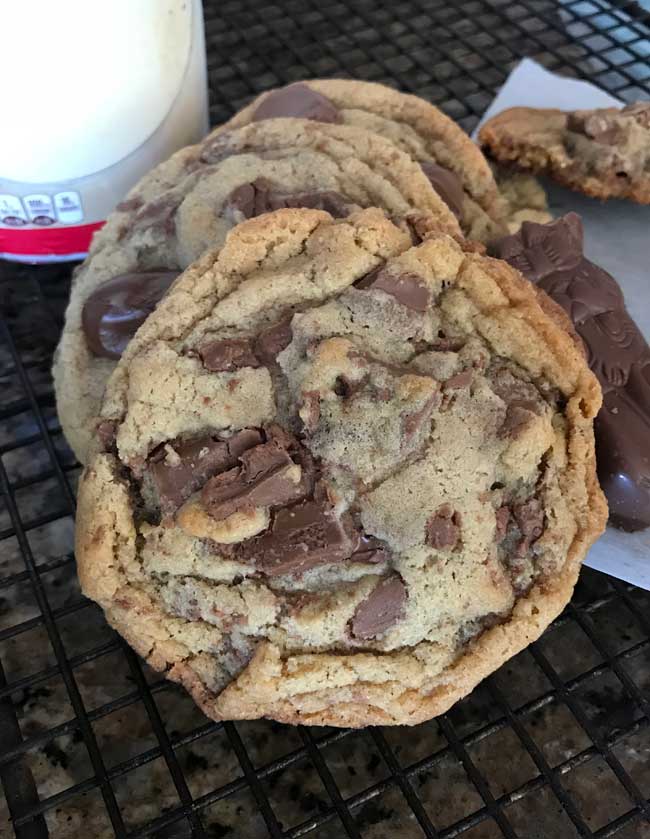 Sugar and Salt
The second and third time I made the recipe I used only ½ cup of brown sugar as directed. The cookies still spread nicely and didn't lack sweetness because of all the milk chocolate.  So I suppose this recipe is fairly versatile given how well it takes to different amounts of sugar. Also, the cookies don't have any added salt (and I did use unsalted butter), yet they still taste great. The flavor of the malted milk powder must make up for what's missing in salt flavor.  If you like malt flavored things, try these!  I used Carnation brand malted milk powder which is unsweetened.  You may get different results if you use Ovaltine, and you will definitely get different results if you use a sweetened malted milk powder.
Recipe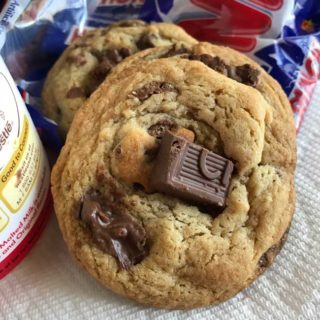 Malted Milk Chocolate Chunk Cookies
Malted Milk Chocolate Chunk Cookies are chocolate chunk cookies with a strong malted milk powder flavor.
Ingredients 
1 1/2

cups

all-purpose flour

190 grams**

3/4

cup

plain malted milk powder

84 grams (Carnation)

3/4

teaspoon

baking soda

10

tablespoons

140 grams unsalted butter, room temperature

1/2

cup

100 grams very tightly packed light brown sugar

1

large egg

48 grams

2

teaspoons

vanilla

1

cup

chopped milk chocolate

1/2

cup

chopped Nestle Crunch Bars
Instructions 
Preheat oven to 375 degrees F. Have ready and ungreased baking sheet. You can line it with parchment or just leave it ungreased.

Stir the flour, malted milk powder and baking soda together. Set aside.

Cream the butter with the brown sugar in a large mixing bowl until light and fluffy. Beat in the egg and vanilla. By hand or using lowest speed of mixer, stir in the flour mixture. Stir in the chocolate chunks.

Using a medium cookie scoop, scoop dough onto baking sheets.

Bake the cookies for 10-12 minutes or until edges are lightly browned. Pull from the oven and if desired, stick a few extra chunks of milk chocolate or chopped Nestle Crunch Bars on top of the hot cookies. Carefully remove from baking sheets and let cool completely.

Makes about 22 cookies