I couldn't stop making malted biscotti, so here's a second flavor. Adapted from the Malted Milk Biscotti, this one's called Strawberry Malt Biscotti. It's made pretty much the same way as the other biscotti, but calls for strawberry gelatin for flavor and color. It reminds me of the big pink strawberry flavored birthday cakes I used to see back in Texas, so I added colored sprinkles to give the cookies a celebratory theme.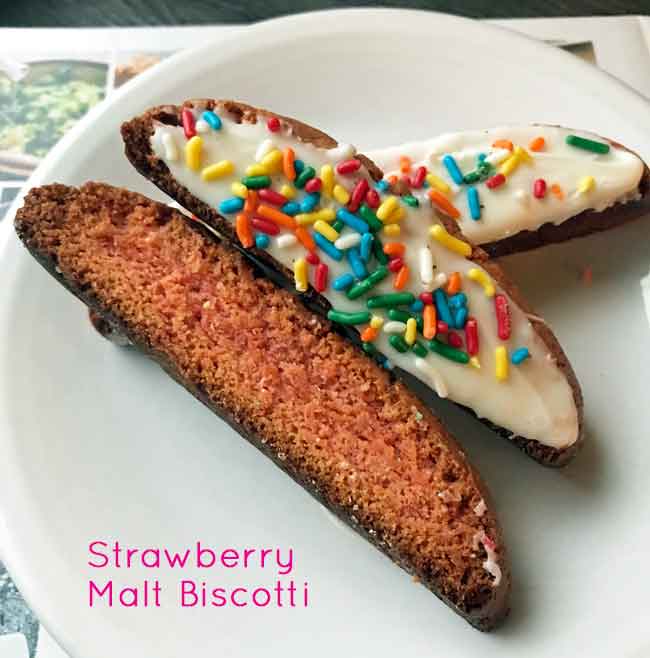 Small Batch Strawberry Malt Biscotti
This also happens to be a small batch recipe. Even though Strawberry Malt Biscotti is surprisingly good, it's more of an "accent" biscotti in my opinion – one you throw in with the vanilla and chocolate. And speaking of chocolate, I tried making Double Chocolate Malt Biscotti, and while it was tasty the chocolate overpowered the malt making it kind of a waste of malt. So the chocolate malt flavor is still a work in progress.  This one's pretty good, though!
By the way, here's the brand of malted milk powder I use.
Recipe
Strawberry Malt Biscotti
Biscotti flavored with malted milk powder and strawberry gelatin
Ingredients 
3/4

cup

plus 2 tablespoons all-purpose flour

125 grams

1/4

cup

malted milk powder

Carnation brand, unsweetened

3/4

teaspoon

baking powder

1/4

teaspoon

salt

3

tablespoons

unsalted butter

42 grams, softened

1/4

cup

sugar

50 grams

2

tablepoons dry strawberry gelatin

1

large egg

3/4

teaspoon

vanilla extract

white chocolate or white candy coating
Instructions 
Preheat oven to 350°F. Line a large baking sheet with parchment paper.

Mix together flour, malted milk powder, baking powder, and salt.

In a mixing bowl, using an electric mixer, beat together softened butter, sugar and gelatin until creamy, then beat in egg, scraping side of bowl often. Stir in vanilla, then stir in flour mixture to form a dough.

Turn dough out onto baking sheet. Dampen hands and form into a log. The log should be around an inch high and a little less than 3 inches wide.

Bake log for 25 minutes or until slightly firm to the touch.

Reduce oven heat to 300 degrees F.

Carefully transfer biscotti log (just lift the parchment) to a cutting board, and cut slightly on the diagonal to make ¾ inch slices. For this biscotti, a non-serrated knife works best, and use a one cut motion rather than a sawing motion.

Carefully transfer biscotti back to baking sheet and lay them on their sides.

Bake for about 25 to 30 minutes, flipping halfway through. Alternatively, you can just stand them on their bottoms and avoid flipping.

Let cool completely. When cool, dip in your favorite brand of white coating (or white chocolate) and decorate with rainbow sprinkles.