Merry Days-After-Christmas and Happy Hanukkah! I hope everyone is enjoying the holidays and experiencing some fun in the kitchen. My baking endeavors this year involved a lot of biscotti, and I added a few new varieties to the repertoire including one called Malted Milk Biscotti.  It's a vanilla biscotti flavored with malted milk powder.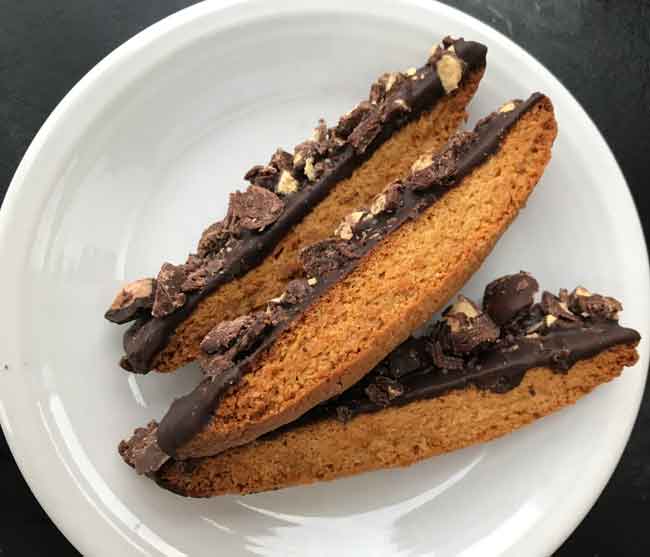 This recipe is originally from Chatelaine, but the biscotti was dark and spread a bit more than I wanted it to (picture above). A few simple changes and this new version was the result (picture below). It has less sugar so the log doesn't spread as much, and it is very malt-y tasting. The chocolate dip is the final touch and makes the biscotti special.  In a recent post I said didn't care for the chocolate flavor Candiquik as much as the white, but it's kind of growing on me.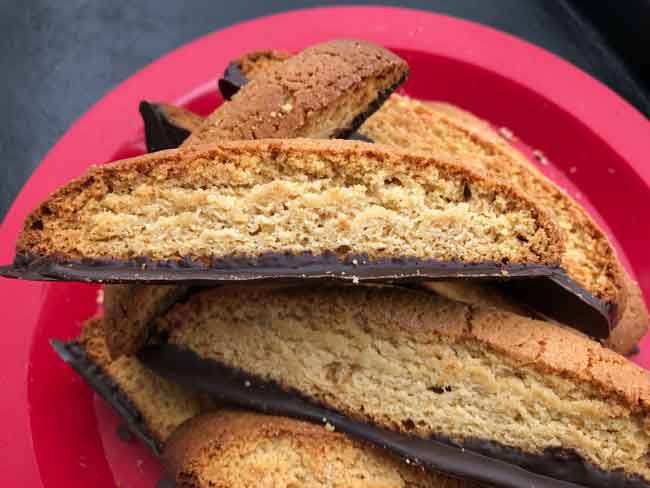 Chatelaine dipped their biscotti in chocolate AND in chopped up Malteasers, which are the UK version of malted milk balls I didn't have time to go to World Market for Malteasers, so I used chopped malt balls from the bulk bin at Sprouts. The biscotti are more elegant and still very malt-tasting without the malt balls, but they are fun with them.  Another fun twist is Mini M&Ms.  Things got a little messy toward the end, but next time I'm going to try a different flavor and with more M&Ms.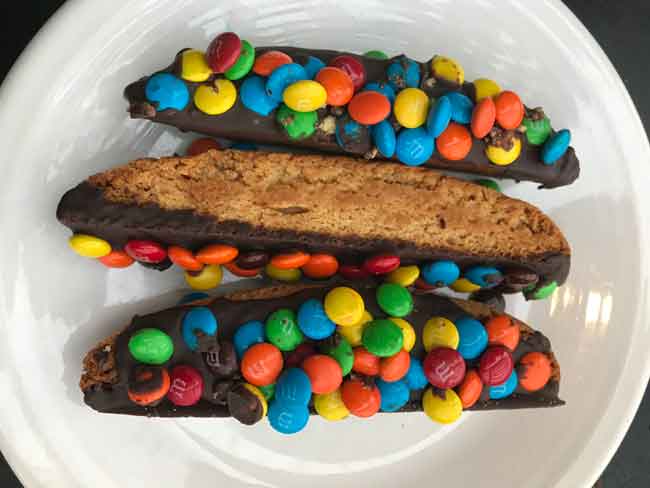 Recipe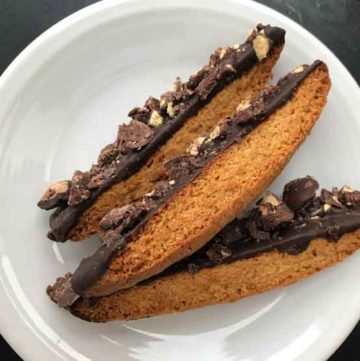 Malted Milk Biscotti
Malt flavored biscotti made with unsweetened malted milk powder
Ingredients 
1 ¾

cups

all-purpose flour

250 grams

½

cup

malted milk powder

60 grams

1 ½

teaspoon

baking powder

½

teaspoon

salt

6

tablespoons

unsalted butter

84 grams, softened

⅔

cup

granulated sugar

130 grams

2

large eggs

1 ½

teaspoon

vanilla extract

Melting Chocolate for dipping

Chopped Malt Balls

optional
Instructions 
Preheat oven to 350°F. Line a large baking sheet with parchment paper.

Mix together flour, malted milk powder, baking powder, and salt.

In a mixing bowl, using an electric mixer, beat together softened butter and sugar until creamy, then beat in eggs, scraping side of bowl often. Stir in vanilla, then stir in flour mixture to form a stiff (and malt-y smelling!) dough.

Turn dough out onto baking sheet and divide it into 2 equal parts.

Dampen hands and form each dough section into a log about 7 inch long. The logs should be around an inch high and a little less than 3 inches wide. Space the logs about 4 inches apart to allow room to spread. NOTE: It's best to shape dough directly on the baking sheet so that you don't have to move the logs.

Bake logs for 25 minutes or until slightly firm to the touch.

Reduce oven heat to 300 degrees F.

Carefully transfer biscotti logs (just lift the parchment) to a cutting board, and cut slightly on the diagonal to make ¾ inch slices. For this biscotti, a non-serrated knife works best, and use a one cut motion rather than a sawing motion.

Carefully transfer biscotti back to baking sheet and lay them on their sides.

Bake for about 20 minutes, flipping halfway through