If you're in the midst of holiday prep and just want an easy, relaxing, dessert that the kids can help make, here's one of our family's favorites. You probably already know this recipe, but I took such a good picture of it I had to post it again. May I present to you, Le Chocolate Éclair Cake, which everyone knows is just so much better than the sum of its parts. Since I have a lot of other desserts coming up next week, I made the small version and used an 8 inch square dish. Most recipes are double this and made in a 13×9 inch dish.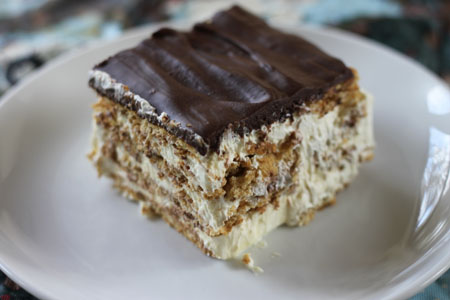 Small Batch Chocolate Éclair Cake
Chocolate Eclair Cake made in an 8 inch square dish using 1 box of pudding
Ingredients
1 (3.4 oz) box of Jell-O instant vanilla pudding
2 cups milk (2%)
1 (8 oz) tub Cool Whip (I usually use a little less than a full tub) or you could use 1 cup whipping cream, sweetened with some powdered sugar
1/2 a box graham crackers or however many you need to make 4 layers
1 cup prepared chocolate icing – you can make it from scratch or use 1/2 can of store-bought
Instructions
With a hand-held mixer or whisk, beat together pudding mix and milk for about 2 minutes. Pudding should start to thicken. Fold in a little over half the tub of the whipped topping or freshly whipped cream.
Break the graham crackers into squares and lay them across the bottom of an 8 inch baking dish. You'll need to break some of them to cover the bottom of the dish. Spread the pudding mix across the graham crackers. Layer on more graham crackers and more pudding mix twice so that you have a total of 3 layers of graham crackers and three layers of pudding mixture. Top with a final layer of graham crackers.
Soften the icing. If you're using canned icing, microwave at 50% power for about 20-30 seconds or until the icing is softened. Pour half the can over the dessert. Chill for at least four hours (preferably longer) or until ready to eat.
Notes
Cook time is actually chill time.
Related posts: