This was our last minute Labor Day dessert as well as an attempt to use some graham crackers from a box I'd opened earlier in the day. I was going to name it Pudding Parfait Icebox Cake because it reminds me of the (long but not forgotten) Little Bucket Parfaits at KFC. But for practicality, went with the more straightforward Graham Cracker Pudding Icebox Cake. Unlike the little KFC parfaits, there are no graham cracker crumbs here, but rather layers of graham cracker squares, a homemade pudding mixture, and whipped cream.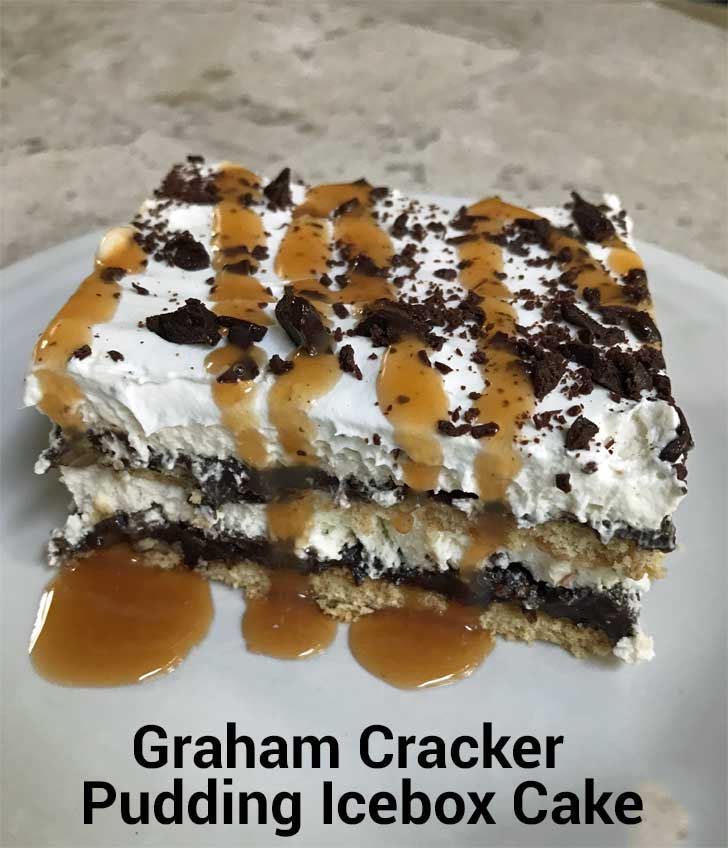 Graham Cracker Pudding Icebox Cake Size
The recipe was inspired by one I saw on Crepes of Wrath. This is a smaller version (I used an 8 inch square pan) made without any coffee. Yes, that's an option! You can flavor the pudding and/or the cream with instant espresso powder, but I don't sleep enough as it is, so I left it out.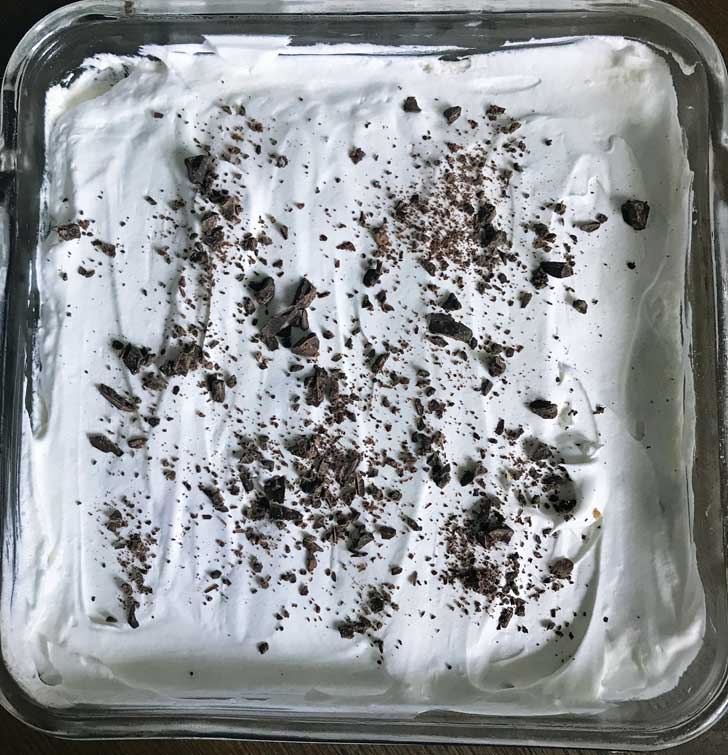 The Chocolate Pudding
The pudding takes a few minutes to make. You just stir the dry ingredients in a saucepan, whisk in some milk and egg yolk, then stir until thick. You have to cool it of course, but with a small batch like this that doesn't take long. I spread the pudding on a plate so that it will cool quicker. This pudding is very basic, but tastes so good, especially if you use a really high quality cocoa powder. This recipe makes *just* enough, but you could use any pudding here including instant. Heck, you could scrape it out of pudding cups and it would still be good with the freshly whipped cream. But making this pudding is even easier than that. For a dairy free pudding, you could use Almond Milk Pudding (and a dairy free whipped cream), or for a S'mores theme you could try a half batch of Milk Chocolate Pudding and fit some marshmallow in.
Whipped Cream
1 ½ cups of cream is a good amount to start with. After whipping and sweetening it, I like to set some aside just for the top. That is, I keep some "clean" cream on the side since that last layer might get a little messy from the pudding. For the whipped cream, use the best vanilla you can find. This is a simple dessert, so best quality ingredients really count (which sounds funny considering I just mentioned using pudding cups).
Chopped Chocolate
I wasn't sure I'd like the texture of the chopped chocolate mixed in with the pudding and cream, but it was pretty good. Just make sure to chop it into fine shards. You could even grate it if you are very picky about texture. I chopped mine of a block of Trader Joe's Dark.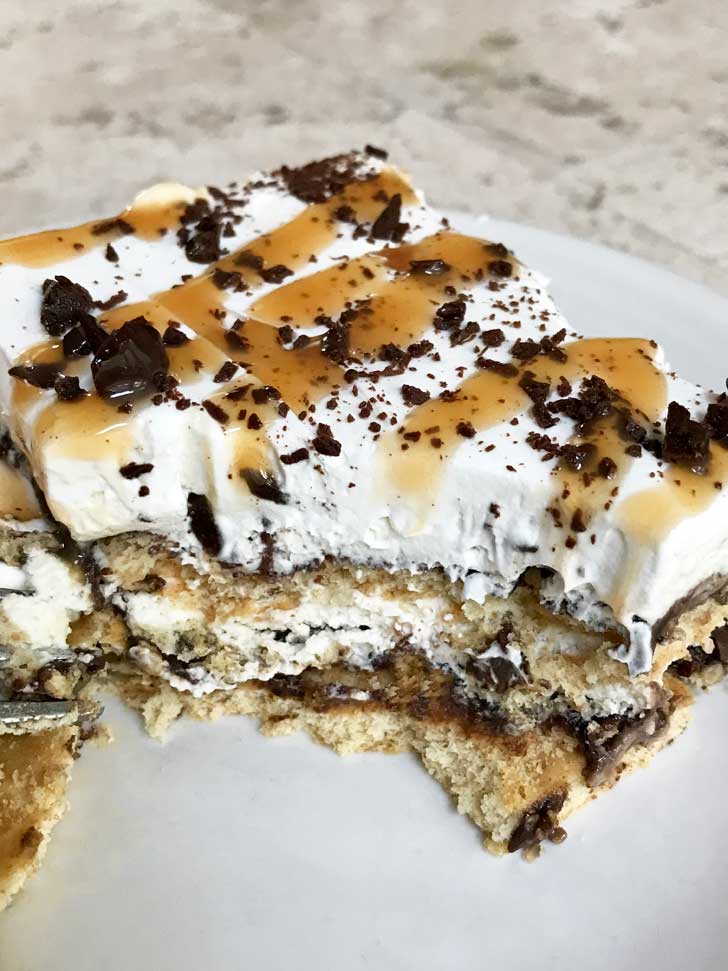 Softening the Graham Crackers
I started this dish at 4:30 PM and served it at 8:30 PM, at which point the graham crackers were still a little firm. They were bendy and the dessert was tasty, but for best results chill overnight or for at least 8 hours. The graham crackers absorb more moisture and thicken to an almost cake-like texture. I made it as a last minute, last resort using things we had on hand. Now that I I know how good it is, I'll make it early in the day or the evening before. On the flip side, if you make these types of desserts TOO far in advance they can get a little soggy. I'll freeze the rest of it and report back on how that goes.
Recipe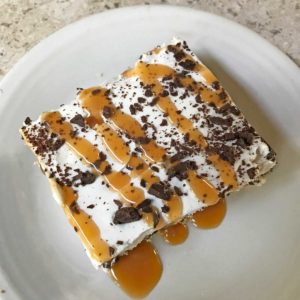 Graham Cracker Pudding Icebox Cake
Graham crackers layered with pudding and sweetened whipped cream.
Ingredients 
20

square

graham crackers

squares
Quick Pudding
¼

cup

sugar

2

tablespoons

unsweetened cocoa powder, Dutch or Natural

1 ½

tablespoons

cornstarch

1

large

egg yolk

1

cup

whole milk

½

teaspoon

vanilla extract

1

teaspoon

unsalted or salted butter (optional)
Whipped Cream Topping
1 ½

cups

heavy cream

⅓

cup

powdered sugar

1

teaspoon

vanilla extract
Chocolate & Garnish
⅓

cup

finely chopped chocolate

Caramel or Chocolate Syrup (optional)
Instructions 
Count out your graham crackers. You'll need about 16, but it's good to have 20 for taste testing purposes.

In a saucepan, off heat, whisk together the sugar, cocoa powder and cornstarch. Whisk in the milk gradually, then whisk in the egg yolk. Whisk until everything is evenly blended.

Put the mixture on the stove over medium heat and cook, whisking constantly, until mixture begins to bubble and thicken. After it starts to boil and thicken, continue boiling and stirring for 1 minute, then remove from heat and let cool slightly.

Stir in the vanilla and butter, then scrape into a bowl. If you need it to cool faster, you can scrape it onto a plate. Cover directly with wax paper or parchment to prevent a skin from forming, then let cool at room temperature for about 20 minutes before transferring to the refrigerator.

Prepare the whipped cream. With an electric mixer, beat the cream until soft peaks just start to form. Beat in the sugar and vanilla and continue beating to stiff peaks.

Set aside around ⅓ of the whipped cream, which will be used as your final top layer.

Lay 8 graham crackers in the bottom of an 8 inch square dish. You should be able to lay 6 squares, but you'll have to break the other two in half.

Starting in the middle, spread half of the pudding mixture over the crackers leaving about a half inch margin between the crackers and the dish. You'll have just barely enough. Don't worry about spreading it perfectly. Sprinkle 2 tablespoons of chocolate over the pudding, then spread about ⅓ of the whipped cream over the chocolate.

Add a second layer of crackers and repeat, spreading with remaining chocolate pudding and sprinkling with more chopped chocolate. Spread another ⅓ of the cream over the chocolate. This layer can be a little messy, so don't worry about dragging pudding through the cream. You will cover it with the reserved cream.

Spread the reserved whipped cream over the messy layer. Sprinkle more chocolate on top, then cover and chill for at least 6 hours to soften the graham crackers -- preferably 8 hours.